How to Perform a Quick Website Audit and Analyze Websites?
Every other week, my non-marketer friends ask me –
Hey Ankit – how is this website? How is it performing? Do you think it is doing good?
My favorite answer – it depends.
It depends on many things, many factors, and most importantly how the website performs in the industry compared to its competitors.
Instead of doing individual researches every time, I decided to write this blog that outlines some of the most basic things I quickly check on a website to understand how it is doing.
Essential Pages
Every website needs a few important foundational pages to look professional, establish trust and convert users. Most importantly, the website and the brand need to look trustable at the first glance.
Make sure the website you are auditing has all, if not most, of the following pages –
Home Page
Services Page
Contact Page
Products Page
About Page
Blog Page
Testimonials Page
Client Portfolio Page
Privacy Policy Page
Terms and Conditions Page
Frequently Asked Questions Page Conclusion
We have written a detailed guide on most essential website pages along with real examples.
Consistent NAP
NAP stands for Name, Address, and Phone number. Online entities like Google and Facebook utilize NAP as the unique identifier and association of your brand.
Therefore having a consistent Name, Address, and Phone number across all platforms connects all the digital assets and keeps them interlinked.
Having multiple variations of NAP is a sure-shot way to dilute a brand's online presence. Make sure to check the company's citation and consistency of NAP across all platforms.
Google My Business (GMB) Profile
A Google My Business Profile is one of the most important digital assets for businesses providing services locally.
The easiest way to find out if a company has a GMB profile is to search for them in Google Maps.
Moreover, an exact brand name search for the business entity in Google Search should also show their GMB profile.
If the business does not have a GMB profile – then this is something that needs to be done immediately.
Website Content
Content Quantity – Number of Contents
This topic is relevant mostly for SEO (Search Engine Optimization). For a website to get organic visitors from search engines, the websites need to have enough content to rank for the search term.
Rule of thumb for contents ranking in search engines – One page/post can be used to target one keyword
A website with few content pages is unlikely to rank for many keywords. This also means less traffic and fewer conversions. If the top of the funnel traffic volume is low, there will not be visitors funneling down to the lower end of the funnels.
To quickly check a website's content that has been indexed online,
Go To Google.com
then type in site:[insert website url], in the example below, we are checking HubSpot's blog contents.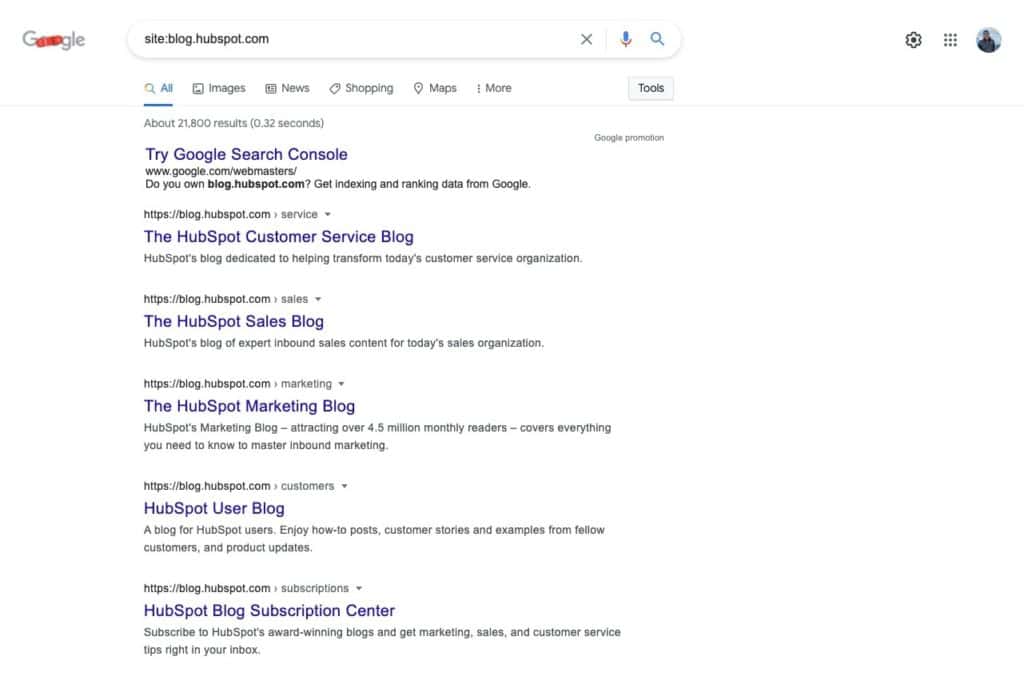 It will show the number of contents indexed by Google. If a website has fewer contents indexed online, then increasing content quantity is a great step forward.
Another way to check a website's content is to look at the sitemap –
A sitemap is a web address or a file that provide information about the pages, posts, images, videos, and other files on a site, and the relationships between them.
If the website is built on WordPress using popular SEO Plugins, you can directly check the sitemap of the website.
Add "sitemaps.xml" to the domain and it will list out all the pages in the sitemap.
example – type in [websiteURL]/sitemaps.xml and you will see the following –
If you are new to SEO, we have a complete guide on how to install and setup SEOPress WordPress Plugin and generate a sitemap that automatically syncs with Google Search Console.
Content Quality – Does it Satisfy Searcher Intent?
Once an audit is done on the website's content quantity, an additional audit should be done on the content quality.
Content depth and quality can be checked by looking at the word count and topical relevance of the contents on the site.
Some of the points to consider while checking content quality are
Are the contents thin content? Is the content less than 300 words?
Does the content satisfy user intent and query?
Does the content follow proper On-Page SEO?
Are there enough links in the article to guide users to other relevant articles?
On-Page SEO
On-page SEO is the practice of optimizing web pages or posts in order to rank higher and drive organic traffic from search engines.
Basically, the overall content a website admin can manage and control to help search engines understand the pages/posts that come under on-page SEO.
A site with both content quantity and content quality needs good On-Page SEO practices to perform well in search results.
Some of the activities done to enhance On-Page SEO are –
Optimize the SEO Title Tag
Write Custom Meta description
Optimize URLs (permalinks)
Optimize Images
Use Heading Tags Properly
Balance the article length
Use keywords
Add Internal and External Links
Optimize content for Social Media
Check out our full beginners guide on On-Page SEO to optimize content and improve the rankings on Search Engines and Social Media.
Off-Page SEO
Off-page SEO refers to activities done outside of the website that has the potential to affect search engine rankings. Optimizing a site for off-page SEO means you'll have to improve how both – users and search engines, see your site in terms of expertise, authority, trust, and relevance.
Backlinks
One of the most popular Off-Page activities is to build backlinks from niche-relevant websites. Many SEO experts utilize tools like Google Search Console, Ahrefs, SEMRush, Moz, SerpStat to monitor backlinks of a website.
Activities such as link outreach, affiliate outreach, and writing guest posts help build backlinks.
Website Traffic
Moreover, from our experience, driving traffic to a website from channels other than organic search also helps with Off-Page SEO.
This can be activities such as YouTube Videos, Social Media Posts, Email newsletters, Influencer Marketing, etc.
A quick check on one of the tools such as Ahrefs, SEMRush, Moz, SerpStat, or UberSuggest will give you an idea of the domain's backlink profile.
If a website does not have multiple ways to generate traffic – then this is definitely something to recommend to the website owner.
Google Speed Insights
If webmasters expect their website to bring in revenue, then the website should be treated as an essential asset.
A website needs the right theme, the right plugins, and most importantly a hosting plan that delivers. It is unrealistic to get good results from a website that is hosted on a shared domain.
Having the right foundation in terms of the hosting, theme, and plugins together delivers a great user experience. Most importantly, user experience is a major factor in search engines directing traffic to a website.
The speed performance check of a website can be done by visiting Google Page Speed Insights and entering a domain or a page URL.
If the speed rating is on the lower end, improving the website's speed performance should be given higher priority. It directly impacts user experience.
Mobile-Optimized Website
Mobile devices drove 61% of visits to U.S. websites in 2020, up from 57% in 2019.
Businesses that created websites a long time ago and have since not updated the site to be mobile responsive are in trouble. With over 60% of the traffic coming from handheld devices, search engines favor websites and pages designed for a mobile-first experience.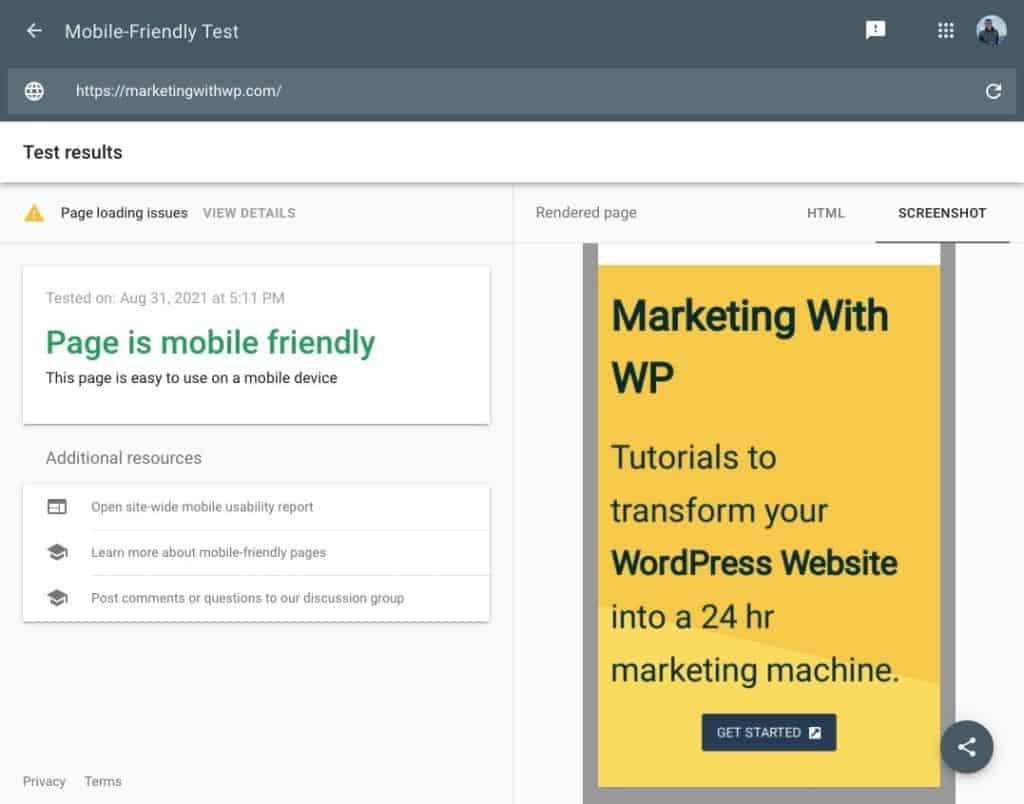 Head to Google's mobile-friendly page checker to check if a website is responsive or not.
Moreover, we have compiled a list of the most popular WordPress themes that are mobile optimized and deliver a great user experience.
Optimized for Conversions
After a website gets visitors, does the website actively guide the visitors to take an action?
Following are some of the ways a website can optimize for conversions –
Does the website have a pop-up or lead magnet?
Is the form easy to fill up?
Are there trust factors such as testimonials, reviews, and logos
Is the Call To Action direct?
Sometimes adding a countdown timer can expedite decision-making time
Are there upsells?
In a simple audit – make sure to check if the website has at least a few Call to Actions or Opt-In forms to get visitors information for future marketing campaigns.
Ranking Keywords
There is content quantity, there is content quality but all of that does not matter if the content is not showing in search engine results pages.
There might be many factors and reasons why a website's content might rank on search engines. But, checking whether the keywords are ranking or not and what keywords are ranking provides a good insight about a website.
There are freemium tools that provide a list of keywords the domain ranks for such as UberSuggest by Neil Patel.
A website that does not have a lot of ranking keywords can
Websites Tech Stack
One of the best ways to learn about a website is to understand the technology stack it is using. Sites like builtwith.com show the tech stacks used by a website.
To check a website's tech stack, Go to builtwith.com and then enter the website's domain name.
The results will display some of the following information about a website –
Analytics and Tracking
Analytics and Tracking tools help websites owner understand the website visitors and their behavior.
Anything that can be measured, can be managed
A website that has analytics installed means webmasters understand the importance of numbers. Most likely the website owners understand the performance of the website and put in the effort to make the website better.
There are many Analytics and Tracking tools with varying features and functionality with Google Analytics being the most installed tracking tool.
Google Analytics
Global Site Tag
Facebook Pixel
Facebook Conversion Tracking
Facebook Signal
Facebook Domain Insights
Google Conversion Tracking
Google Conversion Linker
Hotjar
New Relic
LinkedIn Insights
Google Optimize
Yandex Metrika
Bing Universal Event Tracking
Fastly
We have a complete tutorial for beginners on adding Google Analytics to a WordPress Website.
Moreover, if you already have the older universal analytics installed but want to also add the new iteration of analytics, we have a complete guide on adding GA4 analytics code to a WordPress Website.
Most importantly, we also recommend connecting Google Search Console to Google Analytics to centralize all the website's data.
Content Management System
Non HTML and Modern self-managed websites need a Content Management System (CMS) for the website to work.
The right CMS needs to be used for the right type of website. For example, WordPress CMS is typically the best choice for a blogging website focusing on getting visitors from organic search results
This segment of the report shows the CMS of a website which could be either of the following –
WordPress
Drupal
Plesk
Google Search Appliance
WP Engine
Joomla!
CPanel
Atlassian Cloud
Unbounce
HubSpot CMS Hub
Squarespace
We have a list of the most popular content management systems (CMS) for your brand if you are venturing into content marketing.
Advertising
Find out if a website is actively acquiring paid traffic by checking the advertising tech stack.
New Business websites are recommended to run a paid marketing campaign to acquire users and remove the site from Google's sandbox mode.
Following are some of the advertising platforms a site might be using.
DoubleClick.Net
Google Adsense
Facebook Custom Audiences
Ads.txt
Google Direct
Google Remarketing
AdBlock Acceptable Ads
Google Publisher Tag
AppNexus Reseller
OpenX Reseller
IndexExchange Reseller
Google Reseller
RubiconProject Reseller
PubMatic Reseller
AOL Reseller
SpotXChange Reseller
Web Hosting Providers
A fast-loading website is one of the indicators of a positive user experience. Google considers the site-speed as one of the ranking factors in 2021.
The following are some of the major web hosting providers listed on builtwith.com –
Cloudflare Hosting
Amazon
Google
Google Cloud
Microsoft
Confluence Networks
Digital Ocean
OVH
GoDaddy
Microsoft Azure
Hetzner
Domain Not Resolving
Akamai Hosted
Data Foundry
Fastly Hosted
Fastly Load Balancer
Amazon Elastic Load Balancing
Widgets & Plugins
The widget section of the report gives deeper insights on what exact tools a website has used to add extended functionality.
The following are a list of some of the widgets listed by the builtwith.com platform –
Google Font API
Google Tag Manager
Font Awesome
WordPress Plugins
COVID-19
reCAPTCHA
Sitelinks Search Box
Facebook Sharer
Twemoji
Yoast Plugins
Gravatar Profiles
Contact Form 7
Pinterest
AddThis
Accelerated Mobile Pages
MailChimp
Twitter Tweet Button
Domain Age
Finally, Domain Age is something that needs to be considered when auditing a domain.
Does an older domain automatically help websites to perform well in search engines? No
However, if you create quality content, then over time, the site should gain authority as the website gains backlinks from other websites. Older sites most likely have more content attracting those links.
A simple Google search on "Check Domain Age" comes up with a bunch of helpful sites that allow you to check domain age for free. If a domain is relatively younger and has fewer contents than competing domains, it will take more time and effort to get up to speed.
Conclusion
There are hundreds of ways to check a website's performance or audit a website, and it is one of the most common questions asked online.
With this simple and easy guide – you should be able to create a simple audit report for yourself or your customers.
Moreover, insights derived from the checks mentioned above will provide a foundation or even a baseline the next time you have to do an audit.
If you are new to WordPress websites – then we recommend checking out our complete guide on setting up a WordPress website.
Moreover, if you want to go into details of optimizing a site's content, we also have an in-depth guide on On-Page SEO.