Gist Review
All-in-On Marketing Automation Tool
If you are searching for options to expand your business, or connect more with your customers and potential customers, then Gist is the best tool for you.
To succeed as a business online, you need a continuous flow of visitors and potential customers. Also, it would be best if you had a way to communicate and aid them with support. Then, Gist is a suitable tool to fulfill these requirements.
Gist is an all-in-one Customer Relationship Management (CRM) platform to enhance your business by lead generation, nurturing leads, and providing professional support to customers. It provides you with tools like forms, chatbots, social media integration, email marketing, tracking, etc., to keep the flow of customers.
Here in this post, we briefly describe Gist, including its features, advantages and disadvantages, pricing, and FAQs.
Gist Overview
Gist is a convenient software that basically assists you in communicating with your visitors.
It schedules meetings and provides live chatbots and support bots to engage with customers. Likewise, with the use of email marketing, you can send out automated and broadcast emails to generate leads.
One of the exciting features of Gist is that you can channel your customers through social media platforms like Facebook, Twitter, etc., into your product. Online bots will converse with leads and users, keeping them engaged, and you can have a professional chat with them later.
Moreover, it helps you by tracking and keeping records of your clients like chat history, location, and users' activity.
Gist simply offers dynamic features to expand your business through various digital marketing strategies and tools.
Gist Features
After the brief introduction, let us discuss the features of Gist closely.
Free Plan
One of the attractive features of Gist is its forever free plan – you won't have to pay for it at any time.
This plan is great to get introduced to Gist, check out its support & engagement features, and see if it's good for your business needs. Though the free plan limits you with basic capabilities, here are some of the features you get with Gist.
Live Chat
Team inbox
200 email contacts
2 support seats
Mobile apps
Meetings and calendar integration
Email personalization for broadcasts and automation
Basic email templates
Popup form builder
Gist Messanger
Automated chatbots
Email encryption
However, the free plan doesn't give you access to social media integrated messages, custom bots, reports, Zoom integration, drip campaigns, etc.
Multiple Channels for Communication
You might have your audience or customer on different platforms. So, you should diversify your communication channels for easy reach.
Good thing that Gist provides lots of messaging platforms so that your audience or leads can message you from anywhere.
Here are the four platforms available for communication –
Gist Messanger: Add a chat button on your website or app for providing easy chat access to your users
Email: Get emails to your Gist inbox from any address
Facebook: See and reply to Facebook chat messages from the Gist admin area
Twitter: See and reply to Twitter DMs from the Gist admin area
Chatbot
Your customer support or marketing team may not be online any time of the day, but your potential clients are. Thus, chatbots help you keep your visitors engaged on your website and generate leads.
You can build a custom chatbot with colors, typography, icons, etc. that matches your brand. You don't require any coding knowledge.
Moreover, you can feed custom, personalized messages to engage with your visitors, so they don't leave early. It also lets you create forms to capture leads for your email marketing campaigns and convert them faster.
In addition, it can do a lot, like lead qualification, booking meetings, automated support, etc. with Gist chatbots.
Email marketing
Gist provides advanced email marketing features that help you in upgrading your marketing and support channel. The emails can be personalized with their names and other information to build a connection and win their trust.
Firstly, you can create customized lead capture popup forms using templates to entice users to give out their email addresses.
Then, you can broadcast the list of your contacts in personalized messages mentioning the offers, discounts, features, etc. to attract them. You also get the scheduling feature to set the date and time for your campaign to activate.
Moreover, it offers to send automated emails as well. With that, you can automatically deliver emails to the users' inbox whenever they take actions like sign up, purchase, subscribe, etc.
Event Tracking
Event tracking simply means keeping a record of everything on your site.
With the Gist's event tracker, you can track everything your users do on your website or app, from points, clicks, form submissions, views, opens, etc. You can view the activities of your contact in real-time as well.
Moreover, it lets you keep track of the historical data of your users which can be useful for your future campaigns. Plus, you can search and filter users with their names, emails, or ID and access what data you want to see about them.
The event tracking also helps you create highly targeted campaigns by choosing from 32 user data to create highly-targeted campaigns.
Knowledge Base
Gist also offers to create organized knowledge bases on your website to provide overall information about your products/services.
You can easily edit and add easy-to-consume tutorials, topic explanations, and other information that your users will find useful. Also, categorizing the articles based on features, services, and other aspects is possible.
With that, users can refer to it if they have any difficulties using them. Also, it comes with an integrated search bar so users can easily find what they are looking for. This results in reduced support ticket requests.
Integration
Gist also lets you connect to other tools to add more features like data export, CMS compatibility, payments, scheduling, analytics, conversion, etc.
Here are some of the integrations available for Gist.
Zapier
WordPress
WooCommerce
Stripe
Google Calendar
Zoom
Facebook
Twitter
Google Analytics
Make (Integromat)
Mailoptin
ConvertPro, and more.
Gist Pricing
Gist is a premium tool offering 3 service models – Support Suite ($29/month), Marketing Suite($19/month), and All-in-One Bundle pack.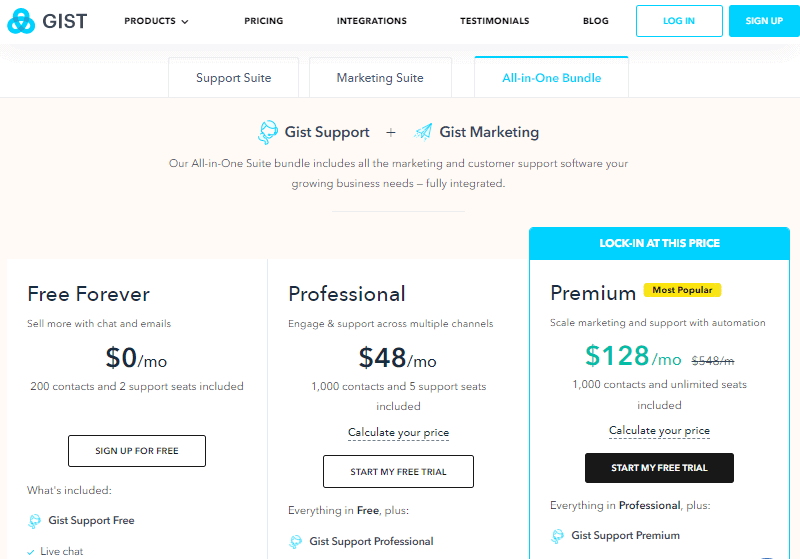 You can go for the All-in-One bundle to access all the features in a single pack. Or, you can also get the individual ones according to your need.
There are 3 plans available in the All-in-One bundle, including a free one with limited and basic features. Also, you have a 14-day free trial period on Professional and Premium packages.
Anyway, here are the offered plans in the All-in-One bundle.
Free Forever: $0 | 200 contacts | 2 support seats | Limited Bot Features | No Reports | Zero Social Media Integration
Professional: $48 | 1000 Contacts | 5 Support Seats | Basic Bot Features | No Reports | Social Media Integration Available
Premium: $128 | 1000 Contacts | Unlimited Seats | Advanced Bot Features | Advanced Reports | Social Media Integration Available
Gist Pros and Cons
Now, here are some of the pros and cons of Gist.
Pros
A free plan is available.
Affordable pricing and free trials
Features are easy to understand
Automates chat and support with bots
Large library of templates to choose from
Offers mobile app as well
Detailed analytics and tracking
Lots of integrations
Offers support through documentation, chat, and email.
Cons
Offers too many features that could confuse users
Fewer templates in stock
Mobile app performance could be improved.
Gist Alternatives
Here, let us know about tools that are similar to Gist.
Intercom
Intercom is an online tool that helps your business with communication, marketing, and lead generation, similar to Gist.
It offers businesses a way to provide support to users with live chats, emails, tickets, conversational bots, articles, and so on. Moreover, it helps you generate leads and engage users with multi-channel marketing campaigns, retargeting, and more features.
To add more features to your support and marketing, you can integrate with tools like Salesforce, Stripe, Jira, social networks, Slack, Google Analytics, etc.
Secondly, the package starts at $74 per month when billed annually. Otherwise, you can select individual packages as per your need. Nonetheless, you can choose a free pack with limited features to start with.
Zendesk
Zendesk is another cloud-based platform like Gist that specializes in Customer Relationship Management. It provides services related to customer support, sales, and generating leads.
With the help of Zendesk, you can contact and support users in real-time across different channels – SMS, web, mobile app, phone, email, and social media. Likewise, you can use chatbots to engage with customers and reduce resolution time for agents.
Also, you can integrate different tools like Salesforce, Maestro QA, Google Play Reviews, Zoom, TeamViewer, Dropbox, and many more to improve customer satisfaction and support.
The pricing of premium packages starts at $19 for Zendesk Sell and $49 for Zendesk Suite. However, you can use a free trial for a certain period, including essential features.
Klaviyo
The following tool in line with Gist is Klaviyo, a popular email and SMS marketing automation platform. It helps to deliver personalized experiences across owned marketing channels like SMS, email, in-app notifications, and the web.
Furthermore, it offers sales and customer service that help you grow traffic, convert visitors, and run inbound marketing campaigns.
Besides 200+ integrated tools, you get to collect real-time customer data, access the templates library, and track customers' behavior.
As for the price, the first 50 SMS and 250 emails are free. After that, you have to upgrade to a paid plan as your list grows. You can start your pricing at $20 for 500 contacts.
Conclusion
To summarize this review, Gist is one of the top-listed marketing and messaging software for businesses. It is an all-in-one business growth platform that helps you attract, engage and support visitors.
You need not worry even if you are starting up your company, Gist features are easy to use and fall under an affordable price.
In the era of competitive affairs, one cannot simply be the best with quality products only. With Gist's various features like chatbots, forms, automated messaging, knowledge base management, etc., you can choose the best methods to uplift your business.
FAQs