Kajabi Review
Best All-In-One Course and Membership Platform for Professionals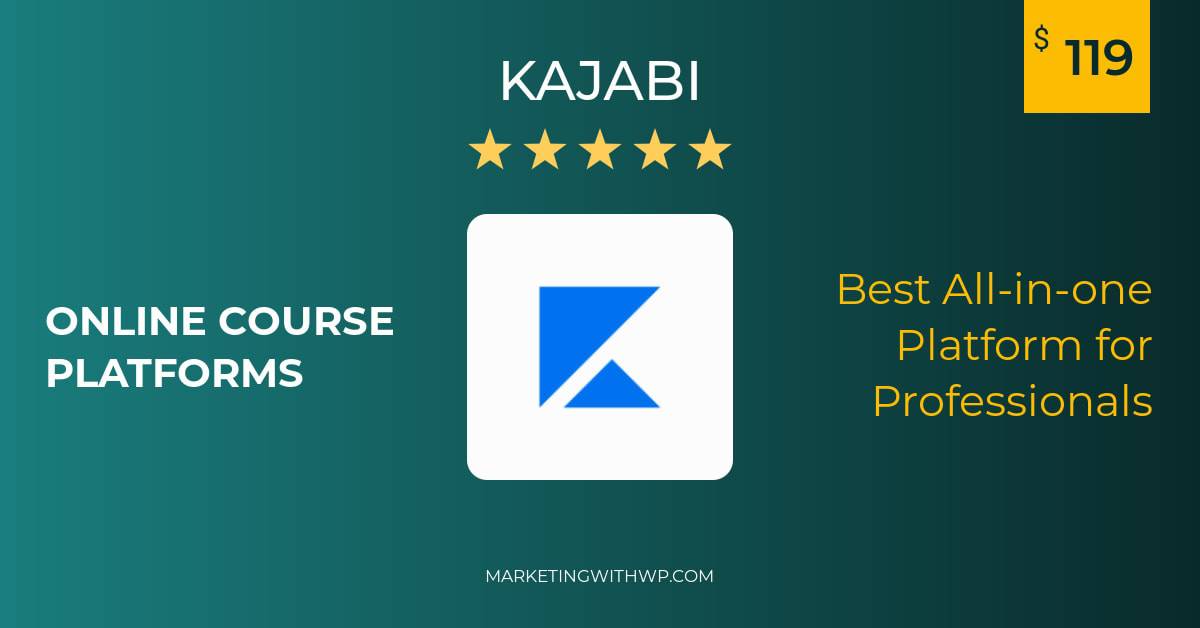 If you are looking for an all-in-one solution to monetize your professional experience, skills, and time, then Kajabi is hands down the best platform to do it.
Kajabi is one of the popular online course and membership platforms adopted by over 50,000 professionals to sell over $2.5 billion in courses, membership, and coaching to over 60 million students. It provides a multitude of ways to monetize your knowledge and helps you grow faster with built-in marketing, automation, and selling tools.
Mostly, professionals and business entrepreneurs who have some prior knowledge of selling and operating internet businesses love Kajabi.
This doesn't mean Kajabi is not open for starters. If you are like us who like to have hands-on controls over your products, emails, automation, payments, sales funnels, landing pages, analytics, etc. on a single platform, then Kajabi is suitable for you.
This in-depth review of Kajabi will help you understand the platform and provide a walk-through of it. We will be talking about the ins and outs of Kajabi, what it does, who it for is, its features, benefits, limitations, alternatives, and some FAQs.
Kajabi Overview
Kajabi is a flexible and user-friendly tool by creates online courses and other digital products like memberships, coaching services, communities, etc. for sharing your knowledge and expertise.
Actually, it is a powerful web-based SaaS tool providing a feature-rich solution to operate a fully-fledged online school with ease. It can host multiple courses, products, landing pages, email contacts, and websites as well.
This all-in-one tool is built by incorporating email marketing, sales funnel design, lead generation, automation, and site customization capabilities. So, Kajabi is not just any regular online course platform, but a proper platform for building a website, designing products, gaining leads, tracking & analyzing data, driving sales, and much more.
Since Kajabi offers built-in features for marketing and selling, you save the time and money for connecting multiple third-party apps and making them work together. Plus, there is no risk of anything breaking and you don't have to deal with techy stuff.
Also, the Kajabi user interface makes it really easy to create courses too. Just click on the course type – online course, mini-course, & drip course, and go through a simple streamlined process. The courses can host unlimited video and other content with no issue.
In addition, Kajabi makes it easy to design an entire site with templates that you can pick and start building. Also, the drag-and-drop editor lets you create attractive pages by placing the website items like banners, buttons, tables, videos, author's bio, testimonials, etc. in the order you like.
Also, receiving payments from students is really simple through Stripe and PayPal integrations.
Who is Kajabi best for?
Kajabi is best for experts and professionals who are looking for creating a platform that is more than just showcasing their courses online.
Kajabi is a complete package of creating, marketing, and selling digital products and services. So, it's meant for the experts who are looking for an all-in-one platform that handles everything from creating courses, promoting products, generating leads, client relationship building, marketing, and selling courses.
As usually seen, online course creators migrate to Kajabi from other course platforms as they grow big.
So, it's safe to say that Kajabi is also suitable for online course creators who want to scale up their online course business to add features and provide a better experience to their students.
Other desirable features of Kajabi are no transaction fees, pricing flexibility, multiple websites, advanced automation, numerous site templates, etc.
The Best Features of Kajabi
Now, let's see the top features that make Kajabi one of the best course hosting platforms out there.
All-In-One Platform
Kajabi offers numerous ways to monetize your knowledge. It can help you build and host not only online courses, but also coaching programs, memberships, podcasts, communities, etc.
Let's see all of them.
Courses– Kajabi offers to create fully-fledged courses directly from the easy-to-use dashboard. You can add multiple chapters, lessons, and fill them with course content like videos, assessments, text, images, etc. You can either start from scratch or pick one of the blueprints – drip course, mini-course, and online course.
Coaching– Coaching is another product type in Kajabi and you can create it within minutes. With this feature, you can create a channel for your students or clients to connect with you one-to-one for tutoring and assistance.
Community– Kajabi also lets you host a community for your students. There, you can post forum topics for your members to discuss. Also, your members can ask questions, share opinions, open conversations, etc. You can easily bind the community with other Kajabi products too.
Podcasts– If you are good at sharing information through speaking, then you can set up Podcasts with Kajabi. You can either distribute public podcasts for free or sell private podcasts to your members. You can distribute your podcasts to different channels like Google Podcasts, Apple Podcasts, and Spotify.
Membership–Kajabi Membership comes furnished with the tools for membership portals. So, you can launch your own membership program from where you can earn recurring revenue through your courses or other products.
Custom Landing Pages Design
Kajabi provides result-driven landing page designs that focus on attracting customers and driving sales. Moreover, it can be also used to collect data, capture leads, and improve conversions.
For creating landing pages, Kajabi provides lots of themes to pick from so you don't have to get your hands full with designing. They all look great and are available for multiple purposes and niches.
Also, the landing page templates are fully customizable – you can pick & add sections, tweak, arrange and edit them according to the need. Or, if you are really great at coding, you can edit the source code of the theme as well.
Advanced Courses Creation
When it comes to creating courses, Kajabi has several blueprints that you can pick and add a predesigned structure for the course beforehand. It will have some modules and posts that you can edit as you move on to creating courses. Sections and lessons are referred to as modules and posts respectively in Kajabi.
Similarly, you can have multiple categories on your course and multiple posts for each category on your courses. Also, you can also add sub-categories to the categories that make it easy to maintain the course's hierarchical structure. Also, it offers the drag-and-drop feature to arrange the whole course in a managed order.
To talk about adding course content, the Kajabi interface makes it very easy – just click on the lesson name and upload the desired content.
If you have lots of video content to host, don't worry! The Kajabi platform has seamless integration with Wistia, a secured video hosting platform. It can host unlimited videos with proper bandwidth with content protection from Wistia – at ZERO extra cost, you do not need to purchase third-party video hosting software.
In addition, your courses can have other features like dripping content, quizzes, certificates, free trial to courses, add downloadable materials, etc.
Creating Pipelines (Funnels)
A Pipeline in Kajabi is a tool that helps you create sales funnels to lead your website visitors to the sales page of your courses and other products. The Pipeline helps you make a sequence of pages talking about your products. So, when the users enter the funnel, they would likely buy.
Now, Kajabi has a built-in Pipeline feature that replaces third-party tools like ClickFunnels (pretty costly). Also, it integrates seamlessly with your Kajabi products, email list, website, etc. like no other.
When it comes to creating, Kajabi has a handful of pipeline templates for different purposes. You can just select one and customize it as you need.
For example, if you want to create a pipeline for your product, just select Sales Page OVO Pipeline, name the pipeline, select the selling product. Then it generates a layout with multiple pages & email sequences arranged in the sequence of the funnel.
The pages will have just some filler content at first. So, what you should do is open each page one by one, add & remove the page section as required, edit them and adjust accordingly. The same goes for the emails.
Moreover, once the funnel is live in action, you can see the stats for each page of the funnel to analyze the data.
Email Marketing
Email Marketing is an important aspect of your online teaching and learning business for customer acquisition. It can help you generate leads, create customer relationships, drive traffic, pitch your products, and grow your business as a whole.
Good thing, email marketing is built-in to your Kajabi site at default. With that, it functions seamlessly with other Kajabi parts. Also, you don't need to integrate other tools like Mailchimp or ConvertKit.
Now, creating email marketing campaigns on Kajabi is simple and straightforward. It has 2 major types of email campaigns on Kajabi.
i. Email Broadcast
Here, you can create a bulk email campaign that sends a single email to a large number of email subscribers at once. You can schedule multiple email broadcast campaigns to a certain date and time too.
Kajabi offers beautiful templates for broadcast emails that reach directly to your audiences' inbox. The templates are editable, so you can create a customized sales pitch through the emails.
Kajabi lets you segment your list of email subscribers which makes choosing email recipients and reaching your most targeted audience easy.
In addition, there is also the facility to add automation for when users take certain actions on the email.
Email Broadcasts can be helpful to send announcements, product showcases, offers, related news, etc.
ii. Email Sequence
Now, email sequence is the powerful email marketing campaign feature that Kajabi facilitates.
It consists of an email or a number of emails that get sent to the users automatically when they take a certain action. The actions that trigger email sequences could be, for example, filling out forms, users visiting a landing page, registering, subscribing to newsletters, opening emails, purchasing, completing a course, and so on.
In marketing terms, such emails are also called transactional emails.
Now, creating an email sequence requires you to choose a template from the available ones. The visual email editors make it easy to customize the emails to your liking. After that, you can add an action that triggers sending the email.
For example, you can create a thank you email and set the trigger as course purchase. So, whenever a visitor buys the course, it automatically sends the thank you email to the user.
Moreover, it facilitates creating unsubscribe automation. In simple terms, it means removing the users' email from your email list after they have purchased the course so they no longer receive your promotional messages.
Kajabi App
Since the world is going mobile, Kajabi also offers a mobile app for your students.
Firstly, the mobile app helps the students join in the classes and other services directly from their mobile devices anytime and anywhere.
Secondly, not all of your students could have access to laptops or PCs. So, with the Kajabi app, you don't miss out on potential customers that are only on a mobile.
Of course, you have the mobile browser option too. But, surfing through the mobile browser interface would be a terrible experience for your students.
Now, Kajabi offers a ready-made global app that enables all students from every creator to log in and access their purchased courses and products.
The app is slick and professional-looking that requires no customization, development, or maintenance. However, it provides some tweaks like changing the color palette and logo for the mobile app.
Additional Integrations
Even though being a complete all-in-one tool, Kajabi offers integration with multiple tools. These tools work seamlessly with Kajabi to offer additional features on your teaching platform.
The available integrations are –
Email Integration
Integrating with the email marketing tools allows you to collect contact information when users submit forms and students purchase your services. The offered email integrations are –
Aweber
Mailchimp
Drip
ConvertKit
ActiveCampaign
Analytics
The analytics integration helps you insert the tracking codes on the header and footer on your pages. This helps you collect information about your website visitors in order to analyze results and make better selling strategies. The available analytics integrations are –
Segment – Collects customer data and sends it over to other tools for analytics.
Google Analytics – Gives demographics and important information about your page visitors.
Facebook Pixel – Track page visitors and target those users with social media ads
Zapier
Zapier is a tool that allows you to connect hundreds of apps that are not integrated with your Kajabi site.
This will enable sending and receiving information back-and-forth between the apps and Kajabi. With that, an action in one app triggers an action in another app.
For example, when someone submits a form, you can update the entered data to a Google Sheet.
Direct Integration with ClickFunnels
If you use ClickFunnels, you can sell your courses Kajabi with ClickFunnel too.
The way it works is – you create a sales funnel with ClickFunnel for the product. And, whenever someone purchases it, the students will be automatically given access to the courses. Their login information will be sent to them via their emails entered while filling out the purchase form.
How to create an online course with Kajabi?
We have found the Kajabi product builder powerful yet easy to use. There is no need for coding or any technical skills, anyone with basic operating know-how can go on with it.
You can start building with templates for different types of courses and products. Or, you can even build from scratch by selecting a blank template.
For now, we are going to create a regular online course with a template. So, let's start.
Sign up to Kajabi 30 days Free Trial
Firstly, you need to sign up for Kajabi. Usually, Kajabi trial is for 14 days, but if you sign up using our link you get the trial period for 30 days.
For that go to the Kajabi home page and click on the Start Free Trial button below and then start free trial at the top.
Or, you can also go to the pricing page, and start a free trial from the plan you want.
Next, it will ask you to enter your personal information like name and email. So, enter them and continue to the next step.
After that, enter & confirm a strong password, enter phone numbers, and your credit card info. And then, click on the Start Free Trial button.
Note – The trial period is free, and if you click our link, the trial period is 28 days instead of the standard 14 days trial.
Onboarding on Kajabi Backend
You will be automatically logged in to your account after completing the signup. It will take you to your billing page directly to set up your billing information.
After that, you will have to go through some onboarding steps by filling out information like why you chose Kajabi, your business type, your profession, industry, etc.
Anyway, here are the steps you will have to go through.
What brings you to Kajabi?
You will find some options to choose from to state the reason you are on Kajabi. After selecting, click on Next.
Are you running an online business?
Similarly, it will ask if you are running an online business. You can mention if you are a full-time or part-time online business owner, helping others run, just starting it, or you have a physical business.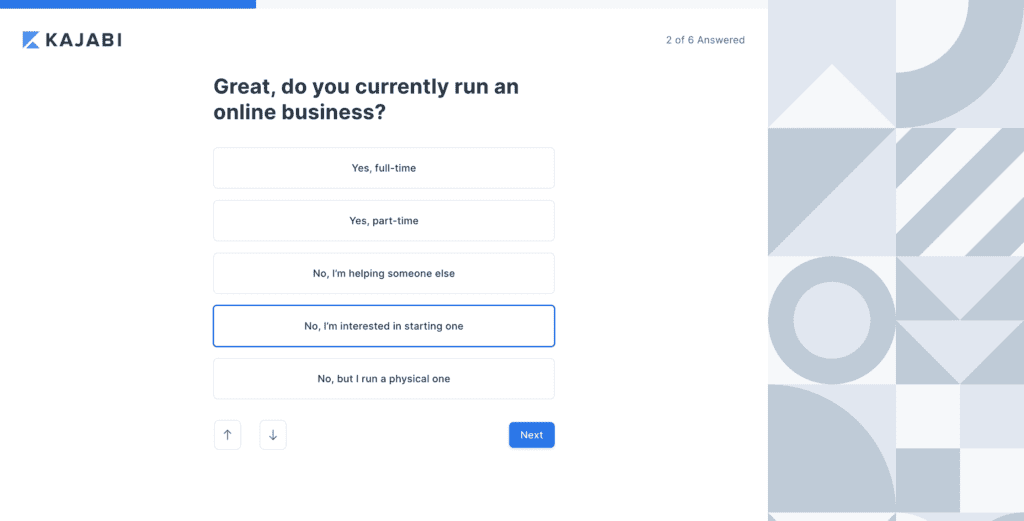 Your profession
Next, it will ask what your profession is – coach, teacher, creator, freelancer, or entrepreneur. You can also specify your profession if it's other than that.
The Industry relevant to your business
Now, choose the industry relevant to your business from the dropdown.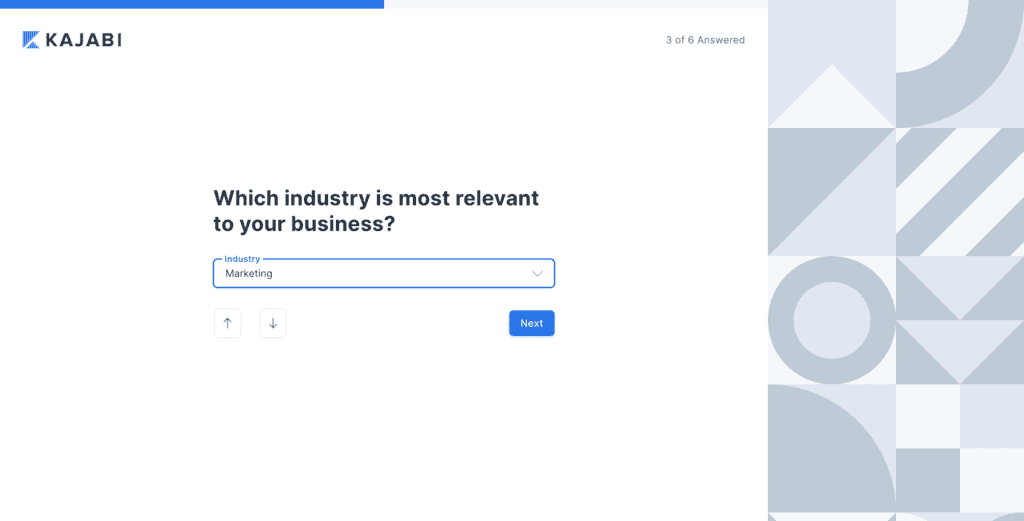 Have you used other online course platforms?
Now, specify here if you have used any other courses to sell your courses, you can mention it here.
Business Address
Lastly, it asks you to enter your business information.
Login and Navigate to Kajabi Dashboard
Next time you want to log in after being logged out, go to the Kajabi home page and click on Login to open the login page.
Now, log in to your dashboard with the email and password.
This is what your dashboard looks like.
Create a Course
Now, from the dashboard go to Products.
The next page is the area that shows all the products you create. It should be empty now if you are just starting.
From the bottom of the page, click on Get Started.
With that, you can see the blueprints for different types of products. 3 of them are only for the courses – mini-course, online course, and drip course.
Choose a Course Template
You can also start creating from a blank template as well, but that will be time-consuming. So, for now, let's start creating from the online course template. Click on Get Started link on the Online Course card.
Enter basic Course Details
After you choose the template, it will open a window to enter your course title, description, and thumbnail. After entering, click on Submit.
It will take some time to process and will take you to the course builder interface. It will have some categories and posts created for you at the beginning.
Edit, Delete or Add New Categories and Posts
Now, you can free edit or delete the categories and posts that have been created at default. For that, click on the pencil icon next to the categories and posts.
On the editing interface for categories, you can type in the title, description and upload a suitable thumbnail image for the category. After that, click on Save Category.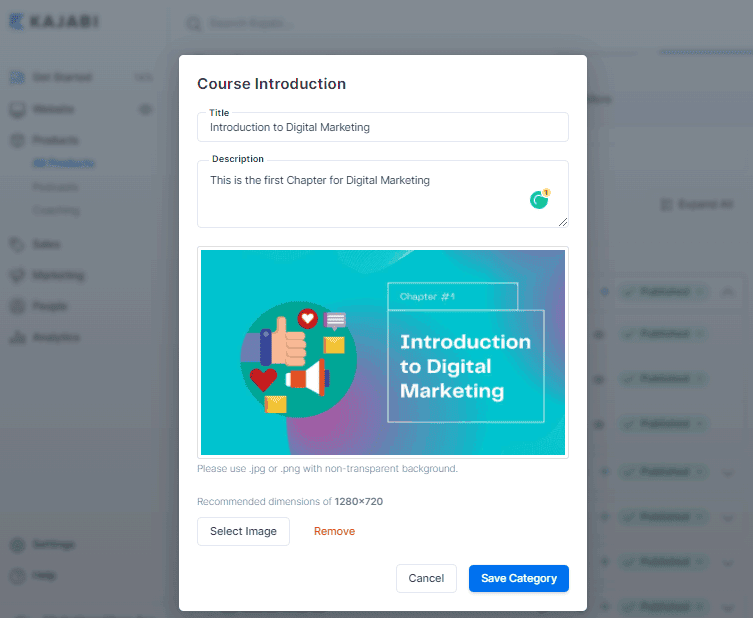 Similarly, the editing interface of posts (lessons) offers editing titles and root categories. Plus, you can add lots of elements like text images, videos, audio files, course thumbnails, etc.
Moreover, you have other accessibilities like changing the posts' status (draft or published), enabling or disabling comments, uploading downloadable files, adding automation, etc.
After you are done editing the post, click on the Save button on the top of the interface.
Similarly, you can edit all the categories and posts as you require.
And, if you want to delete a category or a post, click the text that says Published or Draft. Then, click on Delete Category.
Similarly, adding categories and posts is simple – just click on the Add Content button and click on the element that you want to add. Along with categories and posts, you can also add subcategories and multiple videos.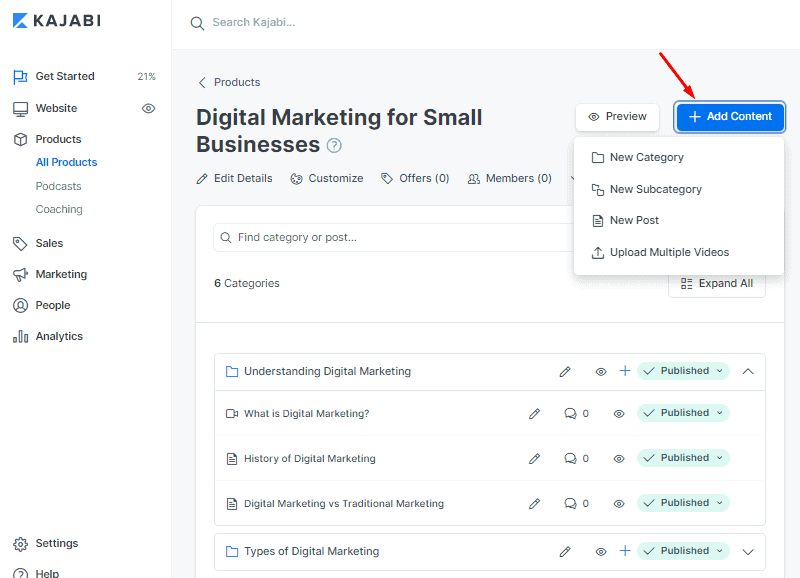 Anyway, following the above steps, we have created some categories and posts.
Add Course Content
Now for adding content to the posts, you first edit it with the same pencil icon as talked about earlier. Then, you can see the area for adding content.
At first, the text area consists of a default text. So, remove it and add your own if you want.
Most importantly, you would want to add video courses. So, what you can do is, click on Video and then Pick File.
Next, you can upload your video from your local computer, Dropbox, Google Drive, Link, or you can also record video live.
The most common way of uploading the video is from the local PC using drag and drop. Simply drag the video from your computer and drop it on the video upload area.
After the upload completes, click on the Save button.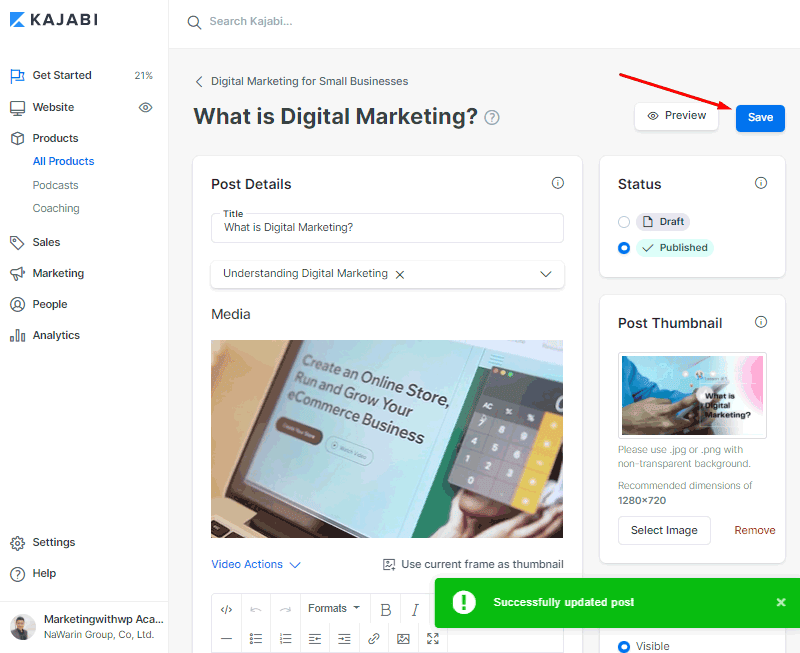 Now, go back and add appropriate content for all of your posts following the same steps.
Use the Options for the Posts and Categories
On the right-hand side of the posts and categories, you will see some icons that serve some functions. We have used some of them earlier. Now, let's see them all.
Edit post/category – Click on the pencil next to the posts and categories for editing.
Preview – The eye icon opens the preview of the categories and posts. It's helpful to see how it looks to your students.
Add a post – The plus (+) icon on the category can be used to add a new post on it.
View Comments – Click on the conversation icon to view the comments on the lectures.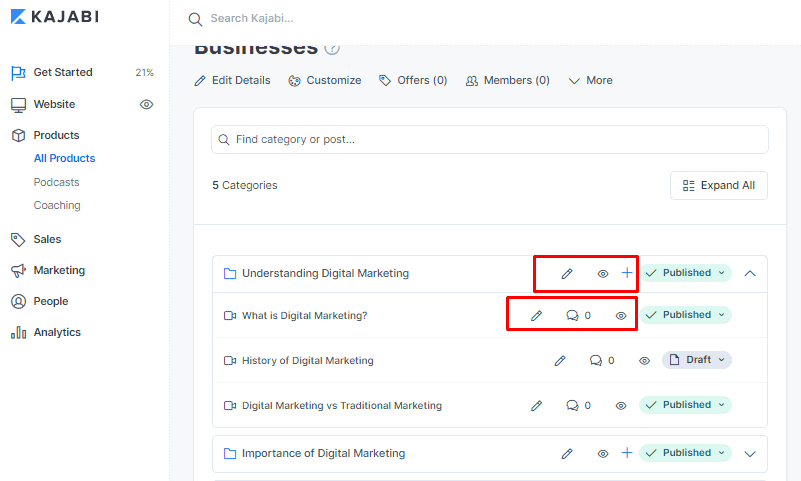 Additionally, when you click on the text saying 'Published', there you can see the different changeable statuses for the posts and categories. They are changeable any time
For the categories, it has – draft, publish, drip, lock, and delete Categories.
Similarly, you will have to draft, publish, and delete posts for the post statuses.

Let's see what they are useful for.
Draft – Save the category/post but don't publish yet.
Publish – Publish the category/post.
Drip – Publish the course category automatically after a certain number of days.
Lock – It locks the category and would be unavailable for students until they complete a post.
Delete – It is used for deleting posts and categories.
Preview the Course
Now that your course is ready, you can see how it looks with the Preview button on the top of the course builder.
This is what the preview of our example course looks like on the front end.
And, this is the course player.
Add Pricing
Now the next step after creating and publishing the course is adding an offer (pricing). For that, start by navigating to Sales > Offer on the dashboard menu. Then, click on the Get Started button.
Now, a small window will pop up for the pricing setup.
From there, enter the offer title, select the product you are setting up the offer for, and choose payment type.
If you have not set up a payment provider before, then it will only allow the course to be free. To receive payment provider, click on the Take me there link.
From there, you get to connect to Stripe and PayPal.
Anyway, we will continue with the free one right now. So, click on the Create button.
After that, you will come across another interface for detailed configuration.
From here, the first thing you can add other products to the offer i.e. create a product bundle. Besides, you will have other features like restricting access for certain days, choosing post-purchase pages, creating post-purchase emails, adding automation, etc.
Also, you can create a check-out page, create upsells, clone the offer, add webhook, view stats, and configure additional settings.
The additional settings include collecting member emails, getting notifications after purchase, sending emails to abandoned cart users, and activating affiliate commission for the offer.
So, after you have completed creating and setting up the pricing, you are all ready to offer the course to your students.
However, you will also have to design your site, create landing pages, pipelines, set up email campaigns, etc. to make it successful. So, be free to roam around the dashboard and customize your Kajabi site as required.
Examples of websites created with Kajabi
Now, let's see some of the platforms created with Kajabi.
Prana + Patchouli
It's a podcast and membership portal created on Kajabi for offering peaceful and stress-free living. It provides its customers with yoga classes, breathwork, meditations, mantras, etc. for helping nurture calmness.
Isis Breanna
Isis Breanna is another beautiful Kajabi site that is focused on empowering female entrepreneurs to grow their audience, utilize their networks, start an online business and create brands.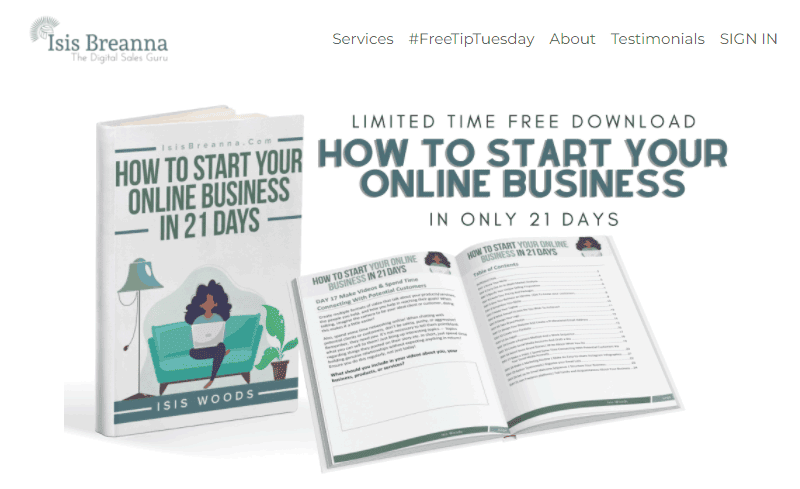 Functional Lawyer
Functional Lawyer is a website that focuses on helping medicine practitioners protect their practice and license lawfully. It consists of one-to-one coaching and membership programs created with Kajabi to make the medical professionals aware of the laws.
Fulltime Filmmaker
Fulltime Filmmaker is The Ultimate Online Film School by Parker Walbeck. The Kajabi membership website hosts over 25+ Workshops (500+ Videos) & exclusive downloads, discounts, and perks that make hundreds of thousands of sales each month.
Pros and Cons of Kajabi
Now, let's look at the pros and cons of Kajabi.
Kajabi Pros
Super simple to use dashboard
Beautiful site templates
Fast, secure video hosting and streaming with Wistia
Provides blueprints for all products
Easy live videos and webinars
Responsive support team
Built-in pipelines, email marketing, and automation tools
Custom domain and white labeling
Offers setting up multiple payment plans
No transaction fee cut
Allows decent blogging
SEO friendly
Kajabi Cons
No free plan
Limited discussion forum
No affiliate program on the basic plan
No built-in certification feature
Premium pricing model
Lacks advanced quizzes
Kajabi User Reviews Kajabi - Best platform and service around
Kajabi has excellent customer service and their commitment to building the best platform is unparalleled to any other provider.
Charles Shrewsbury
March 2, 2023
Great 1-on-1 coaching session with Audrey…
I had a great 1-on-1 coaching session with Audrey today. Although I have other courses on Kajabi, the one I am launching now is new. Because I've only created a couple other courses, I don't remember all the steps it takes to get the job done properly. So I really appreciate having an expert look over my shoulder to make sure that the course, the offer and the checkout page are ready to go before we launch. It takes a lot of pressure off me to have someone on Kajabi's team to actually look at my work to make sure that I haven't forgotten anything. Another great feature is that Kajabi gives us a recording of the meeting if we request it. So I don't have to worry about missing an important detail in the coaching instruction. I just play it back and the how-to instructions are right there in the video. The Access 1-on-1 coaching is amazing! I gained clarity that will help me make huge strides towards my vision!
Excellent customer support on today's call with Will. I appreciate the opportunity to connect directly with a team member and to get some very specific advice and clarity on the direction and focus of my online presence. Thank you!
Richard Bartlett
February 22, 2023
Kajabi has everything you need and more to succeed
We had previously set up an online business with Coursecraft, using Mailchimp as our marketing tool. When Coursecraft folded last year, we looked at various options, but decided to go with Kajabi because not only could it handle our expanding business, it was also a one-stop shop to build web sites, running email/marketing campaigns, comprehensive sales options (discount codes, etc.) as well as hosting our online products. It took a while to get to know the system and understand the how it all worked. Once we had done that, we have not been disappointed. Yes, it cost more, but we have got value for money and then some. As well as the platform itself, the back up in terms of support be it through live chat, emails or Zoom calls, and also the extensive help library including explanatory videos is second to none. In addition, everyone in the support team are easy to approach and knowledgeable about the whole Kajabi system, which continues to be developed as more features and improvements are added. Best decision we ever made! Irina Sanchez De Lozada
February 15, 2023
Simple...simply incredible platform!
Simple, effective platform. Since joining I want to create more and courses as Kajabi is so good at making it all look simple. Love it! Incredible support 24 hours is a HUGE plus, I never feel lost, know what to do and how. Thanks!
Patricia de la Garza
February 15, 2023
Kajabi's onboarding session
We just had our first onboarding session with Kevin. Kajabi evolves every week it seems to make its platform a better experience for content creators. The onboarding was so helpful and he was so positive and encouraging! We are so happy we are joining the Hero tribe!
Lizbeth D.
February 14, 2023
KAJABI is the BEST Learning Platform, Hands Down!
Kajabi is so user friendly, it's better than any other teaching platform and I have tried A LOT! (Thinkific, LearnWorlds, Teachable, Udemy etc). Kajabi is so user friendly, and they have on demand help anytime you need it, as well as the Kajabi University which has online modules to help you do anything you want! 100% recommend. Kajabi does a great job at being an all in one solution
Kajabi does a great job at being comprehensive and the staff are very helpful!

Fabiola Giordani
February 7, 2023
I'm obsessed with Kajabi. Best investment ever
I'm obsessed with Kajabi! They are making it super easy for me to run my online business. I love all of the features and benefits of the product and most of all I love that their customer support is super helpful and patient. Not to mention the massive library of incredible trainings available to support me with growing my business. I've moved my entire business over to Kajabi and I will be moving my website over as well. Thank you to Hilary for sharing all of the amazing tools and resources with me. Can't wait to implement those changes. Kajabi is the best investment ever!
Kajabi Pricing
Kajabi is a premium tool with no free plan. Good thing it offers a free trial for 14 days without any cost.
We remind you again that Kajai requires your credit card information for the free trial. You can cancel it before the trial ends if you wish to discontinue.
Anyway, Kajabi offers 3 different paid plans that start at $119 per month (paid annually).
This is definitely higher than some of its competitors. However, the powerful in-built features like email marketing, automation, landing page builder, and sales funnel builder totally justify it.
Here is a brief breakdown of the 3 pricing plans of Kajabi.
Basic – $119 per month | 3 products | 3 pipelines | 1 admin | 1 website | 1,000 contacts
Growth – $159 per month | 15 products | 15 pipelines | 10 admin | 1 website | 10,000 contacts
Pro – $319 per month | 100 products | 100 pipelines | 25 admin | 3 websites | 100,000 contacts
| Plan | Price | Contacts | Admins |
| --- | --- | --- | --- |
| Basic | $119 per month | 1,000 | 1 |
| Growth | $159 per month | 10,000 | 10 |
| Pro | $319 per month | 100,000 | 25 |
Kajabi Pricing
Kajabi Alternatives
Kajabi is built for digital entrepreneurs & experts who can leverage the marketing tools for business growth along with creating courses.
But, it might not be a good fit for someone with different needs. In that case, it's better to look out for a simpler platform.
For example, a starter who is just looking simple courses platform with basic features can look for a beginners' tool like Teachable.
So, let's see some of the alternatives and competitors of Kajabi.
Podia
Podia is a cheaper alternative to Kajabi starting at $39 per month. It is a multipurpose tool that helps you create, market, and sell online courses, webinars, downloads, community, and coaching programs.
It can host unlimited products, files, customers, and email lists. Similar to Kajabi, Podia also offers email marketing, but not as powerful. Also, it doesn't offer tools to create a sales funnel.
Teachable
Teachable is a platform focused on beginners creating and selling their first online course without any hassle. With limited features for marketing, emails, and automation, the creators can focus on creating courses. Besides, it also serves to create coaching and memberships.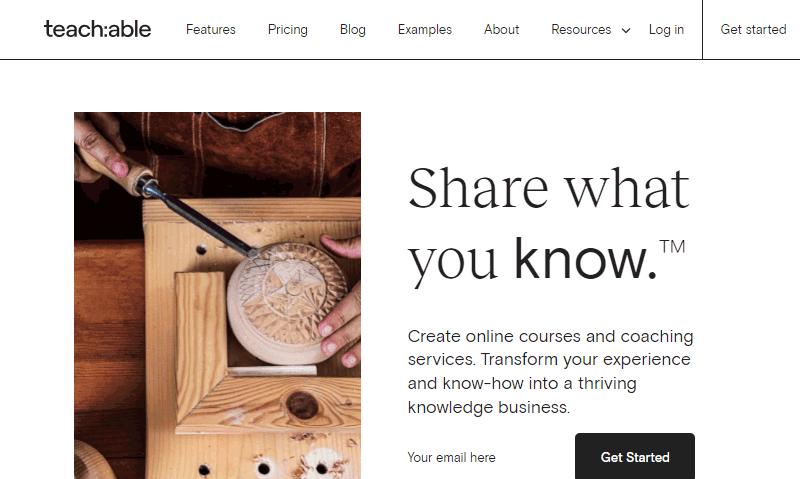 Unlike Kajabi, Teachable offers a free plan that lets you have unlimited courses, coaching programs, students, and video bandwidth. But, there's a catch – it charges you $1 + $10 for each sale you make.
The paid starting plan starts at $29 per month which is pretty cheap compared to Kajabi.
We have a detailed Teachable review that you should definitely check out for finding out more.
Thinkific
Thinkific is another user-friendly tool that's solely focused on creating and selling online courses. It provides a handful, of course, creating tools like content hosting, importing, embeds, quizzes, assignments, etc.
Whereas, most of the selling and marketing features on Thinkific are achieved with third-party integrations.
Thinkific also offers a free plan that charges no transaction fees. However, you can only create 3 courses and have a limited number of students.
Conclusion
To wrap up this review post, Kajabi is one of the most popular online course building platforms for professionals suited for creating, marketing, and selling online courses.
Along with hosting multiple courses, memberships, podcasts, and coaching services, Kajabi helps you bring in more sales like landing pages, email marketing, automation, pipelines, remarketing, streamlined checkout, etc. In addition, most of the users have found Kajabi easy to use despite a load of features.
We recommend using Kajabi to entrepreneurs who want to share their expertise and knowledge and make substantial income with it.
Or, if you want to look around for other options, you can check out our detailed review on the platform – Podia, or the list of top online course platforms.
Kajabi FAQ