SEOPress Pro
SEOPress Pro Course on how to master SEOPress Free and Pro plugin. Learn how to get more visitors, leads and conversions with the right setup and features.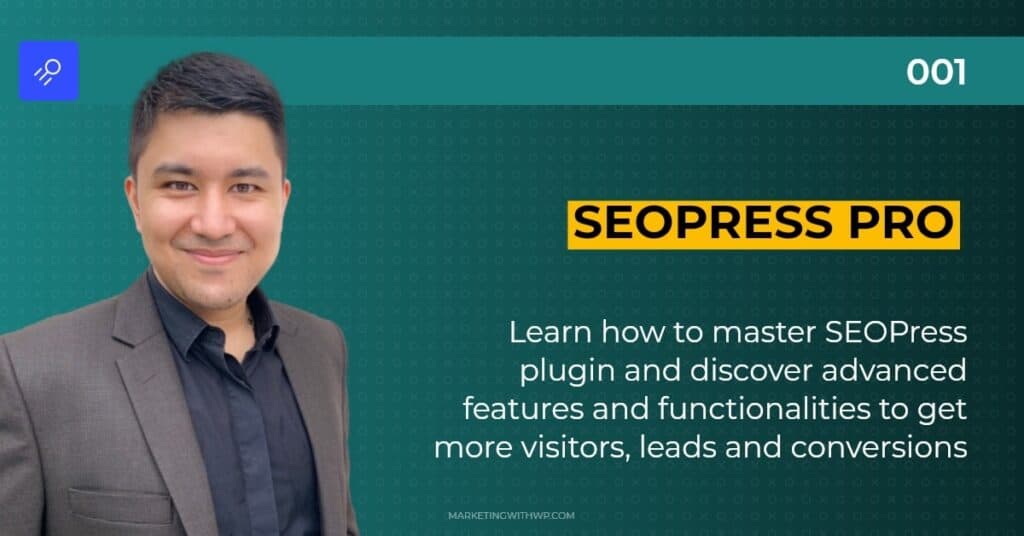 Overview
Actual course video (sample video) – Course Introduction Video.
Summary
Become SEOPress Pro Power User
Make your content stand out with Schema and Structured Data
Control your website's content visibility in Search Engines
Understand how various settings affect your Website's SEO and Performance
Requirements
WordPress Website Administrator
SEOPress Free and Pro plugins
Google Analytics and Google Search Console Admin Access
Why SEOPress Pro Course?
Following are some of the things you will accomplish* after taking the course.
1. Get more organic visitors
More Impressions = More Clicks = More Users = More Revenue Potential
Understanding how the entire search system works is a foundational requirement to ranking contents online.
We explain how Search Engines work and how SEOPress plugin helps your content rank in Google's search engine results pages.
2. Learn how organic traffic benefits your website
More Visitors = More Ad Revenue = More Income
What can you do with more visitors to your website? Monetize it and allow Ad Networks to run ads on it.
3. Increase Click Through Rate (CTR) with special Google Features
Actual course video (sample video) – Check out everything that is covered in the Schema and Structured Data section of the course in the intro video above.
Whats better than ranking your content in Google? Increasing the likelihood of people clicking on the content. Learn how to make your content stand out!
4. Make your content pop out in Social Media
Actual course video (sample video) – Check out how to setup Featured Images for Social Media using SEOPress in the video above.
Scroll stopping content in Social Media? Yup! Get the most out of the visual platforms by optimizing your content for Social platforms.
5. Be a smart SEO specialist
Actual course video (sample video) – Check out the benefit and step-by-step guide on how to bulk customize Meta Title and Description using SEOPress in the video above.
Time = Money!
Learn how to set automatic templates and have SEOPress Plugin remove manual tasks with dynamic SEO templates and Bulk Actions.
Here's what our members have to say
The course is currently at pre-sale. Following are some of the reviews for marketingwithwp.com from our users and well-wishers
Since I interacted with Ankit, he never ceased amazing me with his friendly, honest, professional, knowledgeable, down-to-earth problem-solving skills. Exceptional mindset and Became a trusted friend in the WordPress and Marketing arena!
Ruhani Rabin
Ankit is an extremely knowledgeable digital marketing specialist and SEO. He provides a clear plan to take your website to the next level, getting organic traffic and those wonderful conversions. Highly recommend!!
Joe Maracic
Ankit is a thorough professional you want on your team when it comes to Digital Marketing and WordPress. Extremely knowledgeable, personable, and punctual with a consistent ability to deliver on project goals. Highly recommend Ankit!
Nilesh Mathure
Course Contents
Check out the breakdown of modules and lessons included in the course –
Modules and Lessons
Introduction
Introduction to the SEOPress Course, instructor introduction and course overview

Introduction to SEOPress Course

Installation and Activation
Learn how to install and configure SEOPress Plugin the right way

Install and Activate SEOPress
Activate License for SEOPress Pro
Setup Wizard & Quick Configuration

Analytics and Tracking
Learn how to setup and connect your favorite analytics or tracking platform with SEOPress

Google Analytics
Install other Tracking Pixels

Sitemap
Learn how to create and configure your website's sitemap for search engines

Create Sitemap
Control Content Visibility in Sitemap
Upload Sitemap to Google Search Console

On-Page SEO Features
Learn how to optimize your content for Search Engines with On-Page optimization

SEOPress Universal Metabox
Set Meta Title and Descriptions in SEOPress
How to conduct SEOPress Content Analysis?
Featured Images for Social Media
Bulk Customize Meta Title and Description
Posts Dashboard Appearance Customizations

Redirections
Learn how to create and setup various type of redirections easily with SEOPress

Setup 301 redirections
Monitor 404

Schema & Structured Data Markups with SEOPress
Learn how to make your content stand out with schema markups and structured data

Local Business Schema with SEOPress
Implement Schema Markups
Reverse engineer featured snippets
Check and Validate Structured Data

Additional Settings and Features
Explore other features and settings inside SEOPress

Social Networks
Instant Indexing
Advanced Features
Export or Import SEO Data from other SEO Plugins

Bonus
You have questions? We have answers!
Some of the most requested questions will be answered in video format and the content will be added as Bonus items
Frequently asked questions
Learn how to get more visitors, leads and conversions