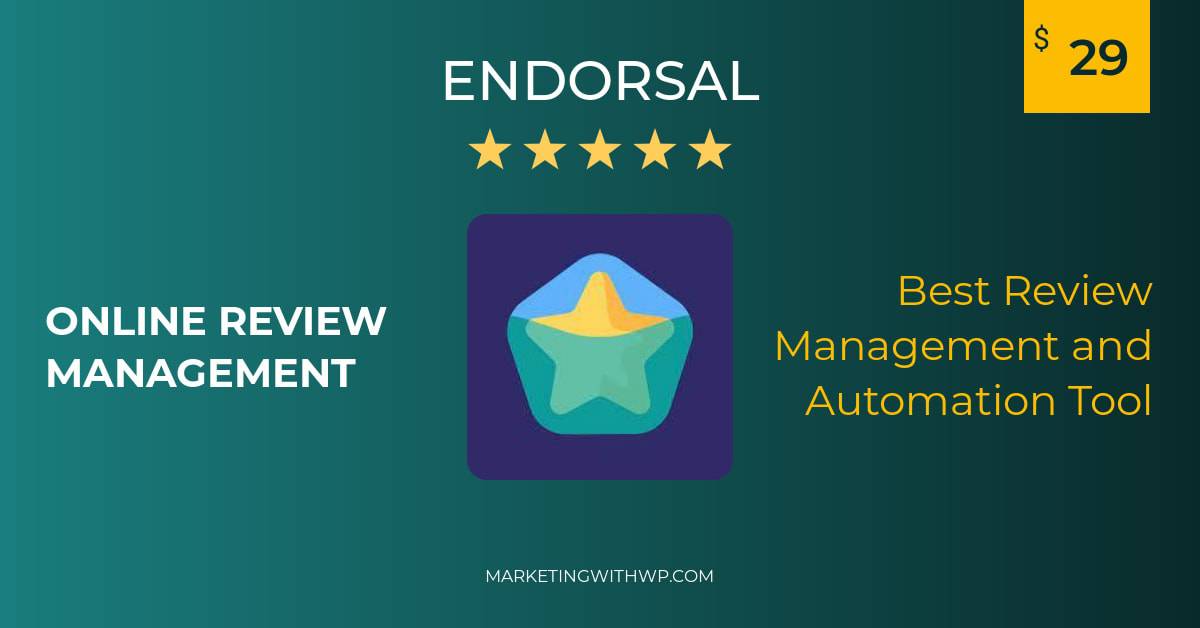 What is one competitive advantage that is difficult to acquire but is highly beneficial? Trust, Review, Ratings, and all the different ways how you can showcase why people should trust you and your business.
Here's a fact – businesses with reviews are more likely to get higher clicks and conversions on their website. For any business – especially online, you need trust from your audience. And, if you are offering good value to your customers, then their reviews can provide the social proof that helps assure your potential customers.
And, that's when Endorsal comes in handy. It helps you collect, display, and share customers' reviews and testimonials. Even more, this also helps you improve customer loyalty, increase social proof, and boost your brand awareness.
In this post, we are going to talk about the overview of Endorsal with its features, pros, cons, pricing, and alternatives.
So, let's begin.
Endorsal Overview
Endorsal is a powerful SaaS tool that helps you boost your brand authority and build trust with high-quality user reviews & testimonials. It lets you collect text or video reviews and display them on your website or share them on your social platforms.
Getting customer reviews is a very tiring job. But, Endorsal has made it easy. Basically, the way it works is pretty simple –
Lets you collect testimonials with request forms, and emails
Displays the testimonials on your website with review widgets, review pages, and popups
In addition, you can also integrate and sync reviews from lots of different review platforms like Google, Yelp, Facebook, Tripadvisor, etc. This allows you to send users directly on those platforms.
Moreover, you can also share the best reviews on your social media platforms like Facebook, Twitter, LinkedIn, and many more.
Getting started with Endorsal is also made easy. You can just sign up for its plan, get through the onboarding steps, and you will reach your dashboard.
From there, you can start with creating your request forms, request emails & SMSs, connect to other platforms, import reviews, etc. easily.
It also offers giving out offers in exchange for getting reviews from the users.
In addition, you can find other options like updating your branding with logo & color, editing the subdomain, adding schema, etc.
Endorsal Features
Now, let's look at the features of Endorsal.
Endoform – Review Collection Form
Endorsal offers you a powerful form i.e. Endoforms to collect the testimonials, reviews, and ratings from customers.
You can have a custom message for the users on top of the form for the personalized request for submitting the reviews.
Moreover, you can choose theme color, enter content title & introduction, enable or disable consent requirements, let users upload avatars or sync from social media, etc.
An important feature, the forms offer a real-time preview to the users' end as well. This means the users can see how their testimonials appear on your website at the time they are filling out the form.
Collecting Reviews through Emails and SMSs
Next up, you can also collect the reviews through customized emails and SMSs through its feature called AutoRequests.
With your message, you can send the links to your testimonial form with personalized texts.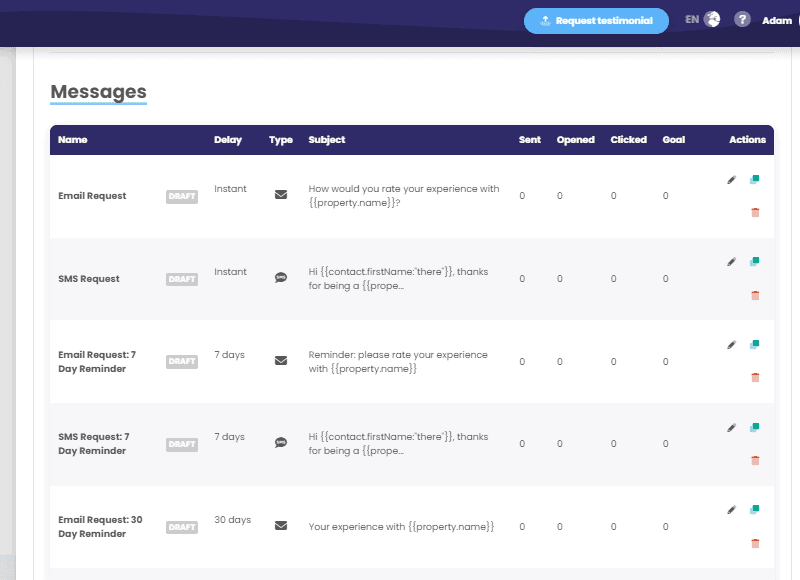 For sending emails, you can create campaigns applying various conditions like a complete email marketing platform. It lets you use dynamic data like name, email, address, company, property name, domain, etc.
In addition, you can import email contacts from other sources with CSV files, APIs, webhooks, or via integrations.
Moreover, it also lets you schedule the emails and SMSs with the right frequency. You wouldn't want to overdo it though.
Displaying Reviews
Now, displaying the review is possible in various ways with Endorsal.
Firstly, you can use the different types of widgets – testimonial widgets, badges, and product review widgets. They help you embed the testimonials and reviews to your website by just copying the embed code.
Similarly, Endorsal offers you the ReviewHQ feature that lets you place your reviews on a floating widget with a single line of code.
Or, you can also display the testimonials on an attractive custom page, also known as Wall of Love. You can just select a page template, customize according to your brand, and add it to your site.
Last but not the least; it lets you create notification popups with your customer reviews and testimonials. This creates the FOMO (Fear of Missing out) effect on your website visitors which leads to an increase in sales.
Integrating Platforms
Endorsal also lets you connect with lots of different review platforms to import and sync the reviews. Then, those reviews can also be displayed on your website.
You can connect to platforms like Google, Yelp, TripAdvisor, Capterra, etc. with just some clicks and import the reviews easily.
In addition to that, you can also connect Endorsal to any other platform where you already have reviews and ratings.
Sharing Reviews
To increase your social trust further, you can share your best reviews on social networks.
With the review marketing feature, you can connect Endorsal to your social media accounts. The connections are available to Facebook, LinkedIn, Twitter, and Instagram.
For the reviews to be shared, you can choose the minimum rating, max characters, testimonial source, etc. This then shares the review automatically when someone gives you the rating you have set minimum.
Moreover, you can also choose the template for the review to be shared and customize it according to your brand.
Endorsal Pricing
Endorsal is a premium tool with 5 different plans starting at $29 per month paid annually. Moreover, it offers a trial period of 14 days if you want to test out its features.
The cost and provided features for Endorsal depend on the number of customers and monthly unique visits you get on your website.
For instance, here is the pricing option if your website has up to 500 customers and gets up to 2,500 monthly unique visits.
Starter: $29 per month | 1 domain | 500 customers | 250 monthly emails | 10 video testimonials
Professional: $59 per month | 3 domains | 500 customers | 250 monthly emails | 25 video testimonials
Endorsal Pros and Cons
Now, let's look at the pros and cons of Endorsal.
Pros
Easy to use
Streamlined collection and display of testimonials
Offers a free trial of 14 days
Live form fill up previews
Import reviews from other platforms
Text and video testimonials
Create dedicated landing pages
Cons
No free plan
Video testimonials are limited
Prices are a little high
Limited support
Endorsal Alternatives
Trust
Trust is a popular tool to help you collect & display reviews, ratings, and testimonials to your website easily. It automates the whole process – you can set it up once and it does everything itself from collecting to displaying testimonials on your website.
Unlike Endorsal, Trust offers a basic free plan. In addition, the starter plan costs $16 a month which is cheaper in comparison. But, it seems like the value provided for the cost is much lower in Trust.
Boast
Boast is another useful platform for collecting testimonials to improve trust and improve business. It offers lots of features like receiving video testimonials, collecting online reviews, conducting surveys, etc.
Moreover, Boast is also useful in helping the marketing team collect customer feedback for improving products and organizational health.
Talking about the pricing, it starts at $25 per month paid yearly. Also, you can get a free trial for 14 days to see the platform for yourself.
Testimonial
Testimonial is another great tool you can use for collecting text and video testimonials. Also, you can add them to your website without any coding. Just copy the HTML code and paste it on your website page.
You can create a form with questions that your customers can answer through text or videos. You can also choose to include the star ratings, users' consent, custom colors, collect additional user info, etc.
The tool offers you a free to collect and display testimonials but limits you with the features. Or, you can get the premium version starting at $50 per month.
Conclusion
To conclude this review of Endorsal, this tool makes it very easy to get testimonials, ratings, and reviews from your customers. Moreover, it automates the entire process of collecting, publishing, and sharing the reviews so you don't have to do it manually.
If you already have got reviews on platforms like Google, Yelp, and TrustPilot, then it can also let you import them on your Endorsal account. Then, you can sync and display them on your website as well.
These days, the growth of businesses depends on users' trust and social proof. And, Endorsal is the best way to achieve it with testimonials.
Endorsal FAQs