What is better than hard work? Hard Work + Smart Work.
It's Monday and your boss decides to assign you extra work – the boring, redundant data scraping work. What do you do? You learn how to be good at scraping and automations with Hexomatic.
Hexomatic is an automation and data scraping software that lets you extract online information and schedule tasks on automation. It is simple and easy to use for anyone wanting to scrape websites easily without requiring coding or technical knowledge.
Get started today for free
– Scheduling
– 4500 Automation credits (Monthly renewing quota)
– 10 Simultaneous running workflows
– Create your own scraping recipes
In this post, we'll talk all about Hexomatic including its features, pros, cons, and alternatives.
Hexomatic Overview
Hexomatic is a powerful marketing tool that offers to scrape and collect data from websites on automation. It lets you use the internet as your own data source while automating time-consuming tasks like researching industries, collecting data, and transforming them into useful information.
Basically, eCommerce stores, finance industries, marketers, and sales teams in multiple industries use Hexomatic to grow their businesses.
The tool lets you create custom recipes for collecting data which lets you choose what to scrape within a page. For example, if you're into eCommerce, you can capture every detail within products like prices, descriptions, reviews, ratings, features, etc.
You can simply collect a bulk of data with the 'point and click' method to reduce the hassle of manually punching in every research data. And saving them is easy on Google Sheets, CSV, or JSON.
Not only that, the tool provides workflows that help to analyze, transform, integrate, validate, and process your scraped data using automation modules. We'll talk about it in detail later.
Besides, you can schedule your scraping routine to constantly update the data with respect to recent changes and sync with the previous data. And since all the activities are run on the cloud, you can run multiple projects simultaneously at a speedy rate.
Its IP rotation feature comes very useful to scrape sites that might be blocking your IP. It will let the scraper use multiple IPs one after another to surpass the IP blocks.
Hexomatic Features
Being an automated web scraping tool, Hexomatic surely saves your time, cost, and effort. But that's not all; it provides several advanced features like automation, workflows, and third-party integrations that make data collection easier as a website owner or marketer.
So, let's see the features of Hexomatic in detail.
1. Simple Interface
After signing up to Hexomatic, you'll find a simple and easy-going dashboard. It has the offered workflows, recipes, automation, libraries, and settings arranged in a simple sidebar for easy reach.
And you can view your overall account info like total automation credit usages, workflow statuses, etc. easily on the main dashboard screen.
It has a simple and easy-going interface so that you can scrape data without any prior technical or coding experience. Furthermore, the scraping process is all visual – just select the field to scrape and choose the element you want to collect.
2. Scraping Recipes
You can create your own scraping recipes in Hexomatic to extract several kinds of data from websites with a few simple steps.
It comes with a recipe builder that enables entering the URLs of directories, eCommerce stores, drop shipping sites, or any other templated websites. Then you can select any field on the page and the data type associated with the field to extract the data.
For example, if you're collecting the names of all products on a page, then you can point and click on a product name and then select the data type – text. Similarly, if you want to copy the link of the product, then the data type would be – Link URL.
This way, you can collect custom data from any page with the scraping recipe. Here's a brief demonstration.
3. Automations
Hexomatic offers tons of automation features that boost your marketing, sales, and research. You can collect data and transform them to other forms, export them to other platforms, or process them as per your need with Hexomatic automation.
To be precise, the automation modules are available for transcriptions, audit pages, transforming data, sending data to other platforms, finding tech stack on pages, sending notifications, collecting metadata, finding backlinks, translation, and much more.
You'll find two kinds of automation in Hexomatic –
In-built automation: Requires regular credits that renew on a monthly basis
Premium automation: Requires premium credit and provides automation using third-party services; comes with an additional cost.
Furthermore, automation is useful in creating 'workflows' which we'll talk about in the next point.
4. Workflow
A workflow in Hexomatic is one of the key features. It's the engine that extracts information from provided data and carries out automated tasks as per your requirements. Not only that, it can carry out several repetitive tasks with the options available on the automation modules.
The workflows are game changers in web scraping as they have the power to combine scraping recipes with automation. Meaning, you can leverage the scraped data to convert them to useful information, send them to other platforms, or automate time-consuming tasks.
For example, you can scrape the blog post URLs on a website and then use the source to create a workflow to extract their SEO metadata (titles and descriptions) using the automation – SEO meta tags.
In addition to that, you can create workflows without the sources as well by providing the required data or URLs yourself. Some examples would be cropping images in bulk by uploading them, analyzing blog content by inserting links, etc.
Another option, you can also use the ready-made workflow libraries to find leads, carry out website audits, analyze SEO strategies, etc. Actually, you can find tons of pre-made workflow templates suitable for sales, marketing, and research.
5. Browser Extensions
Hexomatic offers browser extensions for popular browsers – Chrome and Firefox. It helps you research and collect basic information about web pages directly from browsers.
Here's what the Hexomatic browser extensions check –
Discover Tech Stack – Types of technologies and third-party tools used.
Discover WHOIS – Domain registration and expiry date of the site.
Accessibility Audit – Several accessibility compliances of the web page
Grammar and Spelling Audit – Grammar and spelling errors on the page.
Content Analysis – Word count of the page along with keyword density
Screenshot Capture – Capture a screenshot of full page
QR Code Generator – Generate QR code of the page
6. Integrations
Hexomatic integrates with several third-party tools to ease scraping, provide several automation services, send data to other platforms, and receive notifications.
The following integrations are available on Hexomatic right now.
Telegram
Slack
Google
Discord
Pabbly Connect
Webhook
API
Zapier
KonnectzIT
Make
Inegrately
MS Teams
WordPress
SQL Database
Google Drive
Google Sheets
Hexomatic Pricing
Hexomatic is a premium tool, so it doesn't have a free version. However, a free trial of 7 days is available. It has limited monitoring features, lacks most of the automation tools, and offers limited credit. Still, you can sign up and see how it works to decide if you like it.
Regarding premium options, it offers 3 different plans with varied capabilities. Here are the pricing and plans of Hexomatic, paid annually.
Get started today for free
– Scheduling
– 4500 Automation credits (Monthly renewing quota)
– 10 Simultaneous running workflows
– Create your own scraping recipes
Silver: $40.83 per month | 4500 monthly automation credits | 10 simultaneous workflows | no APIs available
Gold: $82.5 per month | 10,000 monthly automation credits | Unlimited simultaneous workflows | APIs available
Enterprise: Custom pricing | Custom automation credits and workflows | team training | Dedicated strategy consultant
Note that access to premium credits is subject to extra cost and starts at $9.99 per 105 credits monthly.
Hexomatic Pros and Cons
Now, here are some of the best points and limitations of Hexomatic.
Pros
Custom scraping recipes for collecting any kind of data
Provides a 7-day free trial
Easy to learn; no coding or technical requirement
Saves time and manual effort
Multiple automation tools for several useful purposes
Works on the cloud, so it's fast and secure
Dedicated academy for learning Hexomatic
Cons
Premium credits cost extra.
Not for scraping social media
Offers very limited features in the free trial
Hexomatic Alternatives
Now, let's look at some alternatives to Hexomatic.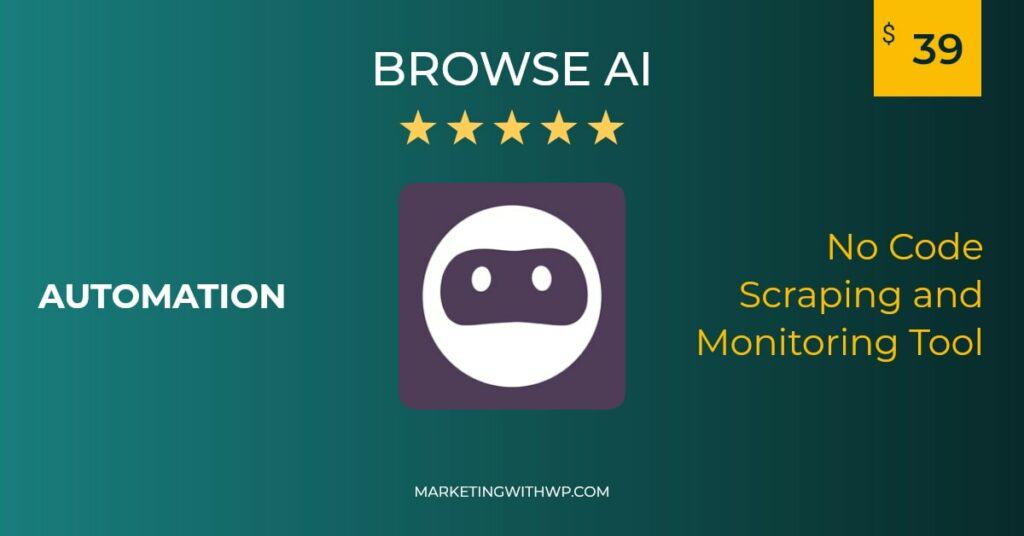 Browse.ai is a no-code data extraction tool to collect bulk data from any website automatically. It is most probably the easiest to use out of all scrapers mentioned in this post.
In addition, it is also a website monitoring tool that helps you keep an eye on any website, typically competitors, for detecting changes and getting notified easily.
Browse.ai comes with pre-built robots for collecting several information like job listings, product info, property listings, app details, Google search results, and more. And you can easily download or extract the results into spreadsheets within minutes.
While the tool offers several use cases, it doesn't have the ability to capture any data type and combine them with customized automation as in Hexomatic. It does however have direct integration with Zapier, Make, Google Sheets, and Airtable.
Webscraper.io is also a scraping tool that lets eases collecting data by extracting any element on web pages easily without codes. The extracted data can be exported to CSV, XLSX, and JSON files for creating your own data library.
There are two versions of Webscraper.io, a chrome extension, and an online SaaS version. The Chrome extension is 100% free to use and super powerful.
The Saas version lets you schedule your scraping routine to make it a fully automated process. It offers IP rotation powered to avoid the websites blocking your request – just like Hexomatic.
Compared to Hexomatic, it doesn't provide automation to create actions and sequences after the data are collected.
3. Octoparse
Octoparse is another no-code scraping tool to collect any website data and store them in your own database. The point-and-click extraction along with the scheduling option enables you to scrape any page easily without any hassle.
The tool works with infinite scroll pages, login-protected pages, dropdowns, and AJAX elements. Plus the IP rotation feature prevents your IP from being blocked.
Similar to other alternatives, you don't get access to automation features for converting or transforming the data in required formats. And its price also seems too high for the offered features.
Conclusion
With Hexomatic, you can scrape every essential data from the internet in a clean structure to create a better resource for your business. It even lets you transform the collected data, analyze them, and extract other information with available AI services and automation.
So, Hexomatic is the best solution for collecting data from the internet quickly and hassle-free without having any technical expertise.
Get started today for free
– Scheduling
– 4500 Automation credits (Monthly renewing quota)
– 10 Simultaneous running workflows
– Create your own scraping recipes
Hexomatic FAQs