Hexowatch Review
Website change detection and monitoring tool
Monitoring your own and your competitors' online strategies is one of the best ways to stay in the game. But it can be hard to keep track of sitemaps, changes in content or prices, or any other strategy manually. That is where Hexowatch comes into play.
Hexowatch is an online software to automatically monitor and track changes on a website. Also, it sends an automated message with information about the changes before and after they were made.
Let us explore some of the best features of Hexowatch, its pros & cons, pricing, etc.
Hexowatch Overview
Hexowatch is a powerful SaaS tool powered by AI to monitor website changes and keep you updated on your competitors' businesses. It lets you monitor any website and get started in minutes without requiring software, proxies, or programming knowledge. It's designed to help users extract useful insights and information, acquire business intelligence, conduct market studies, and much more.
From new product launches to changes in source code, Hexowatch will automatically track everything for you and provide alerts as well. Not only that, you can track visual changes, keywords, technologies, WHOIS info, sitemaps, backlinks, and much more. Consequently, you will be in sync with your rival companies, and be a step ahead in your marketing strategy.
Moreover, the tool is useful for monitoring not only your competitors' websites but also lets you analyze your own. For example, you can monitor site uptime, prevent content changes without consent, monitor keyword mentions on other sites or news, and content renders on visitors' devices.
This tool can also help find parts of a website that may be underperforming or need to be optimized. It can also track how well a website is doing over time, improve its search engine rankings, and figure out how people use it.
Features of Hexowatch
As an analysis tool, it offers various advantageous features and functionalities to obtain productive outcomes for your business. Some of the main features are described as follows.
Automatic AI Monitoring
AI monitoring assures that everything on a website will be scanned as per the parameters that you have set on Hexowatch. This feature allows you to track multiple items on a page, and that includes coding, HTML, content, landing pages, pricing updates, and uptime.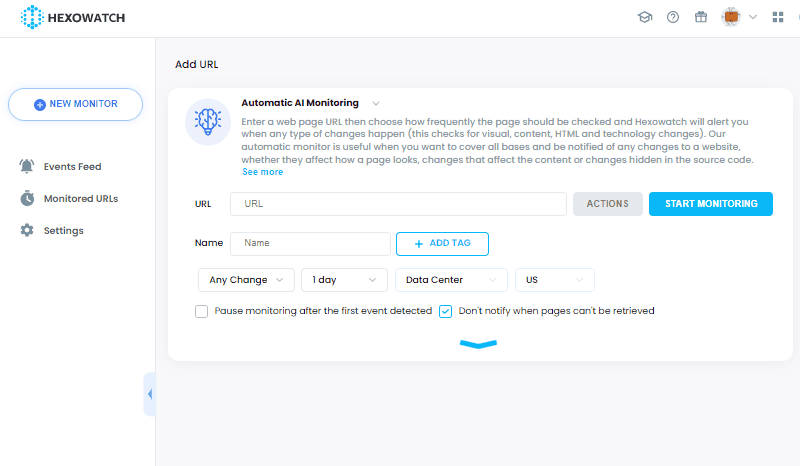 It reduces your effort and saves you valuable time as the tool does all the processing behind the scenes.
In addition, you can pick the server location for the check, if you've subscribed to the Business Plus plan. It is suitable for sites that operate in a specific geo-location or limit access to a few locations.
Frequency & Sensitivity
The tool lets you choose the frequency of checks to be performed on a website. You can conduct weekly or daily checks, or if you like to see modifications every hour and minute, just select the preferred frequency and let it detect changes for you.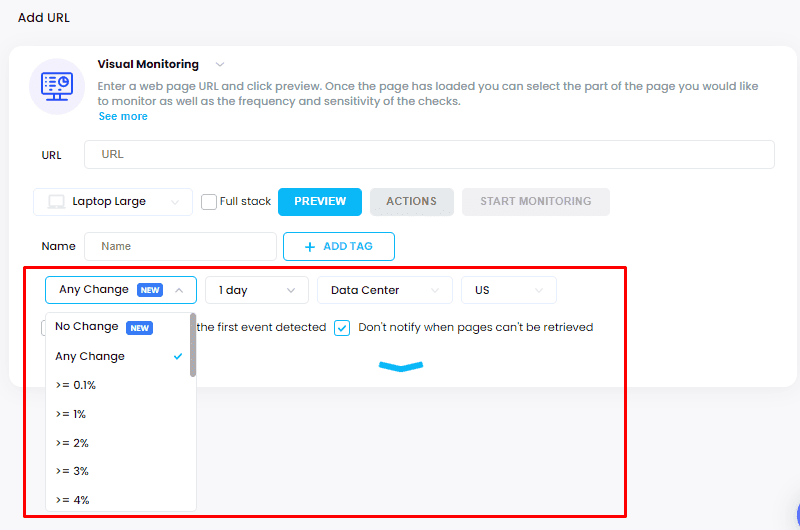 In the same way, you can change how sensitive monitoring is so that you get all notifications or only important ones when a website changes. Whether you want to see a few percentages or all the changes, designate the amount and the tool will do it for you.
Reports
When changes happen on the sites you're keeping an eye on, the tool will give you a detailed change report and a side-by-side comparison of the sites that shows the changes.
You can even download the reports as CSV files, export them on Google Sheets and RSS feeds, or sync the report updates to other apps via Zapier.
Visual & Content Monitoring
Hexowatch allows you to track both visual and textual changes to a webpage, whether it's your own or one of your competitors. It helps you take control of what goes into your website and what your competitors are doing that's different from yours.
Also, if someone has changed content on your site without your knowledge, you get notified and can quickly re-edit it.
Similarly, it helps you track when your competitors launch new products, change pricing, announce sales, and so on.
You can choose to monitor whole pages or specific parts of the page by selecting an area on the page with visual monitoring.
HTML Elements and Source Code Monitoring
Hexowatch also lets you monitor the HTML elements on your competitor websites as well. With that, you can track certain elements on the third-party pages like price, availability, descriptions, values, etc.
This feature is handy for users running an e-commerce store. Any adjustments made by their competitors from product value to availability, rate, and price changes, you can effortlessly analyze and strategize for your own benefit.
On the other hand, the source code inspection feature lets you check for unauthorized changes by allowing you to see how the HTML code on your site has changed. Moreover, it can also help you make sure your backlink partners have linked back to you by monitoring their websites.
Keyword Monitoring
The keyword tracking option lets you check if keywords or phrases are missing or present on a page. You can find out the trending keywords and test their density on your own or your rival's website.
It's useful for detecting the mention of your business name or brand on any website, finding out special deals, or just seeing what your competitors are mentioning on their sites.
You can just start out by entering the competitor's URL and entering the keywords you want to track. You can enter multiple keywords or phrases separated by commas.
Technology Monitoring
For a site owner, digital marketer, and SEO expert, it's important to see if the tracking scripts like Google Search Console, GA, Meta Pixel, and other webmaster tools are added without any issues. For that, the technology monitoring feature is beneficial.
It lets you detect if any third-party tracking script is added or removed on your own site, your client's sites, or your competitor's sites.
Whenever the script is removed or not working, or if the sites change their vendors, you get notifications on your channel as per your settings.
Monitoring Other Aspects
Similarly, you can track several other elements on your competitors' or your own sites like site uptime, WHOIS information, sitemaps, backlinks, APIs, and RSS feeds.
And for all these trackers, you get to configure your preferences like schedules, notification platform, percentage change, and location for all these alerts.
Integration
Hexowatch lets you connect to a number of other services and third-party tools so you can keep an eye on a website, get alerts, and send change reports to a number of different platforms.
Here are some of the integrations available offered by Hexowatch –
Telegram
Slack
Google
Zapier
Pabbly Connect
Google Sheet
Discord
API
MS Teams
Webhook
Hexowatch Pricing
Hexowatch lets you get started for free so that you can sign up and see how it works. However, the monitoring and integrations are limited.
You can upgrade to premium plans to get additional services anytime you feel necessary. You get 5 different options with monthly or yearly subscriptions.
The annual payment packages of Hexowatch are outlined below.
Standard: $12.49 per month | 2000 checks/month | 30 mins checking frequency | No choice of server location | 12 hours sitemap monitoring
Pro: $20.82 per month | 4500 checks/month | 15 mins checking frequency | No choice of server location | 6 hours sitemap monitoring
Business: $41.66 per month | 10000 checks/month | 5 mins checking frequency | Server location provided | 3 hours sitemap monitoring
Business Plus: $83.25 per month | 25000 checks/month | 5 mins checking frequency | Server location provided | 3 hours sitemap monitoring
Enterprise: Contact team | Custom checks per need | Custom check frequency | Server location provided | Custom sitemap monitoring
Hexowatch Pros and Cons
Let us understand the pros and cons of Hexowatch too.
Pros
Ease of Use
Free version available
24-hour monitoring
Automatic AI tracking and notifications
Highly customizable settings
Great time saver
Authentic analysis
Instant real-time alerts
Great value for money
Dedicated 24/7 support
Documentation, user forums, and tutorials are available
Cons
Once configured, you can't edit the monitoring settings.
Not the best tool to monitor Social Media platforms
The free version is limited.
Hexowatch Alternatives
Now, let's see some of the alternatives to Hexowatch.
Visualping
Visualping is a tool like Hexowatch that can be used to keep an eye on websites without having to do it by hand. It lets you monitor visual content, text, or elements of websites for tracking important events and changes.
When changes are detected, you'll receive the alerts in emails, text, Slack, MS Teams, Discord, and more. Moreover, it also offers mobile apps (coming soon), browser extensions, and web widgets to make it easy to use Visualping.
Though it's a useful tool for businesses, it doesn't offer a fully-fledged change detection like Hexowatch. You'll miss features to monitor several aspects like keywords, technology, source code, HTML elements, uptime, etc. with Visualping.
However, it can be used for personal uses like monitoring stock price movement, social media monitoring, job hunting, property seeking, deal announcements, etc.
Watchete
Watchete is another tool for keeping an eye on websites. It automatically finds changes to websites and lets you know about them.
With this tool, you can track your competitors to monitor the change in their prices, product launches, and page designs. In addition, you can check your site's health, track content changes without your knowledge, see better deals for shopping, etc.
Watchete, unlike Hexowatch, monitors content on protected pages without requiring passwords. However, Hexowatch is much more advanced in terms of the number of objects and elements on a website it can track. And the visual interface of Watchete looks pretty outdated.
Better Uptime
Better Uptime is the best alternative to Hexowatch if you're looking to monitor your site's health and monitor uptime. It comes with a full set of features to supervise and make sure your site is performing optimally.
It not only monitors website uptime but also alerts the website admins instantly if the page goes down for quick management. You can choose where you want to receive the notifications – calls, emails, Slack, MS Teams, or SMS.
It finds problems with SSL, the server, the cache, the domains, etc., and creates a detailed report for each problem. In addition, it also lets you inform the website visitors about the issues through a customized page.
Conclusion
You can keep an eye on your own website or others, try out new strategies, and build a better content-driven online business. It tracks all the necessary aspects, such as website aspects like keywords, content, source code changes, and many more.
Thus, Hexowatch is an ideal automation tool if you want an automated AI assistant to monitor changes, and handle competitors' analysis so that you can focus on other important tasks instead of manually monitoring them.
Hexowatch FAQs