What are keywords, why are they important, and how to use them?
YouTubers, Internet Marketing Gurus, Digital Influencers, SEOs, your marketing team – everyone keeps talking about "Keywords". What are Keywords? Are you having a hard time understanding them? If yes, In this guide, you'll learn everything about keywords and most importantly, how it directly impacts your bottom line.
Some of the things we will go through are the importance of keywords, types of keywords, how to research and choose appropriate keywords, and most importantly optimizing your content for keywords.
A keyword is a word or a phrase that people enter on the search bar of Google or other search engines. They are also referred to as search queries in general.
If your website depends on search engines to drive traffic and revenue, you need to rank for the right keywords to bring in the visitors with the intent of buying your products or services.
What are keywords?
As a blogger or content creator, you can define keyword as the phrase for which you want your content to show up in the search engines. The keyword is the main idea of the content i.e. the content revolves around talking about the keyword.
This specific content, the one you are reading right now, is designed to be optimized for the search term "What are keywords".
The following is a more in-depth explanation –
For example, users can search for 'how to plant a Bonsai tree' in Google if they are looking for growing miniature trees. The highlighted phrase above is the keyword.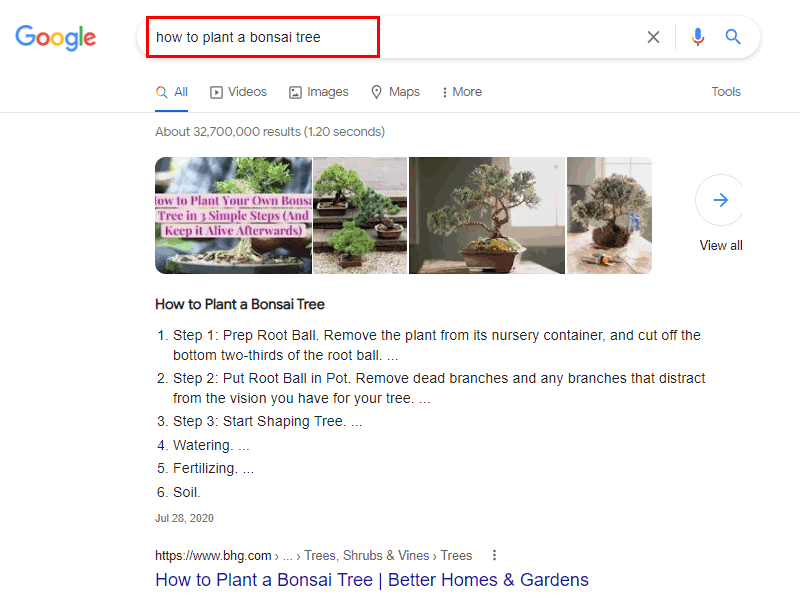 Now, if you have a commercial interest in selling a product related to the search term the user is searching for, then you would want to show up for the search term query – 'how to plant a Bonsai tree'
Businesses should map out their customer journey and find out what users are searching for in their relevant niches. Then, create content relevant with answers to their queries to bring in the customers to their website. This practice is commonly also known as inbound marketing.
The major focus here is to land more users on your website, once they've landed on your website, you have more options to capture their information.
Why are keywords important?
If you were to map out your Customer's Journey – then you will soon realize that almost all Digital Customer Journey starts with a search on Google.
Most importantly, keywords are what customers are entering in Google. If you can rank for relevant keywords, you've already started strong in getting the customer's awareness.
Google processes around 3.8 million searches per minute.

Thats' 3.8 million possible opportunities to attract visitors
Awareness
Keywords signify the issues or problems that users might be facing. And, you can create resources to overcome the problems through your content. Ranking for relevant keywords increases your brand's awareness.
Credibility
Consistently ranking for relevant keywords and consistent exposure to your brand increases its credibility and stickiness. If you keep answering users' queries and if they trust the answers you provide, at some point they will intentionally seek solutions from your website.
Sales
In addition, it can even result in a direct sale. Here's a fact – research showed that 89% use Google or other search engines before purchasing. So, if you optimize your pages enough to show your product for a relevant sale-focused keyword, then it increases your chance of selling.
In essence, the keywords give website owners an idea of what their target audiences are searching for. With that, it will be the guidance for content creators to create useful resources for the users. And that will potentially be seen as a useful resource and ranks higher when users search for that keyword.
Here's an important takeaway – all search queries might not be potential keywords that are worth going after. We will discuss it more later in this blog.
Types of keywords
Users enter different types of keywords in order to find what they are looking for. And, one of the factors that cause the search keywords to vary is the search intent. Meaning – the objective of the user behind that search.
Now, let's see the types of keywords based on the search intent.
Commercial keywords
Commercial keywords are keywords that indicate the interest of users in a certain product or service.
Generally, users search these kinds of queries to learn more about something they want to buy. They might look for product reviews, comparisons with similar products, discounts, and so on.
A commercial keyword is not intended for instant buying and it might not lead to direct sales, however, it does retain the interest in the product and provides an opportunity to influence the buying decisions. By showcasing more use-cases and benefits of the product, you can increase the likelihood of a purchase.
Some typical commercial keywords look like this
The Alchemist book reviews
Acer Nitro 5 vs Asus Vivobook 14
Top 10 restaurants in Albuquerque, New Mexico
Blocksy WordPress theme review
Transactional keyword
It's the keyword that user type in with a strong interest in buying specific products or services. So, it is also referred to as the 'buying intent keyword'.
The searchers may be looking for the source to buy the product or service. Or, they could be browsing the best available deals. Anyway, ranking for these kinds of keywords generally leads to direct sales.
Usually, the commercial intent keywords have included the following words –
Buy
Offers
Deals
Coupon
Discount, etc.
Informational keywords
Another type of keyword to be well known about is informational.
The informational keywords don't have a buying gist to them. However, it might be somewhat related to the business you are in.
For example, the keyword 'how to ride a skateboard' means that the user is looking for the instruction for riding. It might not be the selling point for a skateboard business. But still, it serves as an opportunity to establish brand awareness with helpful blog content that has detailed instructions on skateboarding for beginners.
Besides, there could be hundreds of ways users can search with informational keywords. However, the common ones consist of phrases like how to, what is/are, best …, why, etc.
Navigational keywords
Navigational keywords are the search terms that contain your brands' name and are searched with the intent to browse your website or certain pages on your website.
Typically, users searching with navigational keywords are most probably familiar with your brand or website. They know what the expected result is and are looking to navigate to certain pages.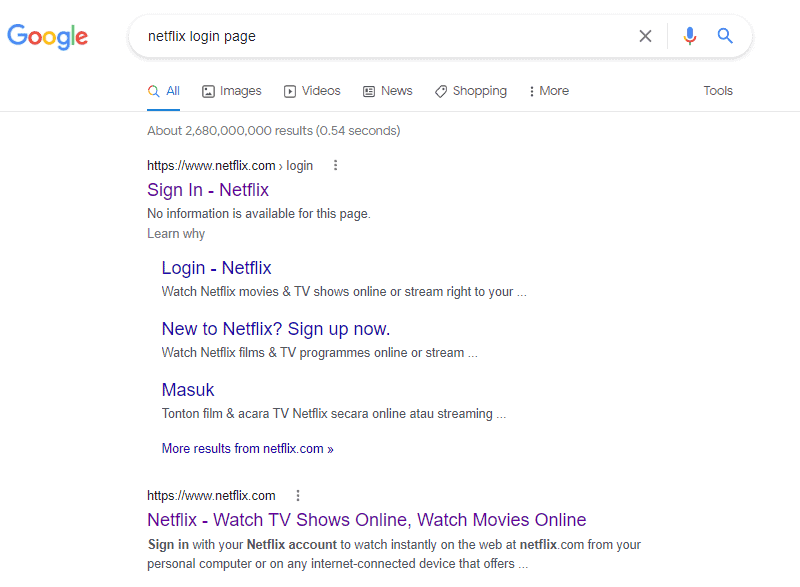 How to appear in Google for keywords
Let's face it – there might be tens, if not hundreds of businesses similar to yours. And, they all might be competing to get the customers' attention and grow their business more. So, appearing on Google for relevant keywords can help you boost your audience and potential customers.
After you understand the types of keywords mentioned earlier and decide which keywords you want to rank for, make sure to create a list and save it. This will be used as a guideline for your content marketing or advertising strategy.
There are 2 ways you can show up on Google for the targeted keyword. They are –
Search Engine Optimization (SEO)
Search Advertising – Pay Per Click (PPC)
Search Engine Optimization (SEO)
SEO is the process of optimizing websites and creating quality content in order to boost their rankings on Google organically.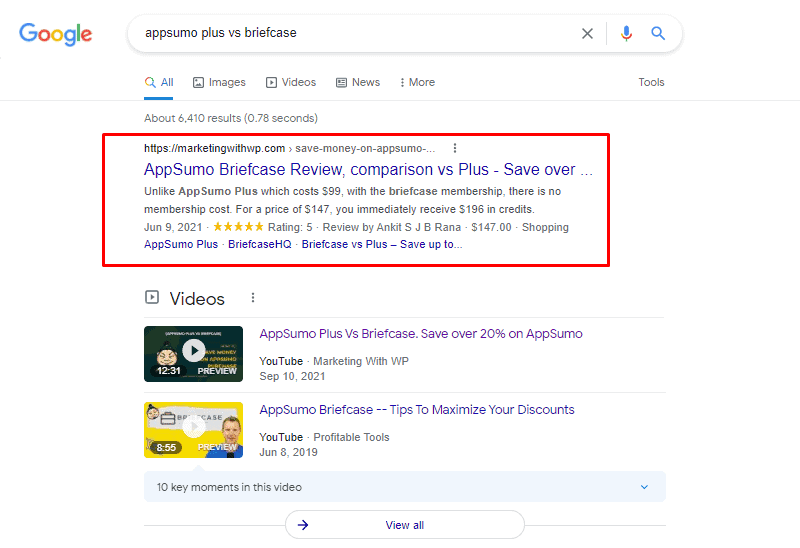 When users perform a search, it sorts the relevant results so that the best result will show up on top of the result page.
For Google, the sole focus is to provide the best experience for its users which is the results pages that provide the most relevant answers to the users when they go on Google. This way users keep coming back to using Google and Google in return can make revenue from businesses wanting to advertise on the search results.
Users could potentially just skim the result page and click among one of the results ranking on top. They wouldn't want to go any further below.
By creating the best resource for certain keywords, Google would see it as the most relevant result and places it at the top. So, you get a stream of visitors to your website.
However, that's not all. Google has a robust algorithm made up of various factors to determine the ranking for each keyword.
The ranking algorithm is not ever fully disclosed but we have got hints and proven practices to tell some ranking factors. Some are page speed, responsiveness, website structure, keywords used, etc. We have a detailed guide on Google's top-ranking factors that you might want to check out.
The best part about SEO is that you get a continuous flow of traffic for free over time.
Search Advertising – Pay Per Click (PPC)
The opposite to SEO, Search advertising is a paid marketing strategy by which you can market your business on Google SERPs through ads.
Since SEO takes time, consistent content generation, and other resources, businesses that have an advertising budget can get faster results with Search Ads.
Google has made it easier to run ads – you just have to sign up for the Google Ads platform and go through a few steps. Or, you can take help from third-party as managers as well.
Search advertising is a highly targeted marketing strategy – it lets you display your web pages as ads for specific targeted keywords.
For example, if you sell a photography course, then you can run ads for keywords like online photography class, learn photography online, etc.
Also, unlike other marketing strategies, Google Ads shows up your brand to the users at the exact time they are looking for products to buy. So, it has higher chances of conversion.
In the digital marketing world, people would also refer to it as Search Engine Marketing (SEM) or Pay-Per-Click (PPC). The phrase PPC (Pay Per Click) is more or less self-explanatory – the advertiser would only pay for the number of times the ad is clicked. That's one of its unique features.
Besides that, it has more cool features that are listed below.
A search ad appears ahead of the organic results in the SERPs. So, it would receive more impressions and views.
SEM takes less time to work in comparison to SEO – you just have to create ads and run the campaign. It would be visible on the SERP within seconds.
Google Ads is flexible – it lets you control the time and location to display the ads. Also, you can pause, resume, or end the ad any time you like.
You can choose negative keywords – the keywords for which you strictly don't want the ad to appear.
Besides that, PPC is one of the most cost-effective strategies out there. Not only it's cheap, but has a great return on investment (ROI).
How to do Keyword Research?
For a new business, you might have a fixated idea of what content to create depending on your business products or services. However, in the long run, you will run out of keyword ideas once you cover all the basic content ideas. And that's when the need for keyword research starts.
Keyword research is the process of finding out appropriate topics on your niche that's worth creating content for. It basically includes finding out what users are searching for that is related to your niche or industry throughout different phases of the customer's journey.
There are many ways to do keyword research and find out the best keywords for your content. The most favorite way is by using a keyword research tool. There are lots of them available out there, both free and premium.
Finding Keyword Ideas using Google
For beginners, Google can work as a simple keyword research engine as well. Let's see with an example.
Google Autosuggest
First, go to Google and type in something about business, but don't hit search yet.
Suppose your website is all about indoor plants and related items. Then, you can start by typing 'indoor plants'.
With that, Google auto-completes the phrase with some popular suggestions. The generated suggestions could be ideas for your content.
In this case, 'indoor plants for bedroom', 'indoor plants benefits', etc. are the generated content ideas.
For further suggestions, you can try adding some question-intended words to it. Example – 'what indoor plants'. Then, you can see some really good suggestions start pouring out. Similarly, you can try where, when, what, why, etc.
Google Search Parameters
Another really great trick is adding an asterisk (*) sign in the search. Example – 'best * for indoor plants. You can see more suggestions related to it.
Similarly, you can check the 'People also ask' section on Google SERP for more clues.
Like this way, you would generate a lot of topic suggestions from the suggestions.
However, it has various shortcomings. You don't exactly know the search volume, location, difficulty in ranking for the keyword, and what competitors are ranking on that keyword. In a nutshell, you wouldn't know if the keyword idea is worth going after.
Researching Keywords with Tools
On the other hand, you can use keyword research tools for a more professional approach to finding keyword ideas.
Working with the keyword research tool is easy and almost the same with all the available tools. In reality, most of the tools get the data from the same source and the User Interface that displays data is what differentiates one tool from the other.
You just have to enter the main keyword (also known as seed). Then, the tool will come up with tons of keyword ideas.
In addition, the tools display more information like trends, monthly search volume, keyword difficulty, cost per click, etc. for each keyword idea. This will help you decide whether it's worth creating content on a particular keyword.
Helpful tip – a keyword is worth creating content if it has high search volume and low keyword difficulty.
Besides, the keyword research tools offer other different insights like content ideas, questions, related keywords, competitors' domain, etc.
Let's see with an example –
On the picture above, you can see the keyword ideas for the seed keyword 'indoor plants'. Along with the keyword ideas, there you can also see the search volume, CPC, SEO difficulty, and paid difficulty. These stats help you choose the appropriate keywords which we will see below.
How to choose keywords
Now that you have the list of keywords, you might want to start working on them. But first, you should analyze if you can succeed in ranking for that keyword.
For websites just starting out, it could be very hard to compete with bigger brands for the same keyword either organically or paid. That's why you should choose the keywords smartly so that your content creation efforts hit on the spot.
Choosing keywords, you should take the following aspects into account.
Relevance
The first thing to make sure of is that if the keyword is relevant to what your business offers.
Suppose, if you have a phone repairing business, you might not want to rank or display ads for someone looking for buying a new phone. It seems relevant but provides no conversion or value to your business.
Regardless of the other data like search volume or difficulty, you should first make sure that the keyword is relevant.
Search Volume
Search volume means the number of times users search for a particular keyword in a month. For example, the keyword "how to lose weight fast" has a search volume of 368,000 per month.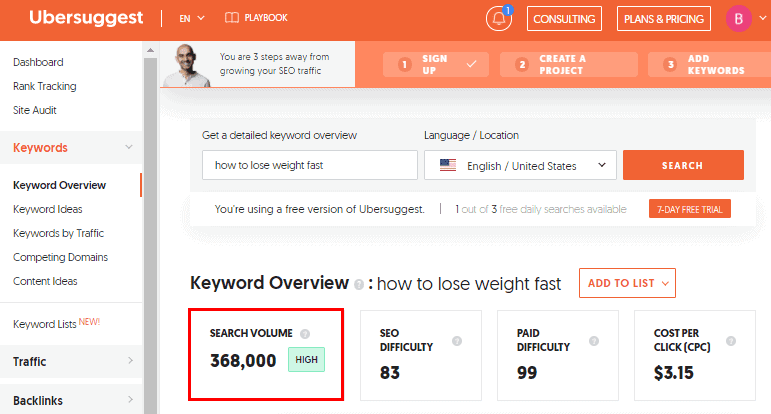 Naturally, you would want to go after the keyword that has the most search volume. The reason is simple – with more search volume, you would have more visitors.
Having said that, that's not always the right thing to do. It's because of the undeniable competition, you might get lost behind the authoritative websites. So, it might not bring any noticeable audience to your website.
So, another important data to look for is the keyword difficulty.
Keyword Difficulty
Keyword difficulty refers to how hard it is to rank on top for a keyword either for organic search or advertisements. Analyzing the keyword difficulty lets you decide whether the keyword you pick is right for a content topic.
A keyword becomes difficult due to various factors like the competitiveness of the niche, the number of content already out there, the number of backlinks for the website ranking on top, etc.
For checking the keyword difficulty with ease, most keyword research tools give you a specific keyword difficulty score. It ranges from 0 to 100 – 100 being the most difficult.
For example, the keyword difficulty of the keyword 'indoor plant' is 83 i.e. close to 100.
So, creating content with this target keyword might not be a great idea. However, it also doesn't mean the keyword should be ignored. You can definitely go after it once your website has enough trust and authority.
Search Intent
We have already discussed the types of keywords based on search intent. Simply, it means the objective of the user behind conducting a search.
Since Google is smart enough to identify the search intent, you'll have to consider it for generating keyword ideas and planning better content.
For example, users searching for 'dog accessories' are probably looking for different types of dog accessories. So, creating content with a list of items makes more sense than trying to rank a product page.
Value
It simply means what benefit the keyword provides for your business.
Looking at the numerical parameters like volume and difficulty could convince you for making a blog post and placing ads.
But, you should think does ranking for the keyword actually helps your business in any way? Because at the end of the day, you would want to be able to sell products or services and generate revenue.
For example, a website selling gardening tools online may not have any point in having a blog post comparing different types of soils. It's up to you if you want to rank for it. However, if it has no contribution in bringing business to you, then it's better to let it go.
What are long-tail keywords?
A long-tail keyword is a specific keyword that has a high focus on a special subject inside a broad topic. Long-tail keywords are generally longer containing multiple words, and typically have a low search volume.
'Long-tail keyword' is a pretty popular term among SEO specialists and digital marketers. For newer websites without a high authority or backlink profile, it is suggested to target long-tail keywords for creating content.
But, why is that?
Actually, the long tail keyword covers a very specific topic inside a niche that only a few people search for. So naturally, there will be less competition as very few websites would be talking about it. These contents will rank on top of search engines easily providing more traffic opportunities.
Let's understand with an example.
Here, we checked a long-tail keyword 'best places to visit in the US in January' which has a search volume of 1,900 and keyword difficulty of 7. So, you can easily rank for the keyword with the right content and bring a fair amount of traffic to the website.
How to optimize your content for keywords
Now that you have the keywords ideas for creating blogs relevant to your business, you should start creating content on it. But make sure that the content is optimized for the keywords.
For a start, you should try including keywords on different sections of the page like title, meta description, header tags, images, and throughout the content. It is a popular belief that including keywords on those parts reflects the relevancy of the page to the keyword.
Also, another popular practice is using LSI (Latent Semantic Indexing) keywords on your content. The LSI keywords are the words or phrases that are closely related to the main keyword. It also helps reflect the relevancy of the search keyword with the content you create.
We have a complete guide on On-Page SEO that breaks down various parts of content that need to be optimized.
More or less, the above measures are true and working. And they have been popular practices till now.
But you should keep in mind that, Google is constantly evolving for finding better and efficient approaches to provide the most relevant results to users. It is now smart enough to identify the users' search intent and rank the content based on it. Also, check out what currently ranking websites are doing and audit their content strategy.
So, the best way to optimize your content for a certain keyword is to match its search intent. You need to find out what users expect to see in SERP with that keyword.
You can also get a glimpse of the search intent by looking at the current top-ranking results for that keyword.
For example, the search term 'how is iPhone 13' has a commercial intent to it. The users are not exactly looking for buying the product, but looking to know it better. So, ranking a blog post with the product review becomes the most relevant.
Conclusion
Keywords are something that people use to search and find information on search engines. As a business owner, you should observe it keenly to provide what they are looking for. The keywords are the starting point for creating powerful SEO strategies to rank up higher on Google.
If you believe you've mastered keyword research and On-Page SEO, then you should check out our guide on ranking for featured snippets and rich snippets to increase clicks through rates on SERP results pages.