On-Page SEO: How To Optimize Content For Search Engines and Social Media Networks
What is the difference between a content that gets a lot of organic traffic vs a content that gets no traffic? SEO. Contents created for readers and optimized for search engines tend to rank higher in search engines and drive more traffic to a website.
Content marketing with the use of blogs is one of the most effective marketing strategies to acquire more visitors, gain prospects, and boost revenue. The key is to create content that readers enjoy and perform well in search results.
In this article, we cover On-Page SEO techniques to rank contents higher in Search Engines.
What is On-Page SEO?
On-page SEO is the practice of optimizing web pages for specific keywords to improve visibility, rankings and traffic from Search Engine Results Pages (SERPS). It includes making changes to elements such as Headings, Meta Title and Description, Images and on-page contents.
Creating a blog post requires taking care of various on-page factors to achieve better ranking. Factors like content quality, optimized titles, metadata, urls, images, etc. are some of the things that are under the content creator's control.
WordPress content management systems makes On-Page SEO easy. There are SEO plugins to help bloggers and content marketers to optimize the on-page factors. Some of the available ones are SEOPress, Yoast, Rank Math, and so on.
We use SEOPress to optimize our website and contents. It's lightweight, free, and offers lots of features.
Steps to conduct On-page SEO
1. Satisfy Search Intent
Search engines like Google ranks contents that provide the best answer to user queries. A content that completely solves a user's problem has higher likelihood of ranking higher.
Generally, there are four types of search intent:
Informational: Users are looking for information.
Navigational: Users are trying to find a specific page.
Commercial: Users are doing research before they purchase something.
Transactional: Users are actively wanting to buy something.
Always create content that satisfies the search intent.
The easiest way to understand the intent behind a search query is to look at search engine results page for the keyword query.
Results that include words like how, ways, or methods indicate informational search intent. While words like best and top reveal commercial intent.
For informational search queries, provide as much relevant content as possible. Cover the subject in detail, answer common questions, and help the user understand the context of the problem.
For commercial search queries, help searchers with the information they need to make an informed purchasing decision. This includes reviews, pricing, comparisons, photos, FAQ, etc.
For transactional search queries, implement structured data for products to show up in the Google Shopping carousel. Provide features, benefits, selling points in your page title, such as discounts, product quality, wide selection, etc.
2. Optimize Meta Tags
Meta tags are snippets of code that is assigned to each page of content. Primarily there are two meta tags – Title Tags and Description. These appear on the search results pages along with the url (permalink) of the website for a query on a given keyword.
Optimize Title Tags
Title tag is simply the title of a post that appears on the search result as a clickable heading.

The title reflects what the post is about, make sure to include the keywords in the title tag. Having the primary keyword on the title increases the likelihood of acquiring clicks. Moreover, it is a direct indicator to search engines in terms of content relevance.
Moreover, the length of the title should be 50 to 60 characters, as suggested by many SEO tools and experts. If the title is longer, some words or characters will be hidden on SERPs (Search Engine Result Pages). As a result, users can't perceive a clear meaning out of the title.
In a nutshell, write the title up to 60 characters including a primary keyword, and make it attractive enough to drive clicks.
Write Custom Meta description
A meta description tag is a summary of the content ranking on the SERP. It appears below the SEO title in search results.
A well written meta description can catch the attention of users, resulting in higher CTR (Click-through Rate).
By default, Google automatically creates a meta description with the most relevant snippet of the content. It might or might not be the most ideal snippet of the content. Entering a custom meta description prevents google from showing default and random description.
The length of the meta description should be somewhere between 150 to 160 characters. Longer meta descriptions will not show up completely when it appears in search results.
How to Optimize SEO Title and Meta Description in SEOPress
In WordPress, SEO plugins like SEOPress let you write custom titles and meta descriptions.
But first, you should have the SEOPress plugin installed on your WordPress website. If you want help installing, then we have a detailed guide on how to install a WordPress plugin.
Now, open your page editor and go to the end of the page. There, you'll see the SEO and content analysis section of SEOPress.
Under SEO > Title Settings, you'll see the text boxes for entering custom titles and meta descriptions.
3. Create SEO Friendly URL
A URL is the unique web address of a page or post. It directs users to that page when entered on a browser.
All the public contents on a website should have a custom URL that users and search engines can understand. Ideally, the url's should not be changed once it is set. Since the links are permanent once set, they are called permalink (permanent link).
The permalink appears on the URL bar and also on the search result. URL should be easy to understand and provides context of the content the reader is being directed to.
Following are some of the things to keep in mind while setting up a permalink of a content –
Use target keywords
Try to avoid using numbers
Avoid using stop words like the, of, for, by, etc.
Use hyphens '-' instead of underscores '_' for separating words.
Make it consistent throughout all posts.
Use lowercase letters.
Keep it as short as possible.
How to Optimize Permalink in WordPress Editor
WordPress allows permalinks to be created easily. The option to edit a post's permalink can be found in the post editor. Create a new post or edit an existing one from the WordPress admin area to optimize permalinks.
In the following example, we will be optimizing a permalink for a content that is in draft. Head over to the Posts,
Posts > All Posts
Then, click on edit below the post you want to edit. Doing so, the WordPress editor will open.
Now, on the right sidebar, go to the
Post > Permalink
A text box is available to enter custom url. Now, enter your URL slug there with the tips we mentioned above. Below that, you'll see how the blog URL looks like.
4. Optimize Images
Images are useful to illustrating information visually. They are an important part of any blog post.
The 2 important parts of image optimization are –
Image Size Optimization
Image Title and Alt Text Optimization
Optimizing Image Size
Images with large sizes take more time to load and slows down a website. Optimizing images prior to uploading them to the website can help speed up a website.
Faster websites provides a better user experience and now a priority for ranking in search engines like Google.
Online tools like ShortPixel, TinyPNG, etc can optimize images easily. We recommend using ShortPixel for image optimization as it's free, easy, and offers different levels of compression.
To begin with, visit ShortPixel's website. Then, go to Compress from the menu.
Now, choose the level of compression among lossy, glossy, and lossless regarding the size and quality you want. We prefer glossy compression.
After that, upload the images you want to compress by dragging or choosing from the files. It will take some time to compress the images. After done, download the images.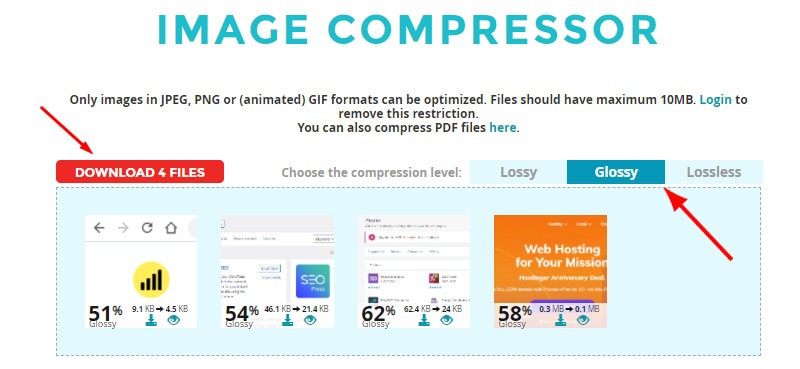 Optimize Image Title and Alt Text
Image title and alt text are image properties and details. Search engines understand the content of the images with the image and alt texts associated with them.
Make sure to write relevant, descriptive texts for image titles and descriptions to increase search engine visibility.
WordPress CMS allows users to create alt text of images in the WordPress editor.
On the WordPress editor, click on the image to select it. Then, on the right options bar, go to
Block > Image Settings
Then, enter a proper alt text for the image in the text box below.
Finally, make sure the featured image of the post/page is optimized for Social Media and Sharing Online. Here is a complete guide on optimizing featured images.
5. Use Proper Heading Tags
Heading tags are elements that assigns heading and sub-heading hierarchy in a blog post. It ranges from H1 to H6, H1 being the highest and H6 the smallest in the hierarchy. Headings improves the post's structure and keeps the content organized.
Ideally, the title tag should be wrapped inside the H1, and main sub-headings in H2 tags. Further sub-headings can be assigned H3.
Make sure to follow a navigational hierarchy to organize content. This helps Google understand the structure of your blog posts.
Moreover, try to include primary keyword in higher-level headings. This indicates Google that the heading is related to the main topic.
How to select Heading Tags in WordPress Editor
Creating and selecting different levels for the header is easy with the WordPress editor.
In the block editor, add a new block with the plus (+) button, select Heading, and type in your heading. Also, select the level of heading (H1 to H6).
6. Balance The Article Length
There's no specific parameter to decide how long a blog post should be. However, most SEO tools suggest having an article length of 300+ words. We suggest going beyond that to an extent where the content completely fulfills the search query.
Short posts do not even carry much information. So, Google bots do not find much information to crawl and index.
On the other hand, Google really likes long, content-rich articles. Studies have shown that longer blog posts perform well in search results. But this doesn't mean stuffing a post with irrelevant content. Long articles with unnecessary information will drive visitors away.
The length of an article truly depends on the query keyword and how much content it takes to satisfy user query. Satisfying user intent, content relevancy and content quality are essential to rank higher in search engines.
7. Use Keywords
It's suggested to use primary keywords optimally throughout the blog post. Many tools suggest maintaining the keyword density of 2-3% evenly on the post. We recommend including keywords naturally in the content.
Include target keywords in the first paragraph to reflect relevancy.
Prevent overusing the keyword as it is considered keyword stuffing and Google's algorithm can detect any grey-hat tactics. Moreover, any shady tactics implemented on the website might get Google to penalizes the website and decrease search rankings.
Google's algorithm is updated frequently and it understands synonyms and related words. Instead of using the same phrases repeatedly, use synonyms and related keywords.
Also, do not create multiple pages targeting the same keyword. This would create a phenomenon called 'keyword cannibalization' – meaning the posts competing against themselves.
8. Add Internal and External Links
Links (hyperlinks) are the elements, typically texts or buttons that direct users to a new web page or post. They are of two types of links –
Internal links – the link pointing to the page or post of the same domain
External links – the link pointing to a different website domain
Add internal links to pages or previous blog posts to keep user within the same website. Moreover, ensure that the linking text (known as anchor text) is related to the post that is being linking to.
When Google bots crawl through web pages, it again crawls all the links of the content. Internal linking enhances website crawling. Also, linking to the right anchor text lets Google know what the linking page is about.
In addition, the readers can just click on the link and access new pages easily. Thus, it's also effective to keep users engaged on websites for a long time.
Adding external links and guiding users to the right resources is also important. Linking to external websites indicates that the content is relevant to the niche. Other than associating your brand with the destination site, it also establishes a good connection to other domains and businesses.
How to Add Internal and External Links in WordPress Editor
WordPress CMS makes the process of adding both internal and external link easy.
To add a link to text in WordPress editor,
Select the anchor text (the text that links to the other content). Then, click the button for adding links on the block editing bar, or press 'Ctrl + K' on the keyboard. After that, enter the link and submit.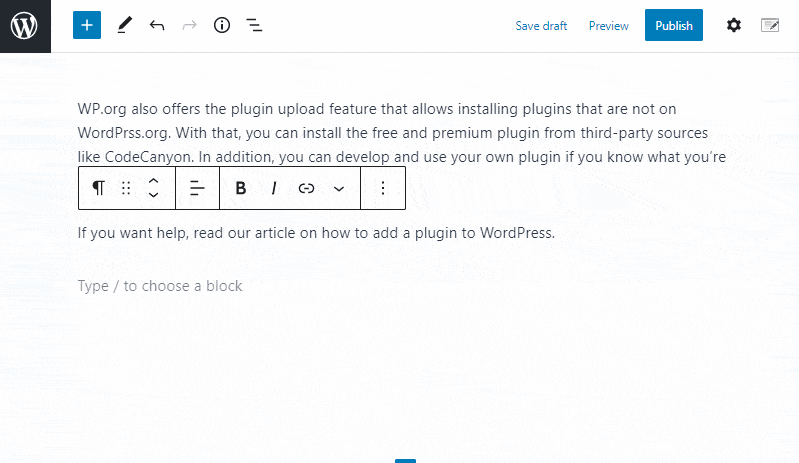 For external links, it's recommended to enter the 'nofollow' attribute to prevent crawlers from leaving your site to another site. Also, we suggest configuring the links pointing to other websites open in a new browser tab. See carefully how to do it.
After you add the link, activate the 'Open in new tab' toggle for external links before submitting.
Now to give nofollow attribute, click on the 3 dots to open the list of options, and click on 'Edit as HTML'.
Doing so, the HTML code of the block will appear. Then, look for the 'rel' tag of the link. Next to it, inside the double quotation marks (" "), type in 'nofollow'. Doing so, the 'nofollow' attribute will be added to the link. Now you can convert the HTML code back to blocks.
9. Implement Structured Data
Search Engine's like Google utilizes crawlers (also known as spiders) to scan through the code of a webpage and understand the content. Structured data helps crawlers (spider) understand the content on a website even better because of special markups.
There are hundreds of Schema Markups, and following are some of the most common ones –
Ratings
Local business
Star ratings
Recipes
Video Object
Job postings
Books
Articles
Movies
Courses
Software Application
Structured data can directly appear in the search results, showing it as a "rich snippet". A rich snippet provides more search engine real estate and increases the click through rate.
How to Implement Structure Data?
Structured data can either be implemented with the use of a plugin or manually.
SEOPress Pro, our preferred SEO Plugin, has a built-in functionality to add structured data easily.
To add structured data to a specific post or page,
Go to Structured Data Types inside the SEOPress Meta Box,
Select an option under Select Your Data Type, enter the details and click update on the page/post.
Click on Validate, after the post is updated to validate the markup.
SEOPress also allows the option to add Automatic Schema.
To add Automatic Schema, Go To SEOPress > Schemas
Click on Add Schema

Add New Schema by selecting the data type and filling up all the details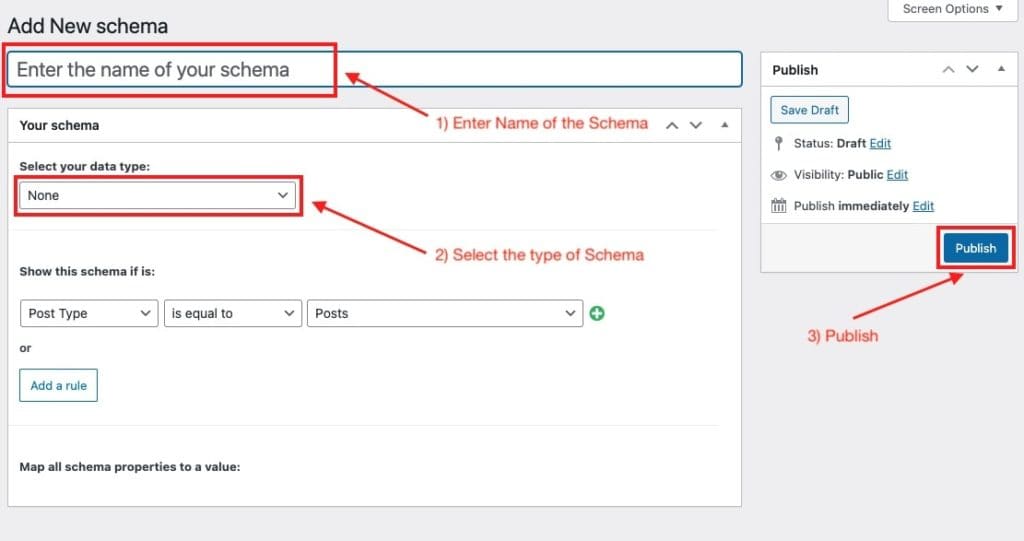 Once everything is good, click Publish
You can go back and Click on Validate, after the post is updated to validate the markup.
Google's Structured Data Markup Helper can be used to implement structured data manually. Enter the URL of a page and Google will guide you through the process of adding structured data.
Once structured data is implemented, you can run a test in Google's Structured Data Testing Tool.
10. Optimize Content for Social Media
Social media is a big source of traffic for websites as billions of users are currently active on it. Optimizing contents for social platforms helps increase engagement – resulting in more organic impressions and reach of the content.
Include social share buttons of popular platforms like Facebook, Twitter, Pinterest, LinkedIn, etc. on the website to make sharing easy. Users willing to share the content can do it instantly with a click of the share button.
Moreover, enable Open Graph visibility option for Facebook and other social media. Plugins like SEOPress allows customization of title, images, and description for Facebook, Twitter, and other social media.
This helps the content look visually attractive and drive clicks to the website.
How to Optimize Blog Post for Facebook and Twitter with SEOPress
One of the benefits of having SEOPress is that it lets you improve the social preview of blog posts and pages. It's free on SEOPress, while other SEO plugins charge you for this feature.
To do so, first, go to the post editor. Scroll down below to the SEOPress meta box. Now, go to
SEO > Social
On the left side, you'll see the options for entering custom Facebook titles, descriptions, and thumbnail images. On the right, there you have the Facebook Preview that shows how the post looks while appearing on Facebook.
Similarly, when you scroll down below, you have same options for Twitter. Update the post title, description, and thumbnail for Twitter on the left, and see the preview from the right.
Other social platforms like Instagram, LinkedIn, WhatsApp, and Pinterest inherit social metadata from Facebook.
Conclusion
There you have it. Here we talked about the basics of how you can create SEO-friendly blog posts with on-page SEO techniques.
The key takeaways of this guide are optimizing the structure of your metadata, images, links, article length, and keywords. Remember – the main focus is always on providing quality content and a good experience to the readers. And, these techniques are there to help you attain it.
If you are just starting with WordPress, then here is a list of essential things to set up in your WordPress website.