Best Content Management System (CMS) for Content Marketing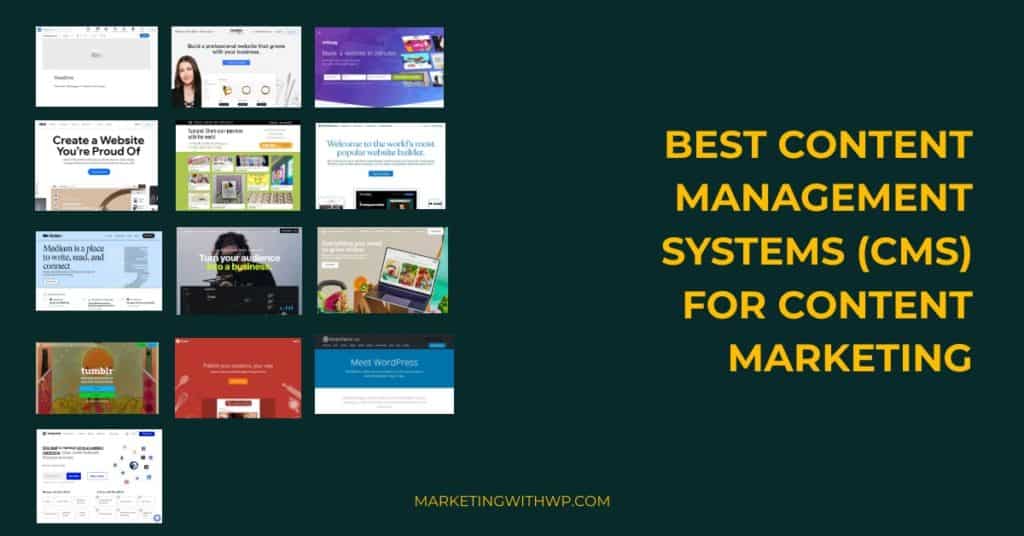 Website owners face a tough time deciding between various Content Management Systems (CMS) for their content marketing plan. Choosing the right CMS for content marketing plays an important role in shaping the trajectory of a website from the get-go.
A Content Management System (CMS) is the software to create, manage and publish content online. The CMS of a website determines the features and functionality of a website.
Other than being able to host the content, the CMS needs to provide flexibility and possibility to deviate in features and functionality.
This post covers some of the widely popular CMS for content marketing and how they stack against each other in terms of usability, SEO benefits, pricing, and more.
Let's begin.
1. WordPress.org
WordPress.org is an open-source software available for free to create different types of online websites.
Initially started as a blogging platform, it now hosts a multitude of websites like portfolio, eCommerce, business, e-learning, forum, etc.
Since WordPress is a self-hosted platform, creating a website requires managing domain and hosting. However, the platform comes for free and is available as an easy one-click installation in almost all hosting services.
Most importantly, WordPress.org now powers over 42% of all websites. It is the most popular CMS available to create websites and manage website data. Most importantly, Google and WordPress work very well together, making it easy for contents created in WordPress website to rank well in search engines.
It is easy to confuse WordPress.org with WordPress.com, which are 2 completely different platforms. Check out WordPress.org vs WordPress.com to find out how the two are different from each other.
Pros
WordPress.com is flexible – useful for creating any type of website
It has the largest repository of themes and plugins
You'll have full ownership of your website
There are a ton of monetization options
Customization is easy with WordPress.org
Cons
Some level of technical knowledge required to maintain domain, hosting, backup, and security
Has a slight learning curve in the beginning
Pricing
As already discussed, the CMS available in WordPress.org is free of cost. However, the domain and hosting comes at generally the following cost –
Domain – around $9 a year
Hosting – around $5 to $10 a month
A decent starter hosting like Hostinger offers shared hosting for $2.59 per month, including a free domain.
WordPress.org is good for
Complete flexibility and customization
Professional bloggers, writers, and small businesses
For developers
Best for SEO visibility and rankings
2. WordPress.com
WordPress.com is a fully-hosted version of WordPress CMS that helps users get started with WordPress quickly and easily. It uses the same WordPress CMS as the foundation, bundled with domain and hosting services.
WordPress.com allows users to sign up, choose a domain, choose a plan, and get started easily and within minutes. WordPress.com provides the convenience of not having to worry about getting domain and hosting services with the packaged service.
In addition, WordPress.com is great for creating websites like blogs, portfolios, magazines, personal, and business websites.
Most importantly, WordPress.com offers backup, security, updates, and other maintenance services in the paid plans.
Pros
It makes it easy for beginners to start
It has a freemium model (offers both free and premium versions)
Many features are in-built
Hassle free Maintenance and Technical support
Provides dedicated support (for paying users)
Cons
The offered customizations are limited
Most useful features are only available in higher premium plans
It has a limited choice of themes and plugins
It displays ads and WordPress.com footer unless you are on a paid plan
Monetization options are limited
Pricing
WordPress.com has a free plan for beginners. The free option includes free web hosting, a sub-domain, 3 GB storage, and a handful of themes.
On the premium side of things, there are 4 different plans with the cheapest one starting $4 per month.
WordPress.com is good for
Beginners
Getting started easily and quickly
Creating a blog, business, and enterprise websites
Hassle-free managed service
3. Wix
Most likely one of the most advertised CMS on YouTube, Wix is one of the easiest drag & drop website builders.
It is a cloud-based platform to create simple and responsive websites. It is a user-friendly and provides managed domain and hosting.
Similar to WordPress.com, it's easy to start out with Wix. Just sign up to Wix.com, choose a plan, and begin creating your website.
There are many templates to choose from. Also, the drag-and-drop builders can be used to design and personalize for sites built with Wix.
Pros
Adding features is possible with apps/plugins
Intuitive editing with the drag-and-drop tool
It has a handful of premade templates
It has built-in social media and SEO tools
The premium plans have reasonable pricing
Cons
The free version will display lots of ads
Changing a template is not possible once you have selected one
eCommerce features are limited
Migration of a Wix website is very difficult
Pricing
Wix offers both free and premium versions. With the free Wix, you get '.wixsite.com' sub-domain, 500 MB storage, and bandwidth of over 500 MB.
There are 4 different premium plans ranging from $ 4.50 to $ $ 24.50 per month.
Wix is good for
Getting started quickly
Beginner entrepreneurs and business websites
Creating an online store and showcasing products
4. StoryChief
StoryChief is one of the best content management platforms for teams that need lots of publishing work. Moreover, the user interface is clean, simple and easy to navigate.
It has a user-friendly interface that allows creating stories, collaborating and one-click publishing.
The collaborate feature allows to create, review, and publish the content with team members easily.
Moreover, StoryChief centralizes all the content and lets you publish to major channels like WordPress, LinkedIn, Facebook, etc. all from one platform. This makes publishing content on the web so much efficient.
We use StoryChief to create all our content for marketingwithwp.com and content collaboration. Quite frankly – it is one of the most valuable tools in our arsenal. Most importantly, StoryChief's team is super awesome, supportive, and innovative – one of the best SAAS brands we have personally worked with.
Check out our full review of StoryChief.
Pros
Provides its own blog hosting platform
It can be used to publish content directly to a WordPress website
It has an excellent On-Page SEO and readability analysis tools
Multiple users can collaborate
It'll save a lot of time and effort for publishing on different platforms
Scheduling posts and stories are easy with a content calendar
Cons
Images Published to WordPress CMS has file naming issues
Pricing
StoryChief does not have a free plan anymore. However, there are three premium plans ranging from $90 to $225 paid annually. It also offers a custom for tailored services and cost.
StoryChief is good for
Collaboration
One-Click Content distribution
B2B marketing teams
Content Agencies
Editorial teams
5. Squarespace
Squarespace is another popular website builder and hosting service. It's flexibility allows users to create different types of websites including blogs, personal, and business websites.
The platform is extremely easy to use with a straightforward signup process. The and drag-and-drop builder can be used to create beautiful landing pages. Users can either build from scratch or choose a template that matches the style and requirements of the website. It comes in handy for users without any prior website-creating experience.
Pros
Easy to get started
Hosting is included
Provides free custom domain and SSL for security
Professional themes and templates
Offers free trial
Good SEO features
Cons
Not appropriate for large websites
Limited features for eCommerce – no multiple currencies and payment gateways
Issues with website speed
Doesn't offer a free plan
Pricing
The Squarespace paid plan starts at $12/month and goes up to $40/month paid annually. However, a free trial period of 14 days is available.
Squarespace is good for
Beginners
Creating blog and portfolio websites
Responsive websites
6. Medium
Medium is another cloud content management service provider specialized for content writers and bloggers to publish their content online.
The social aspect such as comments and claps gives it a different approach than other blogging website.
Moreover, Medium's community itself is a highly valuable asset. Medium's community has a big user-base of enthusiastic readers and writers. So, you'll already have a built-in audience in Medium on every niche.
The Medium blog is a good option if you just want to focus on writing and publishing your work. Unlike professional websites, you don't have to handle creating, customizing, and handling various functionalities of a site. Moreover, you're eligible to monetize your content if it attracts good traffic and engagement.
Pros
Easy to start creating content
You don't have to pay
Has blogging features
The platform pays writers and publishers
Cons
Huge competition for getting traffic
Less control and ownership on the domain
Only applicable for blogging
No customization features
Pricing
Getting started is free on Medium. However, you can become a paying member for $5 per month or $50 per year for in-depth access to content.
Medium is Good For
Beginner writers
Finding professionals for different topics
Build a community around your niche
7. Blogger
As the name suggests, Blogger is the platform dedicated for bloggers to create articles, guides, news, etc. It's one of the oldest blogging platforms, and Google owns it. Blogger used to be the go-to platform for most bloggers until WordPress took over.
Signing up to Blogger is easy with a Google account, choose a template and get publishing. The interface is beginner-friendly. However, the layout might look quite simple compared to other CMS.
Another benefit is that multiple blogging channels can be set up with a single Google account. The provided domain will be the sub-domain of blogger i.e. '.blogspot.com'. Else, you can add a custom domain as well without any cost.
Pros
It's completely free
Owned by Google, so no credibility issues
Beginner-friendly channel
Add AdSense seamlessly to start earning
Cons
Limited customization
Outdated look and feel
Features suitable for blogs only
Lack of templates and extensions
Pricing
Blogger comes absolutely for free. If you want to use a custom domain, then you only pay for your domain.
Blogger is good for
Easy and quick start
Enthusiastic writers
Hobby blogging
Managing multiple blogging domains
8. Tumblr
Tumblr is a free blogging platform with a unique model for establishing online presence. It's used as social media to increase network and get in touch with like-minded people.
The most prominent feature of Tumblr is microblogging. It lets you create and publish short stories and written posts. Usually, the users of Tumblr use it to showcase images, videos, and other multimedia.
Just like any other social platform, users can follow their favorite creators and view their posts.
Pros
Simple to use
Ideal for mobile usage
Integration with Google Analytics
It's free
Cons
No options for monetization
Limited features for blogging
No complete ownership
Customization is very limited
Pricing
Tumblr is a completely free platform. There's no cost to creating an account and publishing content. However, custom domain and custom premium theme comes with a cost.
Tumblr is good for
Creative content creators
Improving social connections
Publishing multimedia content
Increasing network on your niche
9. LinkedIn Pulse
LinkedIn Pulse is one of the features of LinkedIn that lets members create and publish content. At first, it was only provided to influencers, but now it's accessible to everyone. The published content is similar to a blog post that's spread within the publisher's network.
Creating a LinkedIn Pulse is different than creating a post. It provides a separate writing space with an attached toolbar for editing the articles using the options. Adding images and videos links is also possible.
Pros
Free space for publishing articles
Social sharing is easy
LinkedIn articles are indexed and ranked on Google
Pre-built audience
Cons
Limited blogging features
LinkedIn branding is more visible than yours on search results
Analytics is very limited
You should have a large connection to get good results
Pricing
LinkedIn Pulse, along with the whole LinkedIn platform is available for free. However, paid plan for starts $2.99 a month.
LinkedIn Pulse is good for
Improving a business or personal brands awareness
Connecting with an audience
Showcasing professional traits
Social networking
10. TypePad
TypePad is a typical blogging platform that was started way back in 2003. Being easy to use, beginners with no prior experience can get started with it.
Also, it gives users a total control for creating and customizing the website. The clean and intuitive interface makes it easy to get started and use.
If you're only concerned about getting your written content published, then TypePad is a good alternative. Mainly because it's a fully hosted service, you don't need to care for any technical issues. However, you might not get all the features you'll need of a typical blogging platform.
Pros
Fully hosted platform
Offers third party plugins integration for extending features
Good customer service
Lots of themes available for designing a TypePad blog
Cons
Lack of flexibility and customization
No free plan
No polls feature
Outdated themes
No ownership of the blog
Pricing
There are 4 different pricing plans available starting from $8.95 per month to $49.95 per month. Users can get started for free as well.
TypePad is good for
Professional niche bloggers
Beginners
11. Strikingly
Strikingly is a relatively new website builder and CMS platform, launched in 2012. It's mainly used for creating a single-page website without any technical knowledge.
Creating a website with Strikingly is easy. You can choose a suitable template from a handful of modern templates and start building web pages. Since it has a major focus on creating one-page websites, it's mainly useful for portfolios, landing pages, and small businesses.
However, if you purchase the pro plan, you can have up to 20 pages. Also, it allows you to set up a blog and an online store with up to 500 products.
Pros
It's extremely easy to use
You can edit pages with the drag-and-drop builder
It offers a free trial
The templates are responsive, so websites look good on mobile.
It has a built-in analytics system
Cons
The plans are quite costly
No phone or chat support
It displays Strikingly branding unless you're on paid plans
It offers limited customization
Pricing
Strikingly offers a free plan to get started. It includes a sub-domain, simple store, data and bandwidth included. Also, you can get 14 days of the free trial if you're interested in the premium versions.
It has 3 different paid plans – Limited, Pro, and VIP. Limited is the most basic and cheaper one costing $12 per month ($8/month paid yearly).
Strikingly is best for
Beginners
Single-page websites
Mobile-friendly designs
12. Ghost
Ghost is a simple CMS specially designed for writers to publish blog posts. It offers a minimal interface with a straightforward process to sign up and start an online presence.
Unlike WordPress, it doesn't have a drag-and-drop block editor. Instead, Ghost applies the Markdown editor for writing blogs. With that, you can write texts, embed videos, add codes, and so on.
It has two different versions available –
A self-hosted version which requires taking care of domain and hosting
A hosted version that hosts your blog in the Ghost's server
To add features to a Ghost blog, you'll have to add widgets. SEO and social sharing features are available in the core though.
Pros
It offers a free trial
Design is customizable with themes
It provides free SSL for security.
The blog is responsive and user-friendly.
It offers email marketing services for free.
Cons
It has a steep learning curve.
It doesn't have a free version.
You can't build anything else than a blog
Themes are limited.
Pricing
Ghost doesn't offer you a free version. However, you can start with a free trial before purchasing a paid plan. It offers 4 different paid plans starting from $9 a month paid annually.
Ghost is good for
Technical users
Free access to email and SSL
13. Weebly
Weebly is another fully-hosted website building platform that provides domain and hosting as a package for setting up a website. It has a user-friendly interface with an intuitive drag-and-drop editor making it easy to create and edit web pages.
Moreover, it has 40+ elegant themes to choose from to get your design done. It's fit mainly for blogs and small businesses. However, there is the Weebly app store from where you get useful add-ons for creating personal websites to large online stores.
Pros
It offers a free trial
Huge app store for adding features
SEO-friendly structure
The themes are responsive
Cons
Design is limited.
It lacks advanced marketing tools like email collection, custom analytics.
You don't have full control of the website.
Pricing
Weebly offers a free plan for users who want to start on a budget. Whereas the paid plan ranges from $5 per month to $38 per month paid annually.
Weebly is good for
Small businesses and blogs
Intuitive editing
Professional web design
Conclusion
To conclude, choosing the best CMS depends on the needs and functionality of a website. The above list includes widely used free and premium blogging platforms either self-hosted or hosted on the partners infrastructure.
A simple blogging website has many CMS options but a complex website has only few CMS options.
We believe a self-hosted WordPress.org website can act as a great starting point. Moreover, it provides the option to extend features and functionality for website owners who want to grow their website to something more than just a blog.
Most importantly, it is the most popular CMS, meaning there are tons of tutorials and resources available for free online.
If you do decide to get start with WordPress – here is our guide on important things to set up in a WordPress website for beginners.