Best Online Course Platforms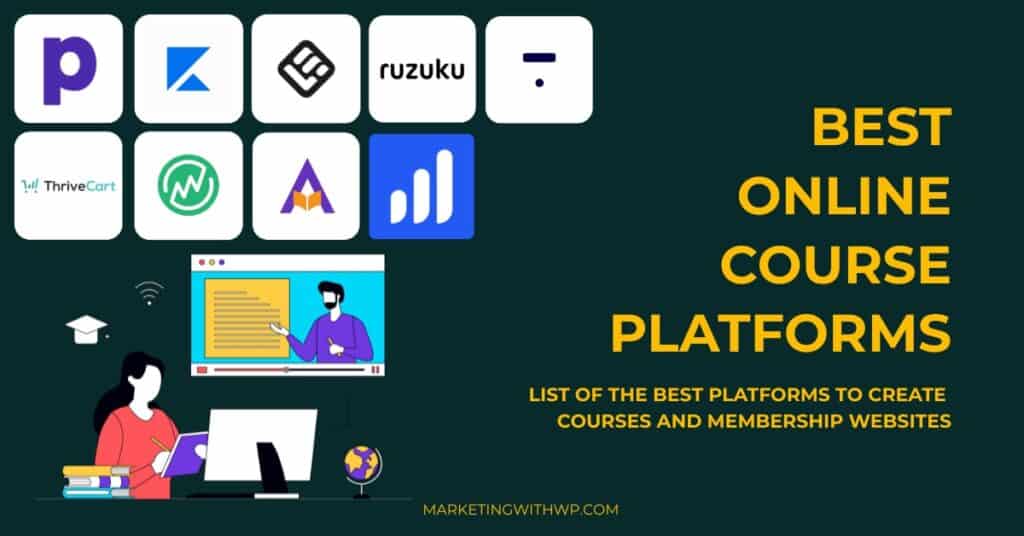 There are dozens of online course platforms available online. These platforms have built-in features like course hosting, payment gateway, landing pages, email marketing, etc. to create and sell courses, membership, and coaching easily.
However, not all platforms are built the same – they differ in terms of features, pricing, design, user experience, etc. In this post, we break-down various features of the most popular online course platforms and help you choose the best one for your needs.
Some of the most popular online course platforms are –
Teachable
Best Online Course Platform for Beginners
Teachable is a very popular platform, especially for beginners who want to get started on an online course business. Created in 2013, the platform offers all the tools required to help you create a fully-functional online school.
Over 100,000+ course creators use Teachable for its ease of use, unlimited video & content hosting, custom domain, free plan, and lots of other features.
With incomparable customizations and design features, Teachable provides an easy experience while creating the courses. Moreover, you will get advanced marketing, payment processing, and CRM features with built-in tools and third-party integrations.
Features of Teachable
Easy to Use: Teachable has a streamlined process of creating courses through its user-friendly dashboard. Along with that, all the menu items are stacked on a clean list for carrying out page creation, integrations, analytics, affiliate setup, etc.
Unlimited Video Hosting and Bandwidth: Teachable hosts unlimited videos as your course requires. More so, it offers unlimited bandwidth for your videos, meaning you don't need to track and worry about your course's bandwidth usage.
Quizzes and Completion Certificate: You can create quizzes for students so that they can engage and test their knowledge after completing the chapters. Moreover, you can also grant students the course completion certificates once they complete the courses.
Custom Pricing: Teachable provides multiple ways to charge such as recurring memberships, one-time fees, installments, bundles, etc. Also, you can set up affiliates, coupons, and discounts to boost the sales of your courses.
Multiple Payment Methods: Teachable offers multiple payment collections methods. You can utilize their own payment processor or tie up your own Paypal account in higher-level plans.
Custom Domain and White Label: You can easily host the teachable platform under your own domain name. This removes the Teachable branding from the URL. Moreover, it also offers you to add your own brand instead of the Teachable's.
Pros of Teachable
Offers a free plan
Unlimited free courses
Flexible course building with drag-and-drop
Detailed analytics
Offers advanced APIs, webhooks, etc.
Clean course interface
Automatic affiliate payouts
Cons of Teachable
Higher transaction fees – 10% on the free plan, 5% on basic
fewer email marketing software integration
Limited multi-lingual support
Design templates are slower
Teachable Pricing
Teachable has a freemium pricing structure offering both free and premium plans. The most budget-friendly plan starts at just $29 per month, making Teachable one of the most affordable online course platforms. It has 2 other higher plans suitable to scale up your teaching business.
Teachable has the following pricing structure –
Free: $0 | $1 + 10% transaction fee | 1 admin
Basic: $29 | 5% transaction fee | 2 admin
Pro: $99 | no transaction fee | 5 admin
Business: $249 | no transaction fee | 20 admin
Kajabi
Best All-In-One Course and Membership Platform for Professionals
Kajabi is an all-in-one platform for professionals who want hands-on control on creating, managing, marketing, and selling the courses. Along with that, it also offers to host and sell coaching, memberships, podcasts, and communities.
With Kajabi, you can do a lot on a single platform – create landing pages, design a website, receive payments, automation, email marketing, landing page design, pipelines, etc. for improving your marketing and selling game.
Even though professionals love Kajabi the most, beginners' can also get through with designing Kajabi sites and adding courses pretty easily. It provides you with lots of templates for overall web design and a drag-and-drop editor to place your content in places.
Features of Kajabi
All-in-one Tool: Kajabi offers built-in tools for email marketing, creating landing pages, building email lists, automation, pipelines, and so on. Meaning, you don't have to work with multiple third-party apps. So, this will save you some money as well.
Unlimited hosting: You get unlimited space to upload your course content. So, add as many documents, audios, videos, or large files as much as required. There's no issue of videos slowing down or storage space being full.
Course Builder: Firstly, Kajabi offers built-in course templates for creating courses easily. Your course can contain different formats of content like pdf, videos, text, audio, etc. Another important feature is that Kajabi can help you arrange the courses' hierarchy with multiple categories and subcategories.
Email Marketing: With Kajabi, you get access to its native built-in email marketing tool for generating leads and sales. Majorly, you can create campaigns of 2 types – broadcast and sequence. Broadcasting lets you send an email copy to your email list users at once. Whereas, email sequence automatically sends emails to users when they take certain actions like sign up, product purchase, etc.
Free Trial: Kajabi offers a unique advantage for course creators. There is a free trial with which you can try Kajabi for 14 days. After you figure out whether you like the platform or not, you can either continue or cancel the service.
Website builder: It offers a drag-and-drop builder to create a professional-looking website.
Custom Domain: You can either connect your Kajabi website to a sub-domain or completely host Kajabi on your own domain.
Pros
An abundance of built-in marketing tools
User-friendly
No transaction fees
Diverse payment options
SEO-friendly platform
Great support
Constantly updated with new features
Cons
No free plan
Pricier than other platforms
Lower limits on courses and students' number
No built-in certification feature
Kajabi Pricing
Kajabi is a premium service starting at the price of $119 per month. However, there is a free trial period that lets you try out the full platform for 14 days for all the 3 available plans.
Now, here's the entire breakdown of the premium Kajabi plans.
Basic – $119 per month | 3 products | 3 pipelines | 1 admin
Growth – $159 per month | 15 products | 15 pipelines | 10 admin
Pro – $319 per month | 100 products | 100 pipelines | 25 admin
Thinkific
Online Course Platform with the Best User Experience
Thinkific is one of the popular online course creation platforms that offer the best user experience and ease of use for beginners. It has a simple interface with powerful features for designing your course portal and adding the courses.
Along with that, you can also market and sell your courses with provided features like email integration, coupons, tracking, payment setup, and so on.
Also, you can build a whole online school under your own custom domain. This means that you will have an online presence showcasing only your courses, unlike course marketplaces.
Now, let's explore why Thinkific is a great online course platform-
Features of Thinkfic
Website design: Thinkific offers lots of design tools to create awesome web pages like homepage, landing pages, checkout pages, and course pages. You can pick from the available templates matching your niches. Also, it offers the Site Builder to add different page sections and place them with drag and drop.
Lesson Content Types: Thinkific supports a wide variety of content to be added as lessons. Some are videos, quizzes, multimedia, text, surveys, pdf, audio, downloadable files, presentations, brillium exams, assignments, discussions, and much more.
Drag-and-drop Course Builder: In order to add courses, you can use Thinkific's course builder. There are multiple course templates to choose from to design the framework of the course. Also, you can easily drag and drop course content to upload them on the course.
Payment Options: Thinkific offers flexibility in receiving payments as well. You can set up subscription-based payment, one-time payment, or create a payment plan. Want to give out the course for free? Then, that's also possible on the free plan. To receive payments, it offers lots of payment methods including PayPal and Stripe as major ones.
Cohort Based Learning – Teaching in groups has been proven to be productive as well as fun for the students. Thus, Thinkific offers to build cohort-based courses i.e. courses that involve learning in groups.
Pros of Thinkific
Offers a free plan
You can offer free courses for an unlimited number of students
No transaction fees
Offers a large number of email marketing integrations
Advanced quizzes
Mobile-friendly platform
Full video and content hosting
Webinars and live streaming supported
White label
Cons of Thinkific
Only 3 courses in the free version
You will have to build your audience or customer base yourself.
No chat support
How much does Thinkific Cost?
Thinkific is a freemium platform that offers both free and premium options for creating the enterprise online learning platform. On the paid options, there are 3 different plans starting from $39 per month.
Now, here's the detailed breakdown of the cost of Thinkific.
Free – $0 | 3 courses | 1 site admin account
Basic – $39 | Unlimited courses| 1 site admin account
Pro – $79 | Unlimited courses | 2 site admin accounts
Premier – $399 | Unlimited courses | 5 site admin accounts
Podia
Best All-In-One Course and Membership Platform
Podia is an affordable all-in-one LMS platform for multiple purposes. It offers the features to create as well as market, and sell learning materials with email marketing, affiliate marketing, content drip, coupons, upsells, and more.
More to that, you can not only host courses, but also, webinars, digital downloads, memberships, and coaching on Podia.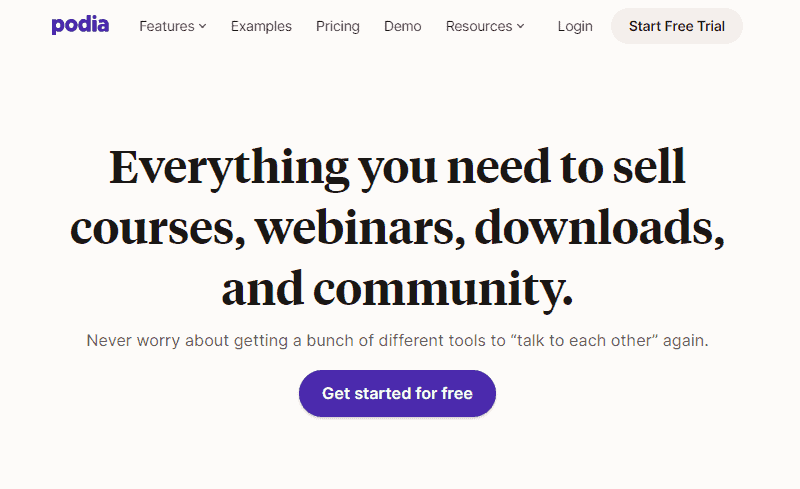 Using Podia is made very simple – get started with setting up your site on the Podia sub-domain with multiple pages to create, market, and sell your products without any prior designing or programming experience.
Features of Podia
Sell different products: Podia not only lets you sell online courses but other 4 digital products, namely digital downloads, community, webinars, and coaching. You will get separate interfaces for creating and showcasing each individual product.
Email marketing: You don't need a third-party email service if you use Podia as it comes built-in. It lets you capture emails with forms, send bulk emails, automate campaigns, get email analytics, etc.
Other Marketing and Selling Tools: Podia emphasizes marketing and selling your products with in-built and integrated features like affiliate marketing, coupons, landing pages, content dripping, etc.
Custom website: Podia makes it easy to create a custom, modern website to match your brand's aesthetics. The customization is easy with no coding required, and you can create unlimited pages that look good on all devices.
Robust course editor: Creating courses in Podia is made very easy with the course editor. You can add text, links, quizzes, and files for your course with simple clicks. Also, Podia hosts your videos, MP3s, links, PDFs, etc. for the courses without any limitations. You will have other options like editing course details, setting up costs, creating upsells, etc.
Multiple ways to access courses: Podia is very mobile-friendly. Your students can access the contents through a browser, android app, or iOS app. Moreover, you can access your admin backend from mobile phones and create products from there as well.
Chat features: With this feature, you can add an on-page chat widget on your web pages to let customers reach you easily and have discussions. That way, you can engage with your potential customers, provide chat support, and also turn them into customers.
Pros of Podia
Easy to use
Offers free trial with no credit card required
Instant payouts
Live chat support
Sell multiple types of digital products
Lets you set up affiliate programs
Built-in email tools
Cohort based learning
Cons of Podia
No free plan
Some features like selling coaching, providing certificates, etc. are locked out of the Mover plan.
Shows Podia branding on the Mover plan
No phone support
Site and course builders are basic in comparison
Cost of Podia
Podia is a premium service so there is no free version. However, it offers a free trial for 14 days. Now, there are 3 premium plans available starting at $39 per month for the starting package.
Here's the detailed breakdown.
Mover – $33 per month | $20/month for additional teammate | 5K monthly emails | shows Podia branding
Shaker – $74 per month | $20/month for additional teammate | 15K monthly emails | no Podia branding
Earthquaker – $166 per month | 5 teammates included | 50K monthly emails | no Podia branding
LearnWorlds
Best Interactive Online Course Platform
LearnWorlds is a growing platform for entrepreneurs, experts, and teachers to monetize their knowledge and experience with online courses. It lets you build a whole online school to create multiple courses and provide lessons for your students from multiple teachers (team members).
LearnWorlds is built for user engagement and interaction for boosting user retention, course completion, and easy learning.
Moreover, without any technical knowledge, you can build a mobile app for your online learning platform. So, it lets your students can get through your course easily on any device.
Apart from that, you get tools to build an amazing sales page that improves conversion. Also, it has powerful marketing tools like sales funnel, affiliates, promotions, coupons, free courses, email capture forms, etc. to attract the students.
Features of LearnWorlds
Student engagement: LearnWorlds is the best platform if you want the best learning experience for your students. Its most important feature is that it adds gamification to your courses that rewards students with badges on completion and achievements. Moreover, it lets you add quizzes, assignments, certificates, etc. to the courses.
Drag-and-drop builder: LearnWorlds offers advanced drag-and-drop page builders for creating pages. It has different content blocks that you can drag and place on the page.
Advanced course builder: With the course builder, you can add a button extract, show transcript, add images, and different other elements to make the learning videos interactive. The features like content dripping, taking notes, highlighting, etc. make its course builder one of a kind.
Testing Engine: Examining students is made easy with different types and formats of quizzes, tests, exams, and assignments. You can track the performance of the students as well. In addition, you can easily give students digital certificates after the course completion.
Integration: With LearnWorlds, you get to connect your online school with lots of tools like Zapier, Zoom, Mailchimp, ActiveCampaign, Google Analytics, Search Console, and so on. There are 30+ integrations available for different purposes like students' engagement, email marketing, payments, analytics, and more.
Mobile app builder: LearnWorlds also lets you build iOS and Android apps for students to log in to your learning portal easily. You can white-label the app completely to customize it with your own brand identity.
Pros of LearnWorlds
Offers 30 days trial for free
Unlimited courses
Advanced course creation
Offers to add quizzes, assignments, and certificates
Intuitive interface
Create community
Integration with lots of tools
Cons of LearnWorlds
No free plan
Intuitive but has a little learning curve
Transaction fees apply in the basic plan
No live chat support
Cost of LearnWorlds
LearnWorlds is fully a premium service, however offers a free trial of 30 days on all of its 4 plans.
Now, here are the details of the packages.
Starter: $24 per month | $5 per sale | 1 admin | 3 pages
Pro Trainer: $67.15 per month | no transaction fees | 5 admins | unlimited pages
Learning Center: $211.65 per month | no transaction fees | 20 admins | unlimited pages | interactive videos
Learning Center + 2 Mobile apps: $465.8 per month | no transaction fees | 20 admins | Native Android and iOS apps | 100% white-label
MemberVault
MemberVault is yet another service offering platform that you can use to create, showcase your online courses, and enroll students.
Actually, it's a hosted online platform that lets you combine different types of digital services and products like 1 to 1 offer, courses, memberships, coaching, digital downloadable, etc. It also has a special focus on creating relationships with the students.
Nearly 30,000 entrepreneurs have chosen Membervault due to its straightforward setup and overall ease of use. So, for those with no technical know-how, it could be the right platform.
In addition, there are multiple features like gamification, analytics, tracking, etc. to make the content more engaging.
Features of MemberVault
Detailed insights: With MemberVault, you can get the insights of your online course site like engagement tracking, progress tracking, etc. Also, it assures you have relevant and personalized insights on students and your conversion.
Multiple course creation features: With MemberVault, you can not only create membership, but also various other digital services like courses, coachings, etc. The courses can be advanced with quizzes, multiple choices, essay quizzes, etc. Also, a content dripping feature is available for retaining students for a longer time.
Gamification: Gamification is the process of adding gaming elements in a non-gaming context. MemberVault introduces the gamification strategy to reward students who have the most engagement with the courses or other services on your platform.
Unlimited Upload: You can add a lot of content in different formats like videos, MP3s, PDFs, and other files while creating the content. However, the upload size limit is 2 GB per file.
Payment Integrations: You can integrate PayPal and Stripe for receiving payments from your customers. Also, it gives you the ability to process payments in multiple currencies helping you gain foreign students as well.
Pros of MemberVault
Offers free plan
Other affordable plans
No transaction fees
Uses gamification to engage more users
CSS customization
Detailed analytics
Excellent support
Cons of MemberVault
Only host 3 products on the free plan
Poor UI/UX
No in-built email marketing
Cost of MemberVault
A convincing selling point of MemberVault is the 'forever free' plan. In addition to that, MemberVault also has 2 premium plans.
So, the plans of MemberVault look like this.
Free: $0 | 3 products | capped at 100 people
Starter: $19 per month | unlimited products | capped at 1,000 people
Base: $49 per month | unlimited products | capped at 10,000 people
Thrivecart: Learn
ThriveCart is actually a service that lets you create optimized sales pages and shopping carts for improving sales and conversion. Recently, the platform has introduced the online course platform called Thrivecart: Learn.
This platform lets Thrivecart customers build and launch their own online courses for free directly within the ThriveCart account. Creating courses is easy with modules and lessons with drag-and-drop elements.
Moreover, there are lots of other cool features course management, content drip, students management, course design, custom domain, and so on.
Also, you should know that there are 2 versions of the ThriveCart online course platform available –
Learn: Free platform included as a part of ThriveCart account
Learn+: A higher-paid version containing additional features and capabilities
Features of ThriveCart Learn
Course and Layout Design: To start with, there are different course templates to choose from to design your courses. Each layout has a unique way of delivering the lessons and other content to the students. To create a course, you can add modules, lessons, and course content with a user-friendly interface.
Drag-and-drop editor: To add content to the pages, you can use the drag-and-drop feature. Just click & drag the content blocks and place them in the order you like.
Custom Domains: By default, your courses will be published on the ThriveCart sub-domain. So, you might want to move it to your own domain or existing website. That way, you can get your website visitors to join the courses and also remove the ThriveCart branding from the URL. However, this feature is only provided in Learn+.
Students' Insights: You can see all the details of your enrolled students on a clean dashboard. You can search, filter, and watch student reports easily without any hassle.
Pricing set up: Setting up the prices of the courses is up to you. Meaning, you can charge the amount you feel is right for the courses. You get to give free trials to your students as well. Your students can pay you through PayPal, Stripe, Authorize.net, Apple Pay, and Google Pay.
Bundles: Bundles enable you to sell multiple courses at once. If you have multiple courses, then use this feature to bundle up them and sell them at a discounted price.
Pros
Easy to use
Fast to build courses
Getting started is free for ThriveCart users
No technical knowledge required
Student and teachers management functionalities
5 payment gateway integrations
Cons
No file or video hosting included
The free version is very limited
No quizzes
Pricing
As we have already mentioned that ThriveCart's online course function offers 2 versions – ThriveCart Learn and ThriveCart Learn+.
If you are a ThriveCart user, then thriveCart Learn comes for free consisting of basic features.
And, if you want to update it, then you can move to ThriveCart: Learn+ which costs $195. Considering this is a one-time payment, it is a pretty good deal.
LearnDash
LearnDash is a popular WordPress LMS plugin that offers tools to create online courses on a WordPress website. In addition to that, it also lets you create other digital products and services like subscriptions, shopping carts, memberships, etc.
Talking of WordPress, it's the most used CMS and website building platform for building any kind of website. So, if you already have your website on WordPress, then opting for LearnDash is the right thing for you.
This premium plugin can help you create unlimited courses with sections, lessons, topics, and add any type of content you want. The course creation is easy with the help of the drag-and-drop builder.
Moreover, LearnDash offers advanced quizzes, assignments, question banks, badges, certificates, forums, etc. to make teaching & learning engaging.
Features of LearnDash
Advanced course creation: As mentioned, LearnDash offers a drag-and-drop course builder helping you to add and arrange lessons in order. In addition, there are lots of settings like course visibility, pagination, expiration, quizzes, content dripping, and so on.
Learning Experience: Your students will have a very good overall experience learning your courses. It has automated email triggers for students based on their actions, certification for acquiring achievements, discussion forums, points, leaderboards, etc. for making students' learning better.
Payment models: Simply you can set the price of your courses and receive payment by integrating PayPal, Stripe, or 2Checkout. Whether you want to charge students for one time, on a subscription basis, or charge recurring membership fees, they all are possible. Moreover, you can also sell multiple courses on bundles to boost the sale.
Integrations: Integrations are important to add more functionality to your website. You will certainly need some on your online course platforms to add features like email marketing, payment integration, forums, and so on. Some popular integrations for LearnDash are PayPal, Stripe, WooCommerce, Mailchimp, SamCart, Slack, GamiPress, etc.
Student management: You can check students' enrollment reports with their progress with the lessons and performance. For managing assignments, you can approve, comment, and grade the submitted ones. In addition, you can place the users into groups and sub-groups for managing them.
Pros of LearnDash
User-friendly
Streamlined learning experience
Advanced quiz builder
Email marketing and automation
Extensive third-party integrations
Great support
Cons of LearnDash
Only available for WordPress websites
No free plan
These many features could be overwhelming.
Price could be the issue for starters
LearnDash Cost
LearnDash is a paid plugin and doesn't have a free plan. There are 3 plans with varied features, accesses, and prices. The starting of this plugin is $159 per year.
Anyway, here are the detailed plans and pricing of LearnDash.
Basic: $159 per year | 1 site license
Plus Package: $189 per year | 10 site license
Pro Package: $329 per year | 25 site license
Ruzuku
Ruzuku is an online platform that helps experts and teachers share their knowledge through online courses. It makes it really easy to create online courses, connect with the audience, and earn by monetizing your knowledge business.
Creating a course is made very easy with Ruzuku and there is no technical knowledge involved. Also, all you have to do is to focus on the important aspects: creating courses and helping students. The Ruzuku team handles everything from designing, student registration, and other techy situations.
Features of Ruzuku
Simple course creation: With Ruzuku, you can create an entire course within minutes if you have the course content ready. All the technical stuff is taken care of, so only requires you some clicks. The messages, activities, and lessons inside the courses are arranged in a systematic way.
Course Management: In the 'Manage Courses' tab on your course, you can configure different options like pricing, notifications, events, coupons, etc. Also, you might also want to add a course logo, descriptions, etc. for an attractive introduction to your course. Some other useful features for managing courses are course scheduling, setting start & end dates, etc.
Payment methods: Ruzuku provides mainly 3 payment methods for the students to enroll in your course. They are one-time (single) payments, payment plans, and subscriptions. If you want, you can create a free course as well.
Offers Webinars and Teleconferences: A great thing about Ruzuku – it lets you host webinars and online conferences too. With that, you can connect to your students in real-time, share your message and possibly hear from them as well. Note that, you can host up to 200 participants on teleconferences, whereas 1500 participants can join the webinar.
Pros of Ruzuku
Free trial
Easy to use
Multiple ways to charge students
Flexible content delivery
Marketing tools like affiliation, coupons, etc.
No transaction fees
Responsive support
Cons of Ruzuku
No free version
Integration with only Mailchimp
Only PayPal and Stripe so far for receiving payments
Limited participants for webinars and teleconferences
Quizzes are unavailable on the starter plan
Ruzuku Cost
Ruzuku is available at a pretty affordable cost. It offers 3 paid plans starting at $74.75 per month. It doesn't have a free plan, however offers a 14-days free trial that you can start without a credit card.
Now, let's see the paid plans of Ruzuku.
Bootstrapper: $74.75 per month | no custom domain | single instructor | no quizzes and polls
Up-and-Comer: $83.08 per month | no custom domain | single instructor | adds quizzes and polls
University: $125 per month | custom domain | multiple instructors and site managers | quizzes and polls available
Academy of Mine
Academy of Mine is a robust all-in-one platform helping create an online presence to create, market, and sell online courses. This platform provides you with the tools that let you design your course layout, add learning material, and create an online school as a whole where students can purchase and learn.
It provides a lot of templates and a robust drag-and-drop builder that you can combine and come up with a beautiful website design. Then, adding the site to a custom domain is possible for maintaining your branding.
For creating and managing courses and students, you can find a lot of features like quizzes, assignments, virtual classes, certification, student dashboard, analytics & reporting, content dripping, etc. Moreover, there are lots of other features which we will talk about below.
Features of Academy of Mine
Course creation features: It has some advanced tools to facilitate course creation. You can create unlimited courses and upload large volume content as much as your students require. Also, adding content in multiple languages is possible. In addition, it lets you add advanced quizzes and assignments with each lesson.
Website builder: The Academy of Mine's website builder makes it easy and quick to create visually appealing course layouts and website designs. You can choose from pre-made templates to get you started within minutes. Also, you can make it consistent with your brand with logos and colors.
Virtual live and discussion sessions: Moreover, the instructors can host live sessions to make the teaching and learning more interactive. For the feature, you can integrate Zoom, GoToWebinar, and lots of other webinar platforms. In addition, students can also take part in group chats and forums with the teachers.
User Management: Academy of Mine lets you enroll an unlimited number of students to take your online classes. And, you don't have to pay extra for it. The system can also suggest to the students what kind of courses would suit them depending on the information the student has filled in.
Analytics: With the Analytics, you can view your students' reports for their course completion and progress. Also, you can easily access the data for last logged in, attendance, event joined, etc. Not only that, but it helps you keep updated on your revenue.
Integrations: The third-party integrations for Academy of Mine include HubSpot, Salesforce, Marketo, Shopify, Magento, WooCommerce, etc. for marketing and monetization.
Pros of Academy of Mine
Easy and quick
Create courses in multiple languages
Powerful website builder
Quizzes, assignments, and certification
Live classes and webinars
Offers custom domain
Good customer support
Cons of Academy of Mine
No free version
Pricing is not suitable for experimenting and starting out
Limited course templates
Email and automation features are primitive
Academy of Mine Pricing
Academy of Mine is fully a paid tool with no free version available. However, it offers a free trial to get to know the platform firsthand. Starting at $599 a month, the price might be a bit much for users just starting out.
Anyway, here is the detailed pricing info on Academy of Mine.
Essential: $599 per month | 250 monthly active users | 500 GB storage
Professional: $899 per month | 1,000 monthly active users | 1 TB storage
Enterprise: Custom pricing | 1,000 or more monthly active users | Custom storage on demand
WizIQ
The last tool on our list, WizIQ is also the online learning solution helpful for professionals, teachers, schools, and organizations to create learning materials. This service is provided with lots of courses creating and marketing features. It offers its customers built-in tools like course builder, quizzes, assignments, customizable apps, reports, etc.
Along with creating courses that students can access easily, WizIQ also has focused on hosting virtual classrooms where students and teachers can converse in real-time. Moreover, the participants can share the content on the screen, interact with one another, keep attendance, and so on.
Features of WizIQ
Virtual classroom: WizIQ uses advanced tech to display high-quality video display and echo-free sound in virtual classes. In addition to that, it also provides facilities like screen sharing, online whiteboard, live chat, polling, etc.
Course Builder: With the online course creation module of WizIQ, you can create the course in just a matter of minutes. You can upload unlimited content in different formats to create the learning materials. Also, you can white-label your learning portal with logos, brand colors, and customization.
Tests and assignments: WizIQ offers to create online tests and evaluate the performances. There are 9 different formats for the tests, and you can set the rules and guidelines of the test by yourself. There are more options like randomizing questions, limiting the time, etc.
Reports and analytics: With the reporting feature, you can measure the overall performance of the course and class with attendance, course completion report, etc. With that, you can find out what aspects of your course site need to be corrected. You can generate the reports and download them in CSV formats as well.
Mobile learning: WizIQ also offers mobile apps for Android and iOS devices for the students to access the course from their mobile phones. Moreover, it makes them easy to check messages, notifications, schedules, and more.
Pros of WizIQ
Easy to use
14-days free trial
Supports uploading various file formats
Built-in eCommerce capabilities
Excellent live class feature
Advanced analytics
Cons of WizIQ
Upload size is only 1 GB per file
Poor customer support
Poor documentation
Users have complained of some bugs and issues
WizIQ Pricing
WizIQ is also a premium plugin with no free version available. But at least, there is a 14-days free trial available for those who want to test it. For premium options, it has 5 different plans available starting from $25 per month.
However, the plans are designated with different approaches and factors. And, there are no specified costs allocated to the plans. So, this makes it convenient to get the features that best fit you and pay only for them.
Conclusion
So, this concludes our pick for the best online course platforms that let you host your and only your courses on your own branded website.
While these platforms have the same motive of letting anyone create and sell their courses online, they differ in terms of ease-of-use, pricing, beginner-friendliness, video hosting, etc. So, be sure to read our review carefully and pick the one that fits your needs.
Or, if you just want to host your courses without the need for a website, branding, or marketing, you can check out our list of course marketplaces. It includes the platforms like Coursera, LinkedIn Learning, Udemy, and so on.