Podia Review
Best All-In-One Course and Membership Platform
If you are a digital creator and marketer looking for an all-in-one solution to publish, market, and sell your courses, then Podia is one of the best solutions out there.
Podia makes it possible to monetize your knowledge in multiple ways – online courses, digital downloads, webinars, community, and coaching services. Unlike other course platforms, Podia offers enhanced marketing and selling tools at an affordable price.
But, that's not all! It also lets you create a custom website, design landing & sales pages, message users, track user progress, integrate with other 3rd party apps, access user support, and so on.
In this post, we are going to give you a full tour of Podia – what it is, who is it best for, its best features, pros, cons, cost, user reviews, etc.
Podia Overview
Podia is a multipurpose tool to create online learning platforms with online courses, memberships, digital downloads, webinars, community, and coaching services. Over 25,000 creators have been using Podia to earn by monetizing their knowledge business.
Whether you want to earn recurring revenue with a membership service or sell your digital products with a one-time fee, Podia is equally good for both.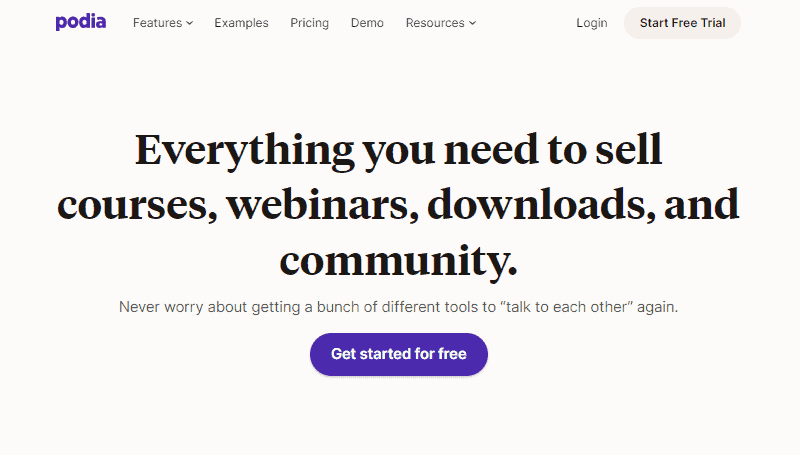 Along with creating, Podia also gives you the tools to showcase, market, and sell your learning materials under your own brand.
With the focus to reach more of your potential students or clients, Podia has offered its users tons of marketing features like in-built email marketing, automation, affiliate marketing, and so on.
Moreover, your clean and professional landing page created with Podia website builder can convert the leads into customers with ease. Not only that, but you can also create different types of pages as needed for your e-learning website with multiple in-built sections.
In the case of receiving payments, Podia has made it easy by connecting with PayPal and Stripe. So, your earnings are sent directly to your account without being on hold.
Along with that, some other mentionable features Podia offers are custom domain, website branding, messaging & chatting, responsiveness embeds, etc. We will see more about Podia's features below in this review.
Who is Podia best for?
Podia is best used for users with the need to create different types of digital products with the same easy-to-use tool. Moreover, it's for the professionals who want hands-on control on promoting, advertising, collecting, and selling the products along with creating them.
Mostly, users who want a complete multipurpose and all-in-one online school solution without paying the premium price (like in Kajabi) use Podia.
You don't necessarily have to be from a technical background to use Podia. The platform is made for the ease and comfort of users, so you will find everything at your fingertips on the dashboard.
What more Podia offers than most of its competitors are the feature of messaging for your students to communicate with you. Also, Podia boasts features like instant payout, unlimited product & content, unlimited contacts, unlimited email lists, and unlimited members.
Podia Features
Now, let's look at some of the best features of Podia.
Multiple Products Types
With Podia you can not only create the typical online courses but also host multiple types of products. So, you will have multiple ways of monetizing your knowledge.
They are listed below.
1. Online courses
Podia offers you to create and sell various types of online courses to match your business and fulfill your customers' needs. It lets you host different types of content like audios, videos, text, PDFs, etc. as required.
Also, hosting your videos requires no additional third-party tool integration. Podia offers full unlimited video hosting with no additional cost.
Talking of types of courses, it offers to create –
Standalone courses – It's the regular online course with different types of content you wish to add.
Drip courses – With this, you can create a schedule for your course sections to publish on a timely basis. This helps you manage your students' studies and also retain your customers for a longer time.
Bundle of courses – You can create a package of multiple courses and sell it as a bundle.
Pre-sell courses – It offers you the feature to charge your students and book their spot before you even publish the course.
Cohort-based courses – This helps you organize the classes for all the students to take the course at the same time enhancing the community experience and interaction.
Pre-launch courses – With this, you can launch a small course for experiment and lead collection before the grand course launch.
2. Digital downloads
Selling digital downloads is a very profitable business. You can create digital products like ebooks, audio, music, images, etc. once and offer them to multiple users for an unlimited number of times.
Podia makes it very easy to sell any type of digital downloadable item with a one-time charge. If you want to collect users' emails, then you can offer it as a lead magnet as well.
Ebooks are one of the most sold digital products which you can host in Podia in PDF or EPUB formats. Besides, you can also sell Photoshop templates, image files, music, audio, etc.
3. Community
Podia also lets you host an online community which is a great way to drive users' participation and build relationships with your students. The community members will pay timely fees so you earn recurring revenue every month.
The users can easily log in to their student account and get access to both their courses and community at the same place.
You can create a multitude of topics for your members to engage with likes, comments, and replies. Also, they can post their own topics and other members can participate in the same way.
4. Webinars
Similarly, Podia also lets you host webinars and live video sessions for unlimited participants through different integrations.
You can easily connect to YouTube Live and Zoom (on Shaker and Earthquaker plans) to for conducting the webinars.
You have the option to give it for free in exchange for emails or charge your attendees for joining the webinar. You can also schedule it at a future date and sell people their spots in advance.
Moreover, you can also earn by playing the replays of the past webinars and also bundled with other products.
5. Coaching
Lastly, coaching service is another product that Podia offers hosting. With this, you can easily set up a service where your clients can pay and receive one-to-one coaching from you.
This can also be useful to offer booking and appointment services as well.
You can easily set up the payments and schedules for your coaching service as well as add the coaching service to the courses.
For creating coaching services, you have the option to connect to 4 different scheduling tools – Calendly, Acuity, YouCanBookMe, and SavvyCal. Or, you can even use your own link.
Unlimited Everything
While other platform limits you from using their services or enrolling students, with Podia you get unlimited access to anything.
No matter which plans you are in, Podia offers you to create unlimited products as you need. There is no clause on the number or size of files you upload for course content, downloadable files, or other products.
Also, you don't have any limit on the number of sales and customers you have. With this, you can make a lot of money without Podia taking any of it.
In addition to that, it offers a limitless collection of email contacts, sending unlimited messages, adding multiple team members, and so on.
Email Marketing
Podia has its own powerful native Email marketing tool so you don't need to spend on other third-party email providers.
The email marketing tool can help you create marketing campaigns with bulk email broadcasting and conditional automated email messages. Moreover, it provides in-depth email analytics to measure the working of your campaigns and estimate your ROIs.
Firstly, you capture emails by creating sign-up forms and lead magnets on your Podia website.
Now, the list of emails can be segmented into specific categories to separate the users with interests. Then, they can be sent updates, notices, offers, etc. through broadcast emails.
Similarly, you can run different types of automated email campaigns to send users emails whenever they take a certain action. For example, you can send a welcome email to their inbox when users purchase your course and sign in for the first time.
Other Marketing Tools
Likewise, there are lots of other tools in Podia that help you with increasing the awareness of your products and improving sales.
Some of them are –
Content Drip – It's the feature that lets you release your content on a timely basis. For example, you can set the schedule from your backend to automatically publish a new chapter every week. It's helpful to keep your students on hold and retain them for a longer period.
Upsells – Upsells help you grow the amount on order by offering additional items with your courses and products.
Coupons – You can offer users coupons to offer discounts when users buy your products. The coupons can be adjusted with expiration dates, usage limits, and are applicable for specific products.
Affiliate marketing– Podia also lets you set up an affiliate program for your courses so that your students and members promote them. You can set custom affiliate rates to offer people who help you make sales.
Course Builder
Podia's course builder is provided with an easy user interface. So, first-time users can get hold of the course creation very easily.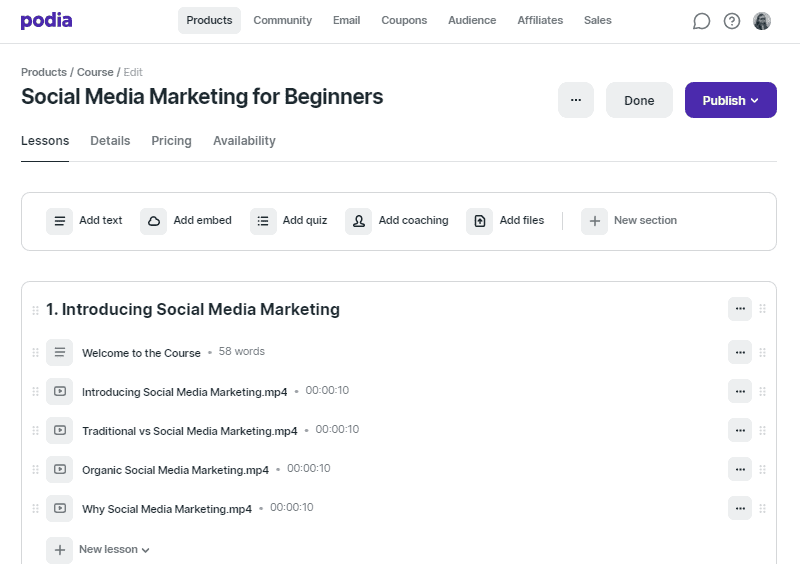 Just sign up to Podia, select online courses for product creation, and start with the product name. Then, you can add sections, files, links, quizzes, and much more for product creation.
All the process is made easy with the streamlined process. For example, when you start adding a section, it will open a dialog box to enter the section title and description.
The modules and lessons can be moved around with the drag-and-drop feature so you can arrange them in order.
If you want to drip the course sections, it lets set the number of days after the purchase to release the sections. Also, you can schedule an email broadcast to notify students of the course section release.
Intuitive Website Design
Likewise, Podia also lets you build a beautiful website that looks professional and reflects your brand. No matter which plans you are on, you get to add unlimited SEO-friendly pages to your Podia site.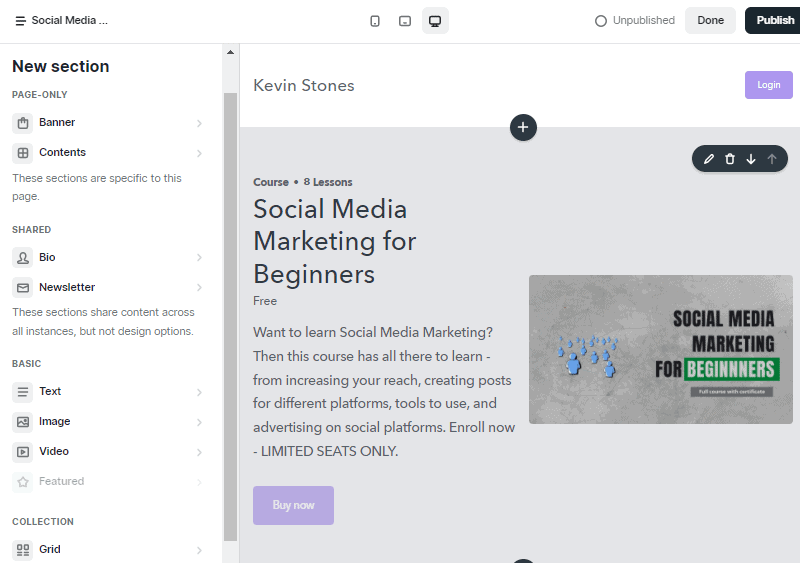 The website is completely responsive so there is no issue for your students using mobile, tablet, or computer for learning.
The best part, you don't need to code at all to design your pages. It offers lots of pre-made sections like banner images, videos, text, buttons, product list, testimonials, author's bio, categories, columns, etc.
Those sections can be added easily on the pages and have customization options to edit them as your will. You will also find more options to set up fonts & typography, select image background, manage alignments, pick colors, and so on. In addition, it has live previews functionality to see how it looks in real-time.
Messaging
Messaging is an important feature of Podia that other online course platforms lack.
Firstly, it offers a floating chat button at the bottom of your pages. This enables your users to easily connect with you when they visit your site. You can help them understand better about your products and turn them into customers.
Not only before purchase, but your customers can chat with you from their learning dashboard after enrolling in courses. This makes it easier for your clients and students to send you their queries and questions to you.
How to create an online course with Podia?
Podia has a very simple and easy-to-use dashboard so creating courses and other products is easy. However, it might be a little tricky for the first-timers.
So, we have put together the steps to create your first course with Podia. If you want to get a hang of it, then you can follow us step-by-step. It offers a 14-day free trial so, there's no risk in trying.
Now, let's dive in.
1. Sign up for the 14 Days Free Trial of Podia
Get started by signing up to the 14 days free trial from the Podia home page.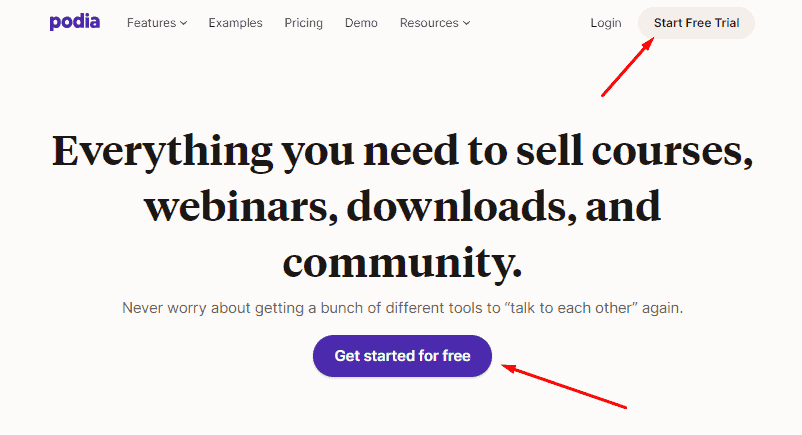 Or, you can also go to the pricing page, choose a plan you prefer, and click on the 'Try free for 14 days' link below it. In this example, we have taken the Shaker plan for a spin.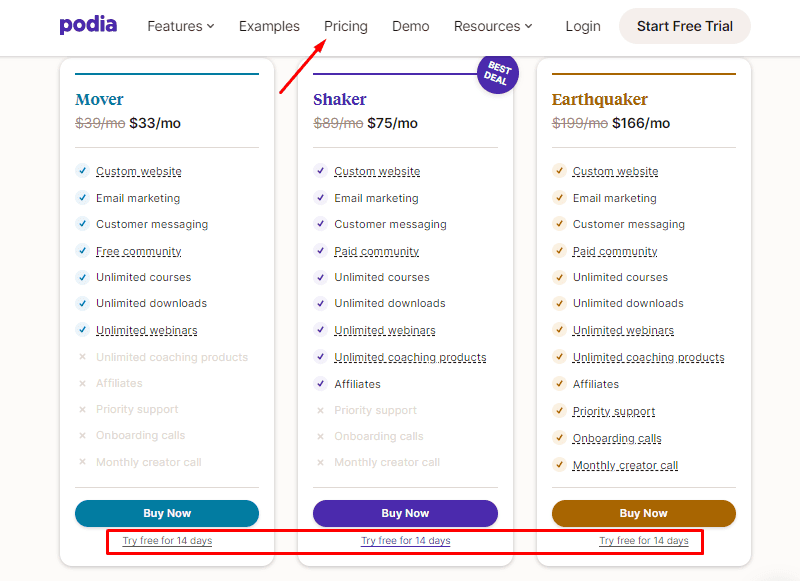 Next, it will ask you to fill in a sign-up form with your name, email, and your own password. Then, click on the Get Started button.
After that, you will reach your dashboard which looks like this.
Verify your Email Account
As you can see, it's alerting you to verify your email address. So, go to your email account and see the email from Podia, open it, and click on Confirm your email.
This will open your verified Podia account on a new tab.
Sign In to Podia
You will already be logged in to your site after the sign-up and email verification.
Anyway, let's see how to log in to your Podia account for the times you are logged out or you want to log in from another device.
For that go to the Podia home page, and click on Login from the header menu.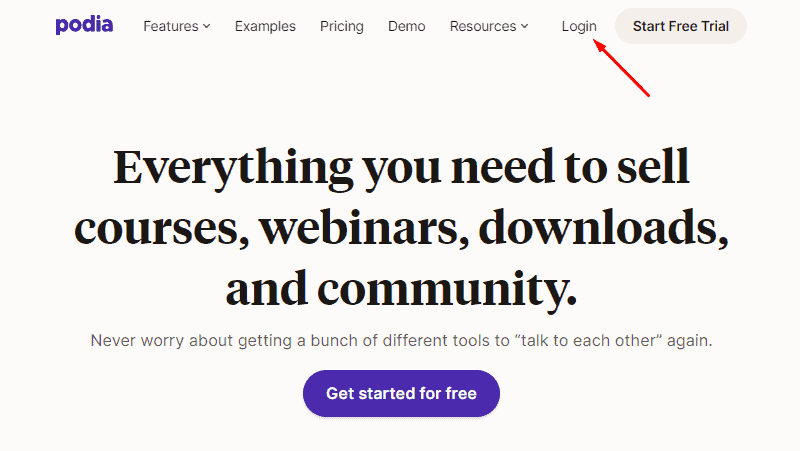 On the login page, enter your email & password, and then click on the Login button.
Create a Course
Now, you will reach your verified Podia dashboard which has the menu options for products, community, email, audience, etc.
Now, let's go ahead and create an online course with sections, lessons, course content, quizzes, etc. For this example, we will create a beginners' course on Social Media Marketing.
So, click on Products from the menu.
After that, click on + New Product to add a new product.
It will open a pop-up box to let you write the product name and choose a product type. Here we chose the product type Online Course and entered the course name 'Social Media Marketing for Beginners'.
After that, continue to the course creator interface by clicking on Create Product button.
The course builder interface looks like this at the very first.
Now, we will break down the steps of creating courses.
Add Course Cover Image and Description
Everything aside, the first thing we would recommend doing is adding an image and description for the course. The title, description, and image are important SEO aspects for your courses to appear in Google searches.
So, from the course editor, click on the Details tab. From there, add your image and description. The title is already there as you had entered previously. You can change it too if you want.
For adding images, you can either upload from your local drive or search from Unsplash.com. We recommend you create your own cover image and upload it.
If you wish to have multiple courses on your site, then creating categories will come helpful to classify them. For that, just scroll down below, click on New Category, enter a category name, and submit.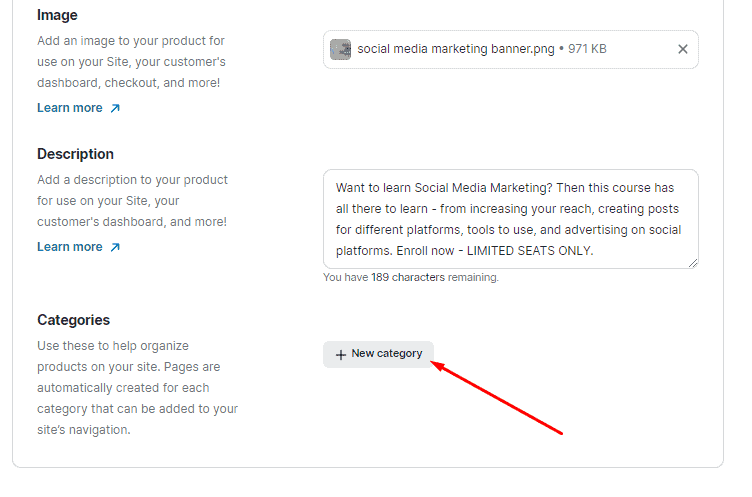 Add Sections
The Sections work as the chapters on your course where related lessons and other course content belong.
To add sections go back to the Lessons tab, click on New Section.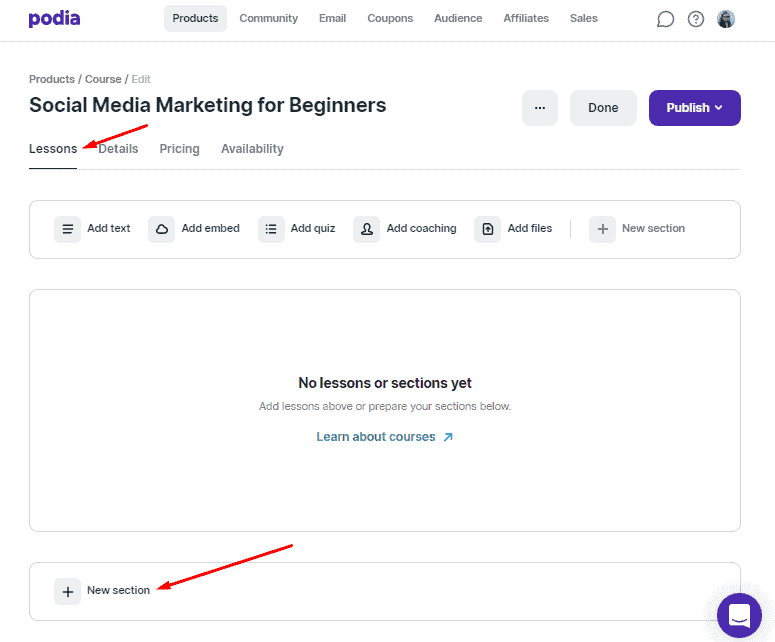 On the next page, add the section title and description.
After that, don't forget to save.
Similarly, add all the sections as your course requires following the same procedure.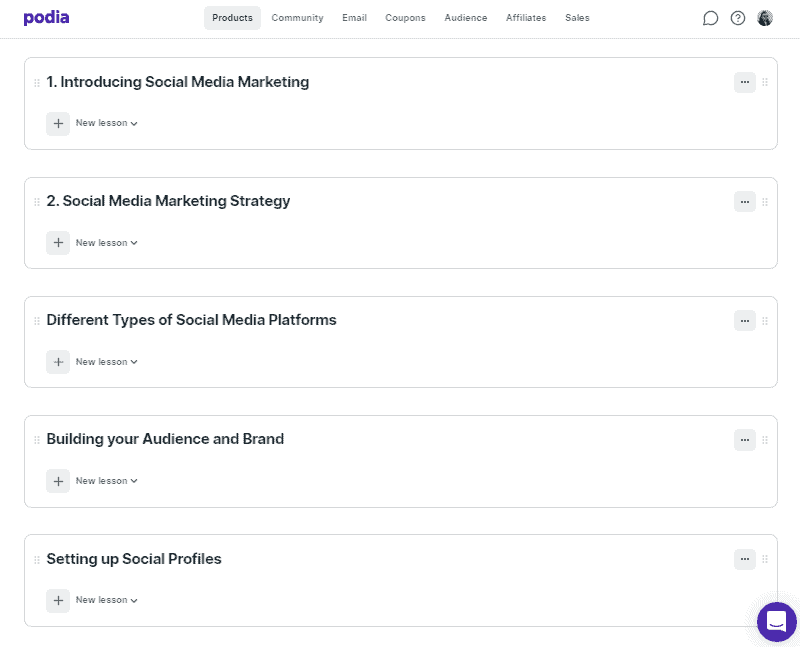 The course sections can be dragged and arranged in the order you want. Just click, hold, and drag from the draggable points you see ahead of the section name. Here's how.
Add Lessons
Now, the next step is to add lessons to the sections. Assuming that you already have created your course content, just add them to the sections easily.
Just click on New Lesson below the section and then click on the content type you wish to add. The available content types options are – text, embed, quiz, coaching, and files.
For adding text lesson, select Add Text which will take you to the next page. Then, just enter the lesson title, your text content, and then Save it.
Similarly, if you want to add video content, select Add Files at first from the list of content types.
Then, select the video from your local drive that you want to add.
Now, you might want to add thumbnails to the videos so that it looks beautiful to the users and customer. For that, open the video lesson by clicking on it.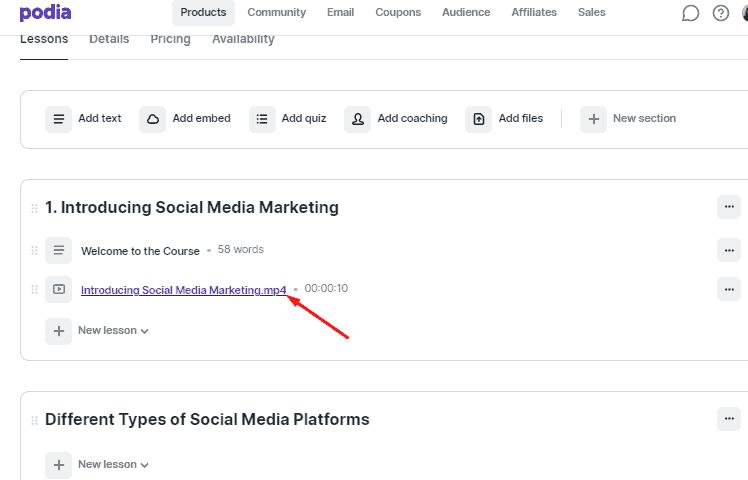 Now, click on the Choose File link below Thumbnail on video options.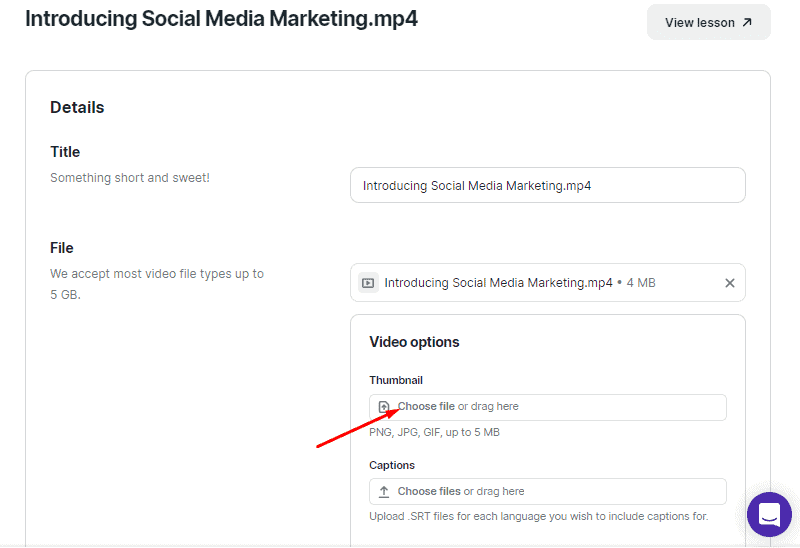 After that, it opens a window to choose an image file from your local drive. So, browse to the folder you have the thumbnail, select it, and click Open.
After selecting the image, click on Save to save the changes.
If you scroll down below to the content, you will find the option for enabling the visibility of the lesson for customers and site visitors. So, use that according to your plan.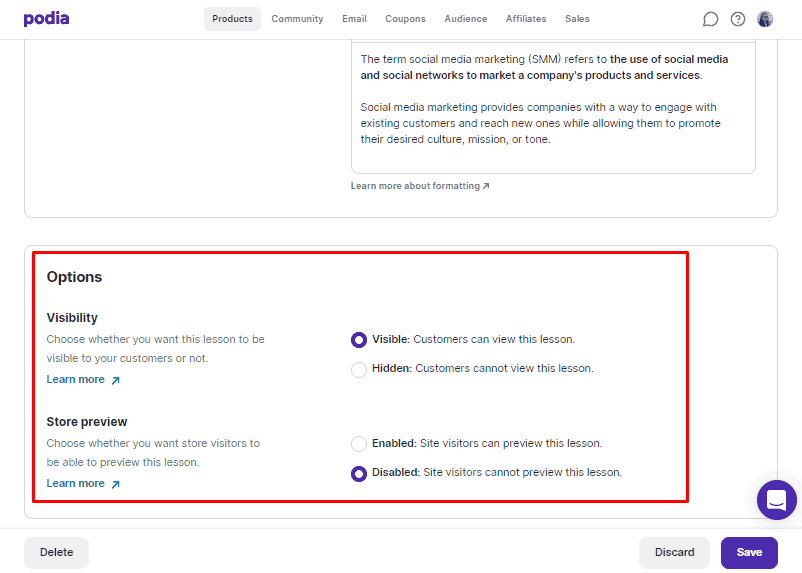 Following the same steps, you can create and add videos and other different types of course content as your course requires.
And, if you want to rearrange the order of the lessons, then just drag them in the place you like.
Add Course Drip
Content dripping is a very useful feature for any online course platform. If you don't want to give your students access to the full course at once, then you can enable the drip feature. With that, the course chapters will be released over time.
You can simply add a drip schedule to your course section, i.e. enter the number of days after which the section will be visible to the students.
Note that, you should give access to the first chapter to your students right away. So, add drip only from the second section.
Anyway, click on the section name that you want to drip.
After that, if you scroll down below the titles and descriptions, you will see the drip settings labeled as 'Delay'.
Now, click on the lower radio button to enter the days to delay the section after course purchase. For example, if you want to drip the section after 7 days of the course being purchased, then enter 7 on the text box.
Don't forget to save after that.
Moreover, you can also notify your students about the section release by creating an automated email campaign.
For creating the campaign, first, tick the check box below the delay setting. After that, it will open the subject and body text boxes for the subject and body of the email. Just enter them as you want and save them.
Add Pricing
Now, the next step is to create pricing for your course. Podia offers you creating different payment options with the flexibility to set the cost for your products.
However, you will have to set up your payment method first if you want to charge for them.
Another option – you can give it away for free as well.
Anyway, to set up your payment method, go to the Pricing tab and click on Manage payment integrations.
On the next page, you can see the payment options available are PayPal and Stripe. Just click on Connect next to them and follow the additional procedure.
For now, let's give this Podia course for free. For that, you just have to publish the course without setting up the payments.
So, let's see how to publish the course.
Publish the Course
Publishing the course is very easy – go to the Availability tab at first. Now, you can see the status of the course as Draft. Now, choose the first option 'Published'.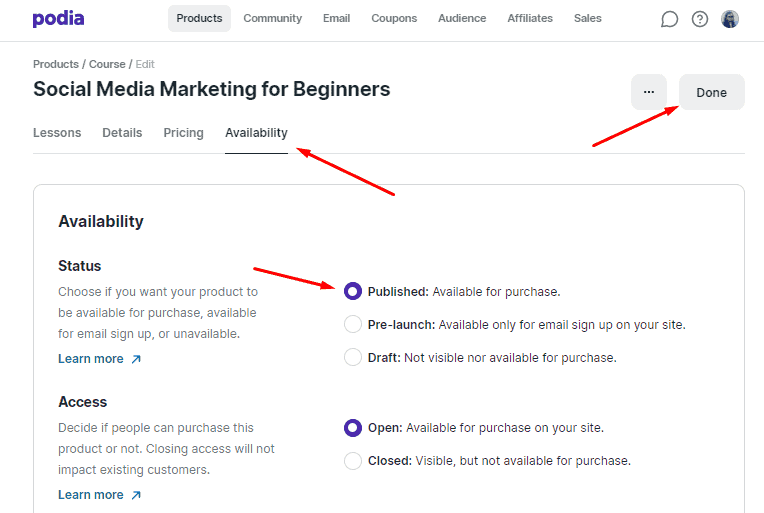 Another way, you can click on the publish button from anywhere on the course builder interface.
Preview the Course
Now, let's see how the course looks in the front-end.
You can view it as a customer who purchases the course and also as a website visitor. First, let's see how the course looks to the website visitor.
Firstly, on the course builder interface, click on the 3 dots you see at the right of the interface. After that, click on View as Visitor.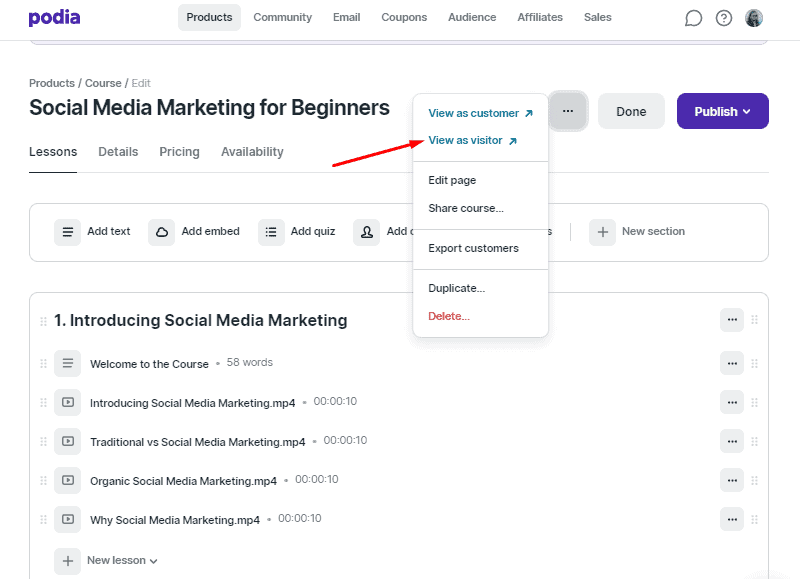 It will open the course preview at the new tab.
Similarly, you can open the customer preview by clicking on View as Customer.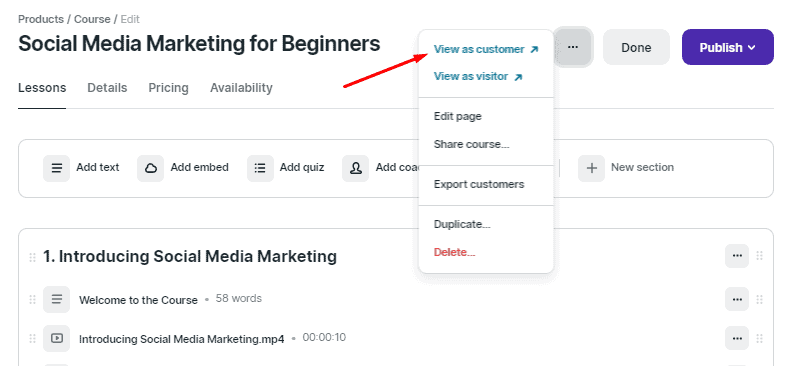 You will see the review of the course as a customer on a new tab.
Examples of websites created with Podia
Now, let's see some of the courses created with Podia.
Sketch Note Academy
It's a Podia academy that offers beginner sketch artists to become professionals with workshops, courses, workbooks, and community. Created by Emily Mills, the Sketch Note Academy offers lots of sketching courses from beginners to professionals.
The 10k Institute
The 10k Institute is a cohort-based learning portal that teaches students on improving their productivity and helps them achieve targets in their personal and professional lives.
Oh Joy! Academy
Oh Joy! Academy is an online course platform that helps students become entrepreneurs. It offers lots of online courses on topics like a team growing, licensing art, idea pitching, etc. Also, Joy Cho, the founder provides a one-on-one business coaching service.
Pros and Cons of Podia
Like all platforms, Podia also has some aspects that need improvement. Having said that, let's see some pros and cons of Podia.
Podia Pros
Offers a free trial of 14 days
Multipurpose – Create different types of products
Great dashboard user interface
Instant payouts
Live chat support
Sell multiple types of products under the same domain
Offers affiliate program
Offers free migration to Podia
Built-in email marketing tools
Cohort based learning
Podia Cons
No free plan
Shows Podia branding on the basic plan
Basic course and site builders
Doesn't offer pipelines like Kajabi
No phone support
Podia Pricing
Podia is fully a premium learning platform creating tool. It offers 3 different plans starting from $33 and goes up to $166 per month paid yearly.
For looking around the platform you can get a free trial of 14 days on all plans.
Anyway, here is a compact view of the pricing and plans of Podia (Paid annually).
Mover: $33 per month | Unlimited Hosting | No coaching | 1k community members
Shaker: $74 per month | Unlimited Hosting | Coaching available | | 15k community members
Earthquaker: $166 per month | Unlimited Hosting | Coaching available | 100k community members
Podia Alternatives
Podia is a great online course platform best for multipurpose use and has everything in a single place.
However, you might have a different need. In that case, you can opt for something else.
So, here we have gathered some of the alternatives of Podia that you can go for.
Kajabi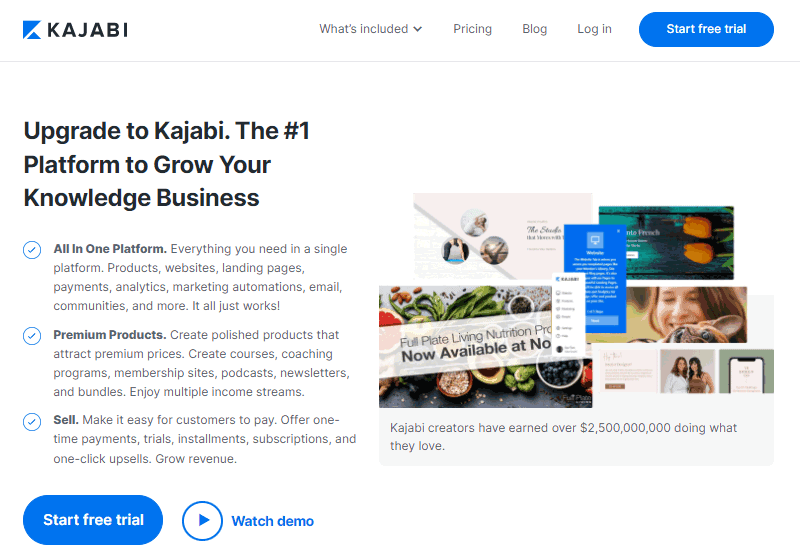 Similar to Podia, Kajabi is an all-in-one online course platform that offers to create courses, memberships, coaching services, etc. Its price point might be a little high for beginners; however, the features it offers make its worth.
With robust tools like email marketing, automation, pipelines, landing pages, etc., Kajabi helps you sell your products a lot.
Teachable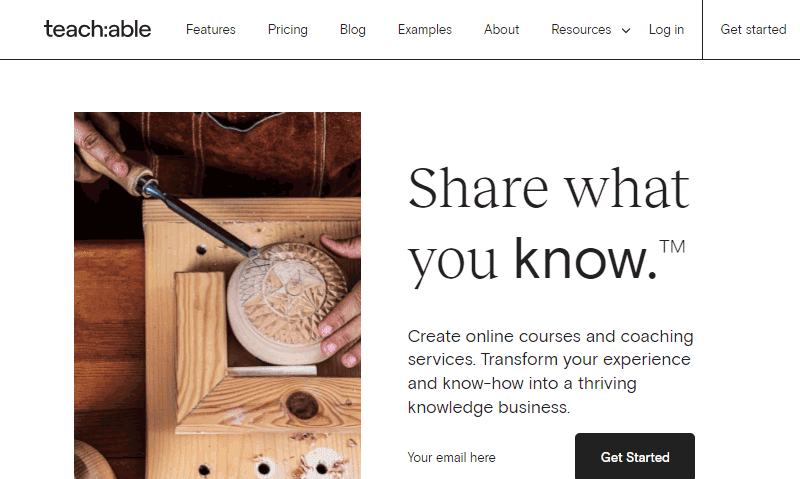 Teachable is a beginner's best platform for creating online courses, memberships, and coaching services. Provided with ease of use, everyone can create online courses as well as design the site with no prior experience or knowledge.
Also, if you are on a budget you can go for Teachable as it's the cheapest option out there. Also, it has a free plan with the power to create a basic course platform and earn. But the catch is it takes some of your earnings.
Thinkific
Thinkific is another great online course platform that focuses on enhancing users' experience of course creators. It's provided with a simple and straightforward dashboard for creating and launching your courses quickly.
It's also a freemium tool, meaning it offers both free and premium options. The best part is it doesn't take any transaction fees. However, it limits you to a single course.
Conclusion
Podia is one of the best all-in-one platforms with a complete e-learning solution. You can host any type of learning material on Podia as well as create multiple types of learning materials under the same domain.
Moreover, it offers unlimited everything – products, students, course content, video hosting, email lists, email delivery, etc. Plus, the integrated messaging feature is one of its unique selling points.
If you want other options, then you can check out our Kajabi review or look at the list of best online course platforms.
Podia FAQs