14 Best WordPress Tutorials Website for Beginners in 2023
WordPress is arguably the most popular platform for creating websites in 2022. Over 43% of websites use WordPress for to its ease of use, flexibility, affordability, powerful core, and many other features.
The best thing about WordPress is – that you can create any type of website by yourself without hiring a developer.
But, you might ask – where should you begin without having any prior knowledge? To be honest, starting off without any beginners' know-how could be a little tough.
But worry not! In this post, we have a list of the best websites that offer tutorials, guides, documentation, and all the necessary content for learning WordPress.
Let's start!
1. WPBeginner – WordPress Tutorials for Beginners
WPBeginner is one of the largest resources for learning WordPress. Founded by Syed Balkhi in 2008, it is mainly targeted at beginners. It helps the audience become familiar with the WordPress environment starting from scratch to advanced, so they can create professional websites by themselves.
WPBeginner covers everything related to WordPress. Whether you are looking for learning WordPress for the first time or want in-depth knowledge on creating complex websites, WPBeginner has it all.
You can also find recommendations of the best themes, plugins, hosting, and other tools best fitting the need of the website you are trying to create. The resources are all free and easily accessible on their website.
2. WordPress Tutorials for Businesses by Marketing With WP
As the name implies, Marketing With WP is created with the aim to help small business owners to grow their business and revenue using WordPress.
Lots of tutorials on the web talk about creating and designing websites with WordPress. And, there is rarely any stream focused on generating traffic, leads, and conversion from the website.
At Marketing With WP, we create helpful blog posts teaching about WordPress and marketing. Some popular ones include connecting Google Analytics to WordPress websites, setting up SEO plugins, creating newsletter forms, important pages for small businesses, etc.
In addition, we have collected some of the best and most popular plugins in WordPress reviewing their features, pros, cons, pricing, etc.
Also, we have full documentation on WordPress CMS tutorial articles on installing WordPress, navigating to the WordPress admin dashboard, creating pages/posts, menus, configuring settings, and important WordPress tips and tricks.
3. WordPress.org Documentation
WordPress.org is the official website of the open-source WordPress software. It also offers a free repository of articles that covers every aspect of WordPress.
It's the official resource from WordPress itself. They are the first to provide WordPress features update announcements before any other website.
A noticeable downside to the WordPress.org learning resource is that there are rarely any images used, which makes it look dull and creates less user engagement.
But anyway, the content it offers is detailed and takes you through every step in carrying out a task or a setting. Along with getting started and other basic content, it also offers in-depth posts for security, troubleshooting, and maintenance.
4. WP101 – WordPress Video Tutorials Service
WP101 is an online membership website that offers video tutorials on WordPress. It has been around since 2008 helping beginners learn and succeed in their online business with WordPress.
With WP101, you get a handful of courses that helps you learn to create a blog, business website, eCommerce store, or other different types of websites.
Starting out with the basic course is free. While you will have to purchase a membership to access more advanced courses. The pricing starts at $19 per month.
Now, WP101 is preferred by its users due to its qualitative delivery – the topics are thoroughly explained with clear visuals.
Also, it keeps up with the updates and changes on the WordPress features so the users are always up-to-date. In addition, you can ask WP-related questions in the forum and get answers from the experts.
5. Kinsta Blog – WordPress Tutorials and Resources
Kinsta is a very popular Managed WordPress web hosting company. Along with that, it offers in-depth learning material for the WordPress CMS.
Kinsta features 100s of articles suiting the audience from beginners to the advanced levels. Ranging from the beginner's level posts like 'what is WordPress?' to tips on website optimization and error troubleshooting, Kinsta has it all.
In addition, Kinsta also has a lot of documentation related to WordPress hosting and the application of Kinsta in WordPress. It's for the obvious reason of growing their business. Regardless of that, it's a good service that we too prefer for our partner and client websites.
The content on Kinsta's website is easily readable with excellent writing along with images that engage the readers' attention. In addition, you can find embedded videos in the posts in order to provide extra depth to the content.
6. WP Apprentice – WordPress Tutorials Agency
Like WP101, WP Apprentice is a WordPress tutoring agency offering video courses to learners. In addition to that, it also has a handful of blog posts for users who prefers reading.
Basically, WP Apprentice is a membership website that lets paying members log in to their accounts to access premium content on WordPress tutorials. While the basic lessons to understanding WordPress and getting started at the surface level are available for free.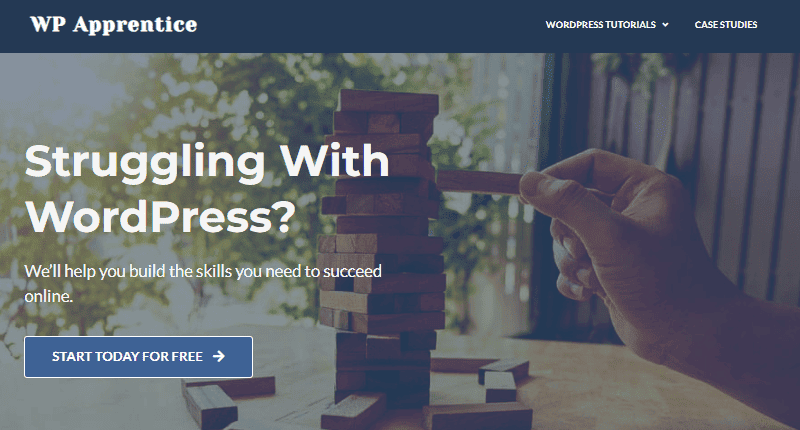 Now, WP Apprentice covers almost everything about WordPress – the plugins, themes, menus, widgets, settings, and everything else you could think of.
In addition, it has other important courses for Gutenberg post and page editor, designing websites with WordPress, WooCommerce, WordPress SEO, and more.
7. IsItWP Blog
IsItWP is a side venture of Syed Balkhi, the founder of WPBeginner. It's a WordPress lookup tool I.e. a tool used to detect if a website is made with WordPress. Along with that, it also shows other information like the active theme, the plugin used, and the hosting provider.
If you want help with anything related to WordPress, you can check out the IsItWP blog. It comprises everything ranging from a step-by-step process for starting a basic website to creating a complex eCommerce website.
Also, if you need help adding features to your WordPress website, IsItWP has in-depth blog posts for it. You can also see this website recommending a lot of WordPress products as it runs on affiliate commission.
8. DreamHost Blog
DreamHost is a popular web hosting company offering different plans including the popular WordPress hosting plans.
Along with the hosting, it has a content marketing part too that offers helpful guides and tutorials on WordPress.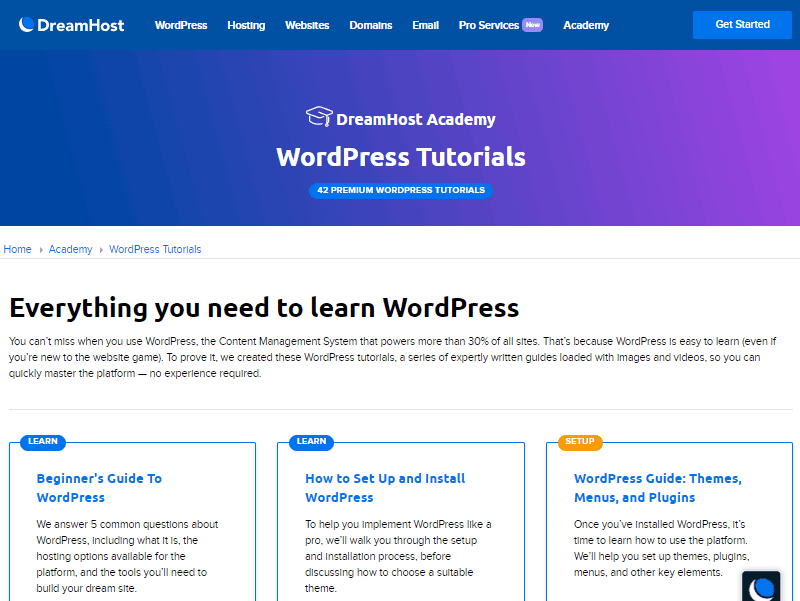 Starting from the blog posts on introduction to WordPress and its peripherals, DreamHost provides in-depth posts on a WordPress installation, backend navigation, and creating intuitive websites.
Not only the straightforward guides and tutorials, but DreamHost also helps its readers with tips, tricks, and suggestions for a better WordPress experience.
It has divided the WordPress tutorials into different sections like Learn, Setup, Optimize, Build, etc. So, you can browse and find the content on those topics easily.
9. WPCrafter – WordPress Tutorials for Non-Techies
WPCrafter is another popular hub for WordPress users. Adam Preiser, the man behind the site, is a WordPress reviewer, Entrepreneur, and tutor known mainly for WordPress product reviews. Also, he is an influencer for WordPress users and enthusiasts.
In WPCrafter, you can find lots of in-depth articles that cover varieties of WordPress topics. From simple tutorials on adding specific features to in-depth guides on creating a whole online presence, the WPCrafter website has it all.
You can also find lots of product reviews, comparisons, and recommendations for page builders, hosting services, themes, plugins, etc. This will help you decide if the tools are worth buying.
That's not all! WPCrafter also offers paid membership courses for users eager to learn more about WordPress.
10. Hostinger WordPress Tutorials
Hostinger is a popular hosting service provider, especially for WordPress hosting. Along with that, it also offers extensive learning materials on WordPress.
Firstly, you can find beginner-friendly WordPress documentation that helps you with getting to WordPress better along with installation procedure, dashboard navigation, installing themes & plugins, etc., and with other basic stuffs.
Also, there are tons of articles covering different topics like setups, tutorials, themes, plugins, WP terminologies, customization, and so on. The posts are skimmable, super easy to read supported by illustrations, and embedded videos.
11. WPExplorer
WPExplorer is another popular website that's known for being the author of Total and other popular themes. It was founded by AJ Clarke in 2010 for sharing guides to create WP themes, and actually offering free themes he created himself.
Later, the website shifted more into a blog website aimed to help beginners learn WordPress. The website helps users discover awesome WordPress themes & plugins, along with guides, tips, how-to's, and maintaining WordPress websites.
Not only that, but it also has a lot of advanced content that experienced WordPress developers could benefit from. The tutorial content comprises the categories – WordPress latest, tips, security, SEO, security, and more.
12. Learn WordPress – Astra Blog
If you are into WordPress, you might have heard of Astra. Astra is the most popular freemium WordPress theme known for its speed, multiple applications, and customization.
Along with the theme, the official Astra website runs a blog as a content marketing strategy for the Astra theme. However, it also offers tons of WordPress guides and articles, updates, tips, and much more.
The blog posts on Astra cover various topics like theme & plugin review, step-by-step guides on working with the plugins, WordPress optimization tips, etc. The topics are explained with very understandable language and a friendly tone along with images to enhance the understanding.
You should definitely check out Astra blog if you want to be updated on the latest WordPress news and never miss offers.
13. WPJohnny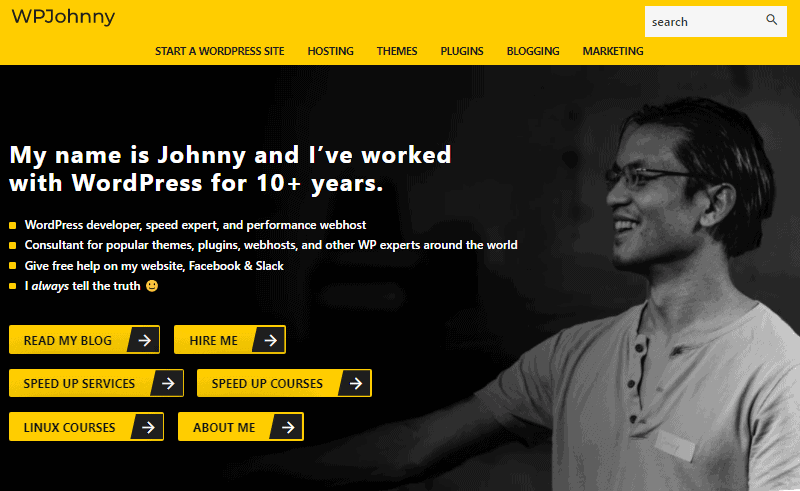 WPJohnny is a WordPress blog website founded by Johnny Nguyen. He is a WordPress expert with 10 years of experience in WordPress design, development, hosting, performance, marketing, etc.
The WPJohnny blog is created with the sole intention of teaching users about WordPress website speed and performance optimization. You can find guides like recommendations of the best web hosting providers, best speed optimization plugins, fast WordPress themes, product reviews, and so on.
Moreover, it also has some helpful guides for beginners to get started on learning about WordPress, building WordPress websites, blogs, etc.
What we found interesting was there are a lot of helpful stories on enhancing professionalism, quotes, motivational readings, etc. that you will enjoy.
14. WP Speed Matters
Similar to WPJohnny, WP Speed Matters is also a blog on WordPress speed and performance optimization. It's created by Gijo Varghese, a blogger, developer, entrepreneur, and WordPress speed enthusiast.
In the blog, there are different types of articles categorized as CDN, hosting, optimization themes, plugins, fonts, etc.
Some of the important articles you find there are hosting reviews, configuring hosting setups for better performance, caching tips & tricks, making WordPress lightweight, optimizing images, and so on.
Coming from a developer, the content on the WP Speed Matters blog could be a little technical for beginners. However, the writing style of the articles is very beginner-friendly and well-explained so every reader can understand it better.
Conclusion
There you have it! We have listed some of the most trustable and helpful sources to learn WordPress. You can visit and check out their resources.
Want to get started on WordPress right now? Then, you can check out our full simplified WordPress tutorials for beginners.