14 Best WordPress Tutorials on Youtube in 2023
If you are new to WordPress, then it might get easy to get frustrated and feel lost! Luckily, WordPress has a huge community of users, enthusiasts, and contributors to get help from.
YouTube videos by active WordPress enthusiasts are one of the best ways to learn WordPress. It's free, easily accessible, and there is an abundance of available content. Moreover, lots of creators are invested in creating qualitative video tutorials for almost everything to help beginners like you.
There are tons of channels providing tutorials on WordPress, and the following are some of our favorite ones –
WPCrafter
Adam Preiser, the man behind WPCrafter, is pretty active on the blog website as well as the YouTube channel – WPCrafter.com, WordPress for Non-Techies.
WPCrafter is a popular YouTube channel consisting of detailed videos on WordPress tutorials, how-to guides, themes & plugin walk-through, etc. Specially dedicated to helping users learn WordPress, this channel also gives guidance on SEO, marketing, conversion, and optimization.
Ranging from few-minute videos on WordPress tips, you can also find hours-long videos on detailed guides like creating a full niche website. Adam also streams live every now and then answering users' questions on WordPress.
WPBeginner
If you have already started learning WordPress, then you might have come across WPBeginner. It's a very popular WordPress learning hub for beginners. Along with the blog, WPBeginners' YouTube channel is also very successful.
The channel is mainly focused on helping users with starting with WordPress. So mostly, you will find beginners tips and tutorials on WordPress. But, it's not limited to that. You can find videos for adding features to the website, website growth techniques, SEO, resolving issues, etc.
The lengths of the videos are mostly short, as the video is straight to the point. However, some videos like on the topic 'creating a blog' are over 30 minutes.
Darrel Wilson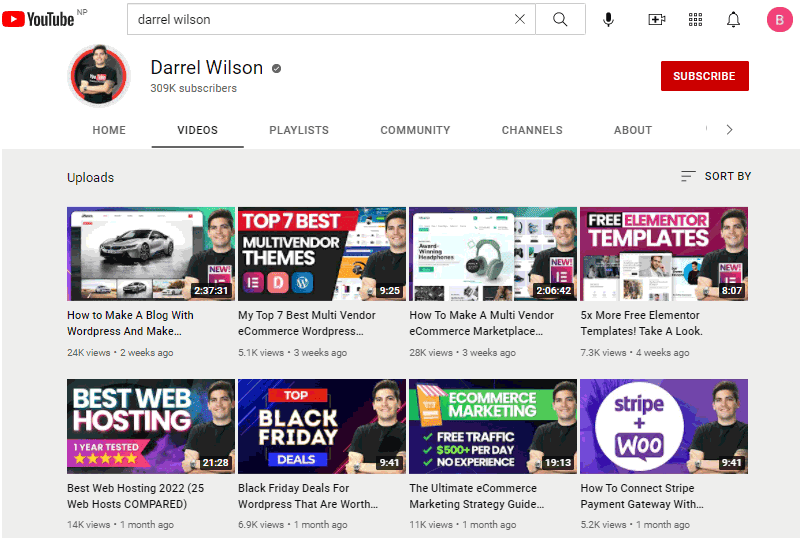 Darrel Wilson is a WordPress designer and digital marketer, turned in to WordPress instructor. He started a YouTube channel in 2016 under his own name, with the intention to help people learn WordPress.
This channel is focused on teaching users to create WordPress websites with no coding skills. In his videos, he talks more about drag-and-drop builders like Elementor, Divi, Brizy, etc. Along with that, he has lots of tutorials covering WooCommerce and blogging.
Darrel dives through the topics in great detail. That's why you will find very lengthy videos. Those videos generally guide you through details on creating niche websites, blogs, or eCommerce stores.
Tyler Moore
Tyler Moore is a website developer, online marketer, and tutor who runs a YouTube channel for teaching users to make websites without coding, particularly using WordPress. It is one of the most popular channels for helping users learn to create websites for business.
The channel Tyler Moore is focused more on helping beginners get started with WordPress. In addition, you will find detailed step-by-step guides on complete website development. The videos are simply explained and assure no step is missed
Whether you are looking for creating a blog, business website, or an eCommerce store, Tyler Moore has the tutorial for it. Moreover, there are plenty of short videos on navigating to the WordPress admin area, WordPress tips, error fixes, how-to guides, etc.
Ferdy Korpershoek
Ferdy Korpershoek is a Dutch entrepreneur with knowledge in photography, videography, website development, and a lot more. With an interest in teaching users about website development, building eCommerce stores, marketing, making money, etc., he has a pretty popular YouTube channel.
In his YouTube channel, he has many videos on basic WordPress tutorials for beginners to get started. Also, a good number of the videos are related to WordPress tools like Elementor, Crocoblock, Astra, OceanWP, WooCommerce, etc.
He also helps users with making money online, email marketing, and using related tools. You can check his channel's playlist and start watching the videos as a course too.
WPTuts
WPtuts is a dedicated YouTube channel for WordPress learning. This channel has helped thousands of users learn WordPress and create beautiful websites.
In this channel, you will find lots of tutorials on using different themes and plugins that are essential for designing and adding features to websites. Unlike other tutorials, the creator of WPTuts, Paul Charlton, digs deep and comes up with very detailed videos possible.
The videos are primarily reviews of WordPress tools and products like ShopEngine, Elementor, WooCommerce, Blocksy, Slider Revolution, etc. In addition, you can find videos talking about pricing & product deals, email marketing, general WordPress tutorial, configuration, tips, and suggestions.
The channel also streams live videos very often.
Kori Ashton
Kori Ashton is an entrepreneur, developer, speaker, and tutor, who helps people be familiar with online businesses and marketing with WordPress. Also, she has been running a YouTube channel since 2011 to help beginners learn WordPress.
On the Kori Ashton YouTube channel, you can find lots of videos on videos on improving your WordPress knowledge. As well as, there are lots of tips on monetization, SEO, marketing, conversion, etc.
Kori had been consistently uploading videos on WordPress themes, plugins, security, indexing, SEO, etc. until recently.
Let's Build WordPress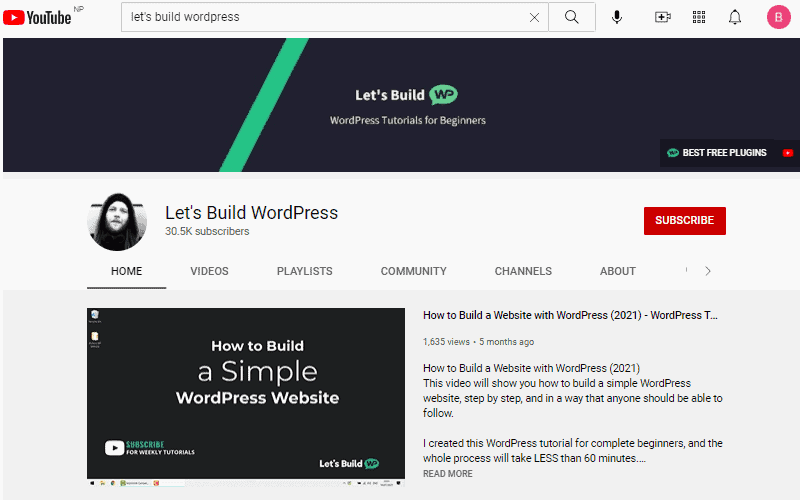 Let's build WordPress is another helpful YouTube channel on learning WordPress. Run by a creator named Martie, he has experience of over 8 years. He has created this YouTube channel to share everything he has learned.
The channel has different types of videos topics from step-by-step tutorials to creating a WordPress website, beginners' WordPress tutorials, features, tips, plugin comparison, installing WordPress on hosting, etc.
The channel is great for providing how-to guides for using quick and easy features on the website. The videos are generally short, about 3 to 10 minutes on average. While you can also find lots of videos over the 1-hour mark, like the step-by-step guide to creating a website from the scratch.
Themeisle
Themeisle is the company behind the popular WordPress themes – Neve, Hestia, etc., and a handful of WordPress plugins.
As a content marketing channel, Themeisle has also been running the YouTube channel. However, they are not only promoting their products but offering helpful resources for learning various aspects of WordPress.
The channel also talks about WordPress SEO, security, product reviews, error fixes, WordPress features, and much more. However, the flow of videos has been quite slow lately.
Website Learners
As clear from the name, Website Learners is dedicated to helping the audience learn making websites. It's a pretty popular YouTube channel that's near to hitting a 1 million subscriber's mark.
The channel covers a wide range of WordPress-related topics like creating different niches of websites, theme & plugin tutorials, features walk-through, customization, and so on. On the other hand, there are lots of non-WordPress-related videos like marketing, branding, software tutorial, etc.
The videos are clear and understandable with a detailed walk-through of every step. So, this channel is worth subscribing if you are looking to learn different aspects of WordPress and other web technologies.
Brainstorm Force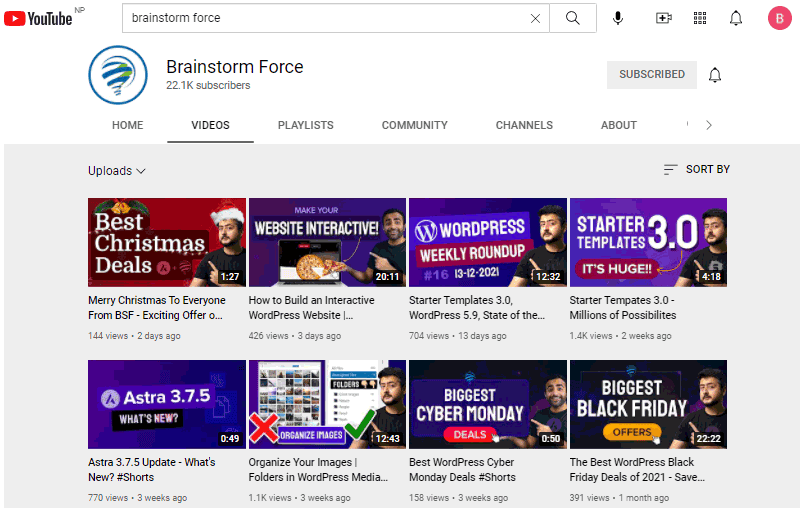 Brainstorm Force is a renowned WordPress company popular for developing robust WordPress products like the Astra theme and Ultimate Addons, Schema Pro, Convert Plus, etc. It also has a growing YouTube channel dedicated to informing and teaching users about WordPress.
Along with talking about their themes and plugins in detail, the Brainstorm Force YouTube channel also provides guides and tutorials for WordPress optimization, security, SEO, updates, error solving, etc.
Moreover, it also gives an overview and review of other different WordPress themes, plugins, and related tools as well.
WPLearningLab
The YouTube channel, WordPress Tutorials: WPLearningLab is a popular YouTube channel that teaches students the skill to create websites and run businesses online.
The channel has a lot of YouTube videos for users to start at the beginner's stage and level up to the advanced ones. If you go to the playlist of the channel, it has all the videos categorized into a number of playlists. A go-to watch for starting would be the 'WordPress Beginners Playlist'.
Apart from that, you can also get tips, tricks, and tutorials for website speed, SEO, issue fixes, etc. The best part – the channel keeps dropping new videos very often.
Web Monkey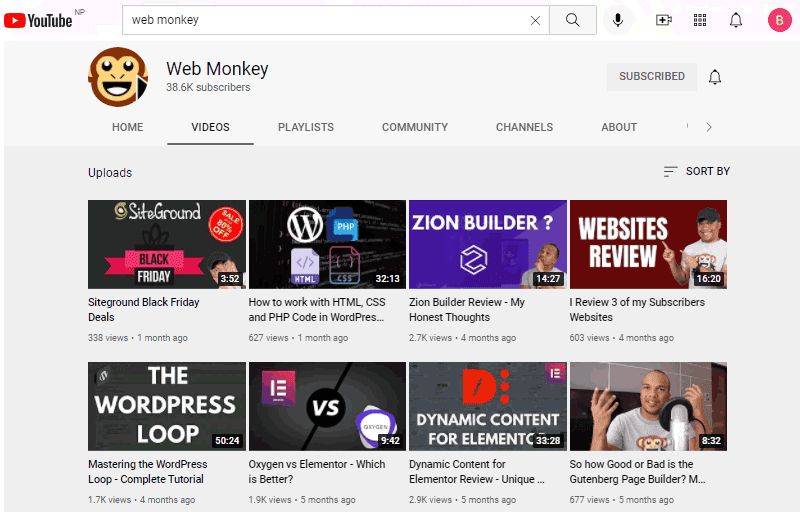 Finally, the last one on our list is a progressing YouTube channel – Web Monkey. It is dedicated to demonstrating how to build websites using WordPress easily without coding anything. Moreover, there are lots of extensive tutorials on themes, plugins, SEO, security, speed, etc.
Being a WordPress-focused channel, there is a massive number of tutorials for creating WordPress pages, menus, uploading images, using blocks, and adding different functionalities to WordPress.
A go-to watch in this channel for a beginner would be the playlist 'WordPress Tutorials'.
WinningWP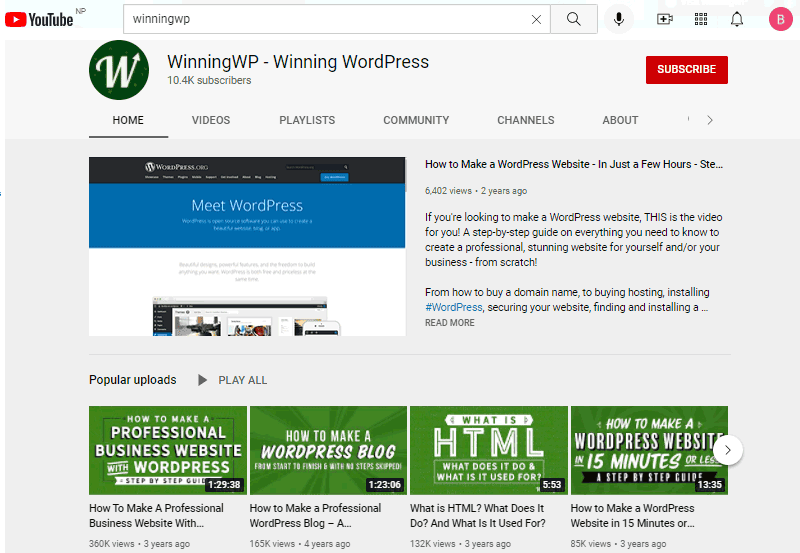 Actually, WinningWP is a popular WordPress blog providing helpful WordPress resources, information, and guides. Later on, they also started YouTube to present the content in easily-consumable video form.
The channel is mostly focused on helping beginners get started with WordPress. Even more, it emphasizes informing users of the foundational web technology stuff like domain, URL, hosting, HTTPS, SSL, CDN, etc.
In addition, there are lots of WordPress-related introductions, tutorials, reviews, differences, comparisons, etc. Talking about the length, the videos are about 10 minutes long. While some tutorials are over an hour-long as well.
Conclusion
So, these are our top picks for the best YouTube channels that beginner WordPress learners should look into. You might want to subscribe to them to be updated with all the videos as well as keep the channel running.
Our plan for 2022 is to expand our content into video tutorials with our own channel on YouTube. So, consider subscribing to – Marketing With WP YouTube Channel