How to Install a WordPress Theme?

The Appearance menu offers various options to allow WordPress website admins to customize the looks and feels of the website.
The WordPress admin dashboard has a separate menu for Appearance along with sub-menus to customize chance & customize themes, widgets, menu, background, etc.
Now, let's start with installing a new theme on WordPress. The process of installing a theme is simple and can be done in a few steps.
Before that, you should know that there are different ways to install a WordPress theme – Installing the WordPress.org theme automatically, uploading a theme, or installing the theme via FTP.
We will see installing the free WordPress.org themes from the WordPress dashboard for a start. You can check out our post for installing a WordPress theme with different methods.
So, let's see the steps involved in installing a WordPress.org theme.
Access the Theme Dashboard
Go to Appearance > Themes from the menu.
Here, you'll see the list of themes already installed on your website. These are the default themes provided by WordPress or your hosting provider.
Now, click on Add New button or Add New Theme area on the page.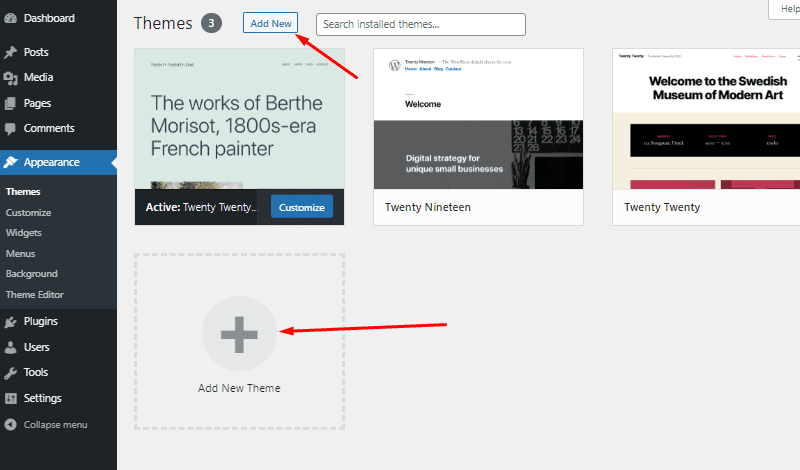 On the next page, there will be a few themes on display that you might want to install.
Search for the Theme
You can browse themes from the available tabs like popular, latest, and favorites. Also, you can also use the Feature Filter option to find themes based on some features. And there is a search bar that allows searching themes with its name.
In this tutorial, we are going to install a free and customizable WordPress theme 'Blocksy'. The theme can be any other depending on what your website needs. So, find or search for the theme you want to install.
Install the Theme
After you find the theme, hover over it and click on the Install button.
Or, if you want to know the details of the theme, you can click on Details and Preview.
Anyway, it will take a few seconds to install after you press the button.
Activate the Theme
After completion, you can see the Activate button next to the theme's name. Just click on it to activate the theme.
After that, the theme will be applied to your website. Also, it will display an alert for a successful installation. You can also see that the theme you just installed is active.
Now, you can move ahead to customize your website design with the customization options provided by the theme.
Check out our in-depth Blocksy Free Theme Customization Tutorial.