How to Delete existing Plugins in WordPress?
Your basic WordPress Website can be supercharged with amazing features and functionality with the help of plugins. A plugin is a piece of code that you can install on a WordPress website in order to add extended functionalities.
WordPress offers a humongous library of both free and premium plugins that can be used to get different purposes. Moreover, the WordPress developer ecosystem is both wide and varied meaning there's a lot of options available. This is among the reasons WordPress is powerful and preferred by millions of web developers for creating different niches of websites.
Let's see how you can install a WordPress plugin. It's simple and can be done with some simple steps.
Prior to that, you should know that there are different ways to add a plugin to WordPress – installing the WordPress.org plugins automatically, manually uploading a plugin, or adding a plugin via FTP.
Here, we will cover the easiest and beginner-friendly method to add a free WordPress.org plugin from the WordPress dashboard. To learn other methods, you can check our post on installing a WordPress plugin.
Search for the Plugin
First of all, go to Plugins > Add New from your WordPress dashboard.
On the next page, you will see a long of plugins on display. They all are the free plugins available on the WordPress.org directory.
Now, you can browse plugins from the available tabs – featured, popular, recommended, favorites. Or, you can search for the plugins if you have any plugins you want to install.
The plugin you would want to install depends on what feature you need on your website. For now, we will install SEOPress – a lightweight and feature-rich WordPress SEO plugin. Our search term is 'SEOPress'
Install the Plugin
After you find the plugin, click on the Install Now button you see next to the plugin's name.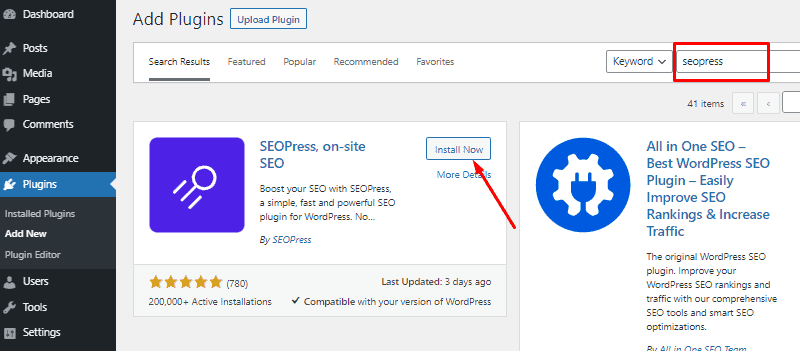 It will take a few seconds to install.
Activate the Plugin
Installing will add the plugin to your website. But to be able to use it, you'll have to activate the plugin.
After the installation completes, the Activate button will appear on the page. So, click on it to activate the plugin.
With that, you will be redirected to the installed plugins page with the alert notifying that the plugin is activated successfully. You can also see the plugin you just installed, on the list.
Now, you can use the plugin on your website.