Lemlist Review
Best Cold Email Outreach Platform
Outreach automation is often referred to as one of the most important components of the sales funnel. It is of paramount importance to growing businesses that are in a race to acquire more customers.
Lemlist is just the right tool to assist you with it. It provides lots of email templates to create attractive cold emails ready to start conversations and yield better interaction rates.
That's not all! It also offers email personalization, email automation, follow-up sequencing, integration, and lots of other features.
In this post, we are going to review Lemlist including its features, pros, cons, costs, and alternatives.
Lemlist Overview
Lemlist is one of the best cold outreach and sales engagement tool that primarily lets you send cold emails to prospects. Businesses and brands utilize Lemlist to send personalized cold emails and to engage with their target audience to improve brand awareness and lead generation.
Provided with lots of templates, you can create beautiful email copies that result in improved clicks, interactions, and reply rates. You can also customize the templates for the purpose you need.
Moreover, you can personalize email copies so that users feel noticed and you gain their trust. Also, you can customize emails with images, links, logos, dynamic landing pages, video embeds, call to action, etc. to make them attractive and engaging.
And, you don't have to worry about your emails ending up in the spam folder. Lemlist offers a feature called Lemwarm which warms up new email contacts automatically.
Moreover, it works well with every email provider like Gsuite, SMTP, One Outlook, etc., and can be connected with a single click. Moreover, it offers integrations for lots of CRM, lead generation, growth, Zapier, and Slack webhook tools.
Lemlist Features
Now, let's look at the features of Lemlist in detail.
Templates
Lemlist provides lots of templates that make it easy to design email copies. And, they can be easily customized as per your need.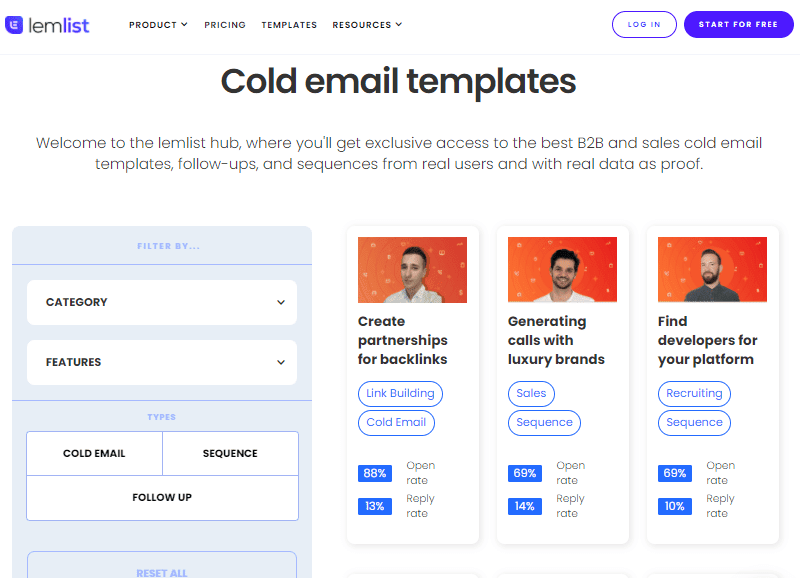 In addition, the templates have some generic email body content and a basic format. So, this makes it easy for you to create email copies. You can just pick one, edit it, and it's ready for sending.
The templates are categorized into 3 major types – cold email, sequence, and follow-up. However, they can serve different purposes like sales, recruiting, link building, networking, event promotion, job application, and more.
Email Creating Interface
Now, the email creating an interface, also called Editor, is a user-friendly dashboard for creating and editing emails.
It basically consists of text fields for the email subject and a message body for creating an email copy. Plus, it's provided with lots of elements like images, signatures, links, videos, page templates, custom variables, etc. to enrich your email with multiple data types.
Moreover, you will get lots of text & paragraph formatting options like bold & italic text, quote, emojis, typography, text color, background, lists, alignments, line height, and so on.
Talking of the custom variables, you can personalize the emails by inserting dynamic data like users' emails, names, pictures, phone numbers, URLs, icebreakers, etc.
Integrations
Integrations help you connect to other third-party tools for adding more features to your software.
In the same way, Lemlist lets you connect to lots of tools for CRM (Customer Relationship Management), lead generation, email service, and growth.
Here are some of the integrations offered by Lemlist.
CRMs
Salesforce
Hubspot
Pipedrive
Axonaut
Lead generation
Dropcontact
Uplead
LeadFuze
Bouncer
DeBounce
Leadcamp
Growth
Phantombuster
Albacross
Aircall
Droyd
Pabbly Connect
Zapier
Slack
Google Drive
Facebook Ads
LinkedIn Ads
ClickFunnnels, plus more than 1000s others
Slack webhooks
Push Opportunities
Reply notifications
Engagement notifications
Email Warm-Up
Here's a fact! If you broadcast a cold email to multiple new users at the same time, the emails likely end up in the spam folder.
To prevent from that happening, Lemlist provides a feature they call Lemwarm. It works as an email warmer so that the emails are delivered right into the users' inbox.
The way it works is – Lemwarm segments the list of your users into multiple small groups and sends personalized emails to one small number of users at a time. This results in emails reaching the inbox and gaining consistent replies over time.
That way, you will have warmed up your email list in no time.
Lemwarm helps you determine the number of email accounts to include in a segment that is just enough to reach the users' inbox. It takes parameters like age of email domain, etc. into account while creating the right size of email segment.
Scheduling and Sequencing
You can set the schedule to send the email for each campaign so that the message reaches your target audience at appropriate times.
Your schedule can have variables like a name, time frame, the number of leads to reach per day, time zone, and days to send the campaign.
Moreover, you can also sequence multiple emails in your pipeline and run outreach campaigns on automation. Not only that, but you can also sequence SMS, phone calls, manual task, LinkedIn visits, LinkedIn Messages, etc.
Lemlist Pricing
Lemlist is a premium tool that offers 3 different plans starting at $29 per month paid monthly.
However, it also offers a free trial for 14 days to get started and see around the platform. Moreover, you don't have to give out your credit card info while signing up for the trial.
Anyway, the paid options are available according to the features they provide. Here's the breakdown of each of them.
Email warm-up: $29 per month | email domains warm-up | email deliverability | 25+ years domain age range
Email outreach: $59 per month | personalization | automate follow-ups | team | integrations + API | cold email masterclass
Sales engagement: $99 per month | LinkedIn workflows | video prospecting | Email enrichment | cold calls | Custom landing pages
Lemlist Pros and Cons
Like any other tool, Lemlist also has its own pros and cons. Let's list them out.
Pros
Free trial
Attractive user interface
Automatic email warm up with Lemwarm
Personalization features
Lots of templates
Onboarding walk-through
Integrations
Tutorials available
Cons
Does not have built-in prospecting features
No free plan
Lemlist Alternatives
If Lemlist doesn't work for you, then here are some other similar tools that you might like.
Mailshake
Mailshake is a platform that helps you turn your cold users into warm leads with automated outreach through emails, social media, and phone calls. It offers lots of proven templates for different purposes like booking meetings, link building, journalist outreach, candidate outreach, etc.
It also gives you insights into your outreach campaigns regarding deliverability, opens, clicks, replies, etc.
If you want to purchase it, you can get 2 different versions – Email Outreach and Sales Engagement for $44 and $75 per month paid annually.
Snov.io
Snov.io is a cold email outreach platform that helps you get in touch with your potential customers easily with personalized emails.
Moreover, it is also specialized in finding, verifying, and contacting email leads and converting them to customers. You can collect emails from social networks, Google, websites, etc., and manage them into your contact list.
Moreover, you can achieve better results with email broadcasts, automated triggered sequences, and email tracking features.
Getting started with Snov.io is free whereas the paid plans start at $33 a month when paid yearly.
Sales.Rocks
Sales.Rocks is an all-in-one sales automation platform that helps you find potential leads and increase sales with email outreach.
With the email warm-up feature, you can your email sending domain to get primed and ready to launch email campaigns with a high deliverability rate to the receiver's inbox. Moreover, you can run drip campaigns with personalized emails to give your email messages a human touch.
When it comes to pricing, it is on the higher end – because it is targeted toward B2B and enterprises. It costs €2,000 per person for a year, which comes to about €167 ($180) per month. You can also start a trial of 7 days by paying only €7.
Conclusion
To conclude this Lemlist is one of the best cold email outreach, follow-up, and email sequence tool. It boosts your could outreach automation by reaching new prospects and converting them into potential leads.
With Lemlist, you get access to multiple templates designed for conversion. The templates can be edited and personalized according to your need.
Also, you don't need to worry about your emails ending up in the spam folder. With Lemwarm, it automatically warms up your new email recipients to ensure better deliverability rates.
Lemlist FAQs