How to setup WordPress General Settings?
The WordPress settings console offers various useful options for customizing and controlling various aspects of WordPress websites.
The WordPress dashboard has a separate menu for the settings and more sectioned sub-menus inside it. Among them, we'll start with the General settings first.
To access the General settings option, go to
Settings > General
The general settings page offers to enter or editing basic website information like site title, URL, new user role, language, etc.
Most of the settings here might be the default that you would not want to leave like they are. However, you might want to know a brief on them in case you need to change them in the future.
Anyway, here are all the settings in the General settings.
Site Title
It lets you enter the title of your website. The site title will display on the header of your website if you choose to display it.
Tagline
A tagline is a short description, motto, catchphrase, or theme of your website. Your website header also has the option to display the tagline.
WordPress Address (URL)
It's the URL address of your website where the WordPress CMS is actually installed and the website files are present.
Site Address (URL)
It's the URL address that users enter on their browsers and access your website. Usually, WordPress addresses and site addresses are the same things.
Administrator Email Address
The administrator gets all the essentials emails about the website. Make sure that it's a working email address as crucial website information like passwords or performance issues is sent to the email address listed here.
Membership
Marking the tick on this setting will let anyone register and create an account on your website. This will make it easy for you if you want to create a membership website.
New User Default Role
Here, you get to choose the basic role of the users who sign up for your website. Make sure that the default role is set to subscribers to limit the website access to very basics.
Site Language
It lets you select the preferred language for your WordPress dashboard from a dropdown of different options.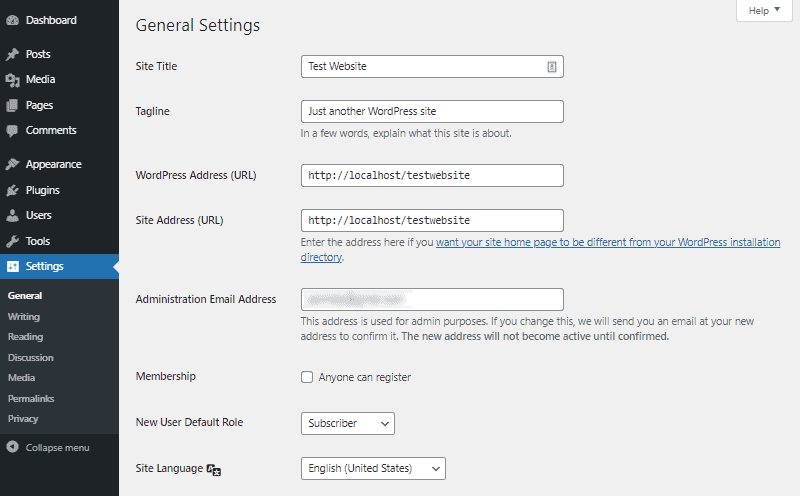 Timezone
Similarly, it lets you choose the timezone you prefer for your website.
Date Format
It lets you choose the date format for your website (day, month, and year). You can either choose from the available options or even create a custom one.
Time Format
Likewise, you can choose the tie format suitable for your website. Either choose from the available formats or customize one.
Week Starts on
This provides a dropdown that lets you choose the starting day for your website. By default, it's Monday.