"The money is always on the list!"
Email Marketing is always one of the best ways to generate revenue for your online business. There's no other way to automate and scale your online business! period.
If you are looking for one of the most affordable yet powerful marketing automation platforms to grow your online business – then definitely check out Encharge.
However, bear in mind, they can easily terminate your account and hold your contacts as hostage for irrational reasons.
It is one of the best email marketing automation software with advanced tools and functions to send emails based on user behavior and activities on your site, track website visitors, broadcast emails, and much more.
Encharge is a robust marketing automation web tool to help you run email marketing campaigns and convert your visitors into customers and eventually grow your business.
Encharge Overview
Encharge is a SaaS platform that fundamentally aids you in enriching your email marketing tactics with loads of automation features.
Firstly, it allows you to send emails to users based on their activities on your website, thus you capture the audience at the right time. In addition, you can map and create a workflow to guide customers through their journey from onboarding to retention to your business.
Encharge is much more than just that. You can get visitors to sign up for the freebies on your offer and collect their emails which can be used to send promotional emails later. Along with that, it also enables you to convert trial users to customers, onboard customers with activation emails, automate sales tasks, and retarget users with social media ads.
The tool is highly compatible with several popular third-party apps, helping you reach wider audiences and promote your business efficiently.
Features of Encharge
Now that you have a clue of what Encharge is, let's discuss its significant features.
Email Personalization
Having a personal relationship with your customers or leads is essential if you entice them on doing business with you. As long as the prospects feel a personal connection, they are likely to convert into your customers.
Among the best features of Encharge, it allows you to send personalized emails to your potential clients or customers. It lets you include the customers' names, addresses, and other personal details in the emails.
This will make the customers feel that you have personally attended to them. They will feel more connected and it encourages them to act.
However, the real magic is – you don't have to reach out to each user personally, especially considering that you might have thousands of emails on your list.
The email personalization feature introduces tags on the emails which will import names and other details to your email template. Thus, personalizing emails in bulk is fairly easy.
Broadcast Campaigns
Similarly, you might need to send newsletters to multiple users on your email list. That's where the broadcast feature comes in.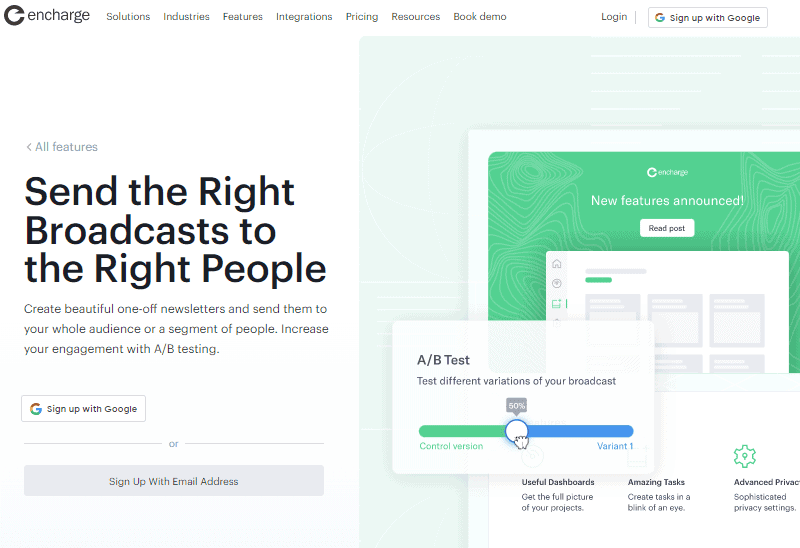 You can simply create a broadcasting email template with the offered drag-and-drop email maker. Then, you can send it to the multiple relevant emails on your list at once. No need to spend a lot of your time and effort.
Broadcasting emails in bulk can have several benefits for your business. Perhaps, you can send offer or discount emails to the prospects in the consideration or desire phase on your marketing funnel.
The motive can be anything, give the latest update, or let them know about your new product launch, you can constantly broadcast emails to all users at once. Also, you can segment the email list according to what they signed up for.
And the best part, you do not need a manual watch over your movements and audiences' behavior once you have generated the marketing content.
A/B Testing
You'll never know how successful your marketing efforts would be. However, having a plan B provides a safe landing if your first one doesn't perform well.
Likewise, with the A/B testing feature of Encharge, you can test multiple broadcasts and analyze their results. Let them run autonomously and see which one converts better.
In essence, you can create multiple forms of content for the same project by changing variables. You can experiment with different headings, subjects, and body styles and find which ones are more relatable to your audience.
With the data and reports for each version, you can determine what users prefer. Thus, it helps you plan future marketing tactics as well.
Flow Builder
As you log in to Encharge, you will first see the Flow tab at the top of the screen. Clicking the link will direct you to the Flow dashboard, where you can begin creating a flow/network of your marketing campaigns.
Start with Trigger, move along Filter and finally connect with Action. You are free to make a simple flowchart or connect as far as possible to guarantee a successful conversion. And you can use the drag-and-drop property for all those actions with ease.
However, moving ahead with pre-built templates could be the best choice if you are still new to these methods. All the Encharge users can use multiple templates at their convenience and build a vast, complicated flow depending upon their strategy.
Behavioral Emails
Since Encharge is a behavior-based marketing software, you can send out emails to potential customers based on their activities across your website. It's pretty efficient and particularly helpful in sending billing cycles, payment acknowledgments, and similar transactions.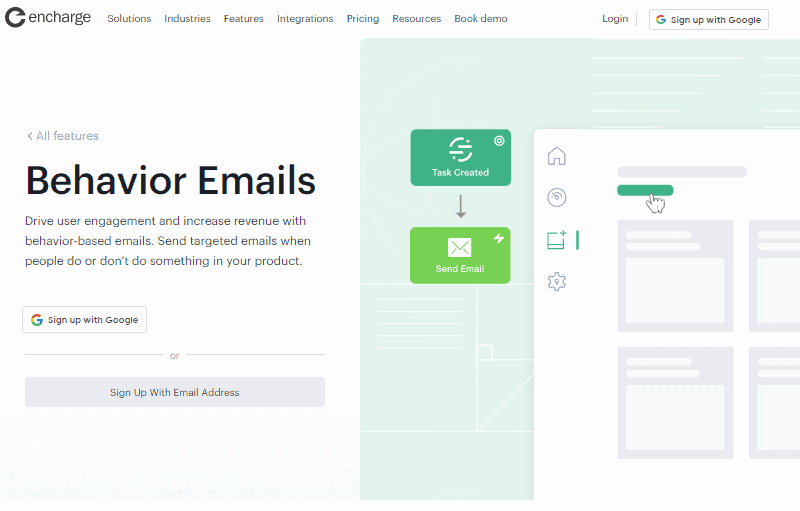 For example, if a visitor looked around your site and selected a few items but did not buy those products, you can send emails reminding them of the items in their purchase cart. Or email them other similar item schemes according to their selection activity.
In plain terms, you can win back your customers through an exclusive email activity while also studying their site engagement. Likely, if you notice that the purchase is yet to go through, you can send emails to your clients to motivate or push them to make the purchase.
Lead Scoring
Lead scoring is a significant feature when it comes to identifying and filtering your leads. It enables you to see if the users are suitable for nurturing or feeding promotions, based on their engagements on your site.
With this feature, you can pass points to users according to their activities like the frequency of product page visits, documentation read, subscription, email opens, etc. The more the users engage with products and features on your website, the more score they achieve.
The ones with higher scores are more qualified leads, and thus you can send the promotional materials to them. Thus, you can create automated broadcasts predicting their behavior to approach and convince them about your items and services.
Multiple Integrations
Encharge also authorizes integrations with many eCommerce apps, sales tools, automated tools, payment providers, chatbots, and social media. This feature allows you to take your marketing, brand awareness, and sales to the next level.
In fact, Encharge integrates with well over 65 third-party tools for powering your marketing tactics. And here are some of its popular ones –
Zapier
Google Analytics
Stripe
Calendly
Stripe
Elementor
Facebook
Slack
Mailchimp
Gist
Landbot
Optinmonster
WP Fluent Forms, and more.
Encharge Pricing
Encharge is a premium tool that offers two plans, i. e., Growth and Premium. However, the pricing for each plan depends on the number of subscribers you have on your list.
For example, the Growth and Premium plan costs $49 and $59 per month respectively for up to 2000 email subscribers.
Moreover, they also offer a 14-day trial without needing to enter credit card information.
Anyway, here are the pricing and plans for Encharge.
Growth: Starts at $49
Unlimited emails & broadcasts
Flow builder
Built-in Templates
A/B tests
Lead Scoring
Integrations
Email Editor
Tracking
Premium: Starts at $59
All features in the Growth plan
Transactional emails
Segment integration
Salesforce integration
Event-based segments
Free Migration
Following is the pricing according to the number of subscribers.
Subscribers
Growth
Premium
0 – 2,000
$49
$59
2,001 – 5,000
$99
$119
5,001-10,000
$179
$199
10,001 – 15,000
$249
$299
15,001 – 20,000
$299
$359
20,000 – 25,000
$349
$419
25,000 – 30,000
$389
$479
30,000 – 40,000
$449
$549
40,001-50,000
$499
$599
50,000+
Custom Pricing
Encharge Monthly Pricing Breakdown by subscribers
Pros and Cons of Encharge
Now, let's list some pros and cons of Encharge.
Pros
Easy to navigate and get used to
Highly personalizable templates
Innovative automation features
Prioritize leads based on engagements
Behavioral email editor
Multiple integrations
Priority support team
Cons
Slow development
Slow support
Shady management practices
Could be overwhelming for newbies
Why the 1 star rating?
I purchased Encharge during their Appsumo Lifetime deal campaign through a reseller in 2021.
After 2 years, Encharge decided to close my account without any notice or heads up. The account was just locked without any sort of communication.
I reached out to support team and asked why was my account locked. The description provided by the support team were vague and irrational.
Appsumo's refund policy is 60 days, however, Encharge support mentioned, my account was refunded after 2 years of service – which is nowhere listed on Appsumo's or Encharge's terms of service.
As much as the tool and the functionality deserves a 5 star rating at the price point they offer, I do not recommend or trust Encharge with my contacts, leads and business until my account is fully recovered.
Encharge Alternatives
Encharge may be one of the best behavior email marketing tools in the market. But it's not the only one, and there are several like Encharge, which we shall discuss below.
Gist
Gist is a similar software to Encharge that helps market your business through automated email marketing. Moreover, it schedules meetings and provides live chatbots to communicate with your site's visitors.
Apart from that, it aids you by tracking and maintaining records of your customers, such as chat history, location, meaning overall activities. Also, GetGist channels your customers through social media platforms into your product.
In terms of pricing, the tool provides a Free Forever plan with limited services. You should upgrade to pro plans to receive its all features. And the cost ranges from $48 to $128 according to the number of contacts you have on your newsletter list.
Vbout
Vbout is another marketing automation platform that delivers engaging and personalized experiences to its audiences. You can centralize your marketing campaigns and lead to conversions.
With Vbout, you can not only manage your leads and run email campaigns, but also handle social media, design landing pages, build marketing flow, and analyze activities.
Additionally, you can find a library of pre-built templates letting new users create amazing emails and landing pages for effortless marketing and capturing potential customers.
ActiveCampaign
ActiveCampaign is a popular marketing tool combining email marketing, automation, and Customer Relationship Management (CRM) under the same roof. Using its astonishing features, you can easily expand your commerce to a vast number of audiences, regardless of how massive it gets.
It tracks your buyer preferences and behavior for deeper segmentation and more productive transcendence. You can study customers' entire lifecycle to decide and forward the best content, delivery time, and channel.
The pricing of premium packages starts at $29 to $149 per month. However, you can use a free trial for 14 days that presents you with the basic features of all major properties.
Conclusion
Encharge is complete marketing automation and behavioral marketing tool for businesses of all sizes. It includes complex features such as lead scoring, behavioral tracking, A/B tests, lead tracking, etc. to create more targetted, result-oriented campaigns.
Your marketing automation now is as easy as creating a workflow and then letting encharge take care of all your email flows and automation without you having to do anything manually.
Encharge FAQs