Site Kit by Google Plugin Review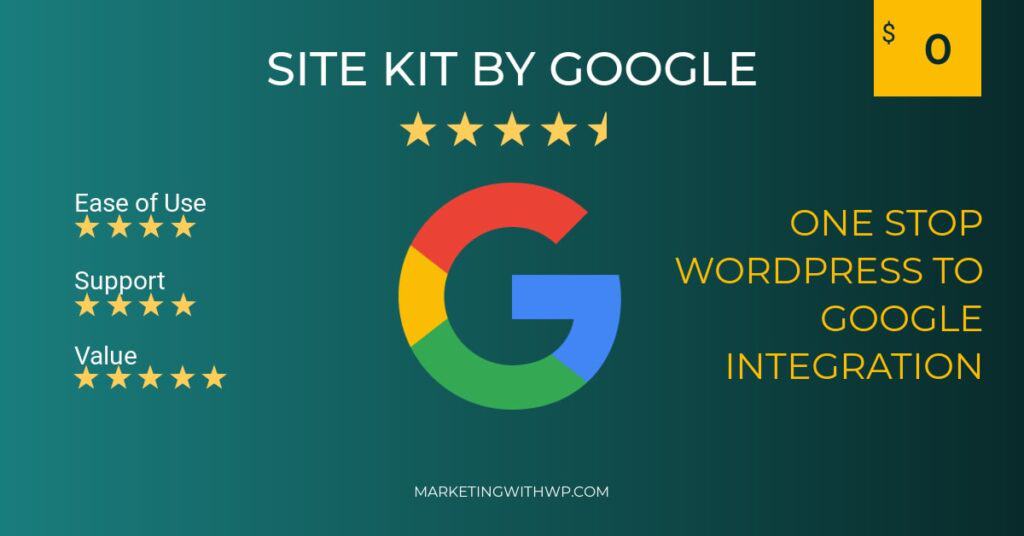 Site Kit by Google Plugin Review Summary
Ease of Use Rating
Site Kit by Google is moderately easy to use. Right after you install the plugin, it takes you through the steps to connect to the Google services with direct links to those services. There's no need to touch the website's source code. However, beginners might have to get used to some technical terms.
Support Rating
Since Site Kit by Google is a free plugin, there's no premium support available with it. However, there's detailed documentation to help you with getting started, connecting with different services and solutions to some common issues. Also, you can get help from the support forum on WordPress.org.
Value Rating
There's no doubt that the features offered by Google's Site Kit are absolutely incredible. Plus, it lets you integrate with 6 different services seamlessly without having to stuff your website with multiple plugins.
Pros
Completely free
Easy to use
Integration with 6 different Google services - Google Analytics, Google Search Console, Google PageSpeed Insights, Google Adsense, Google Tag Manager, and Google Optimize
No need to work with the source code
Doesn't slow down your website
Displays stats for the entire website as well as individual pages
Cons
Lacks extensive eCommerce integration
Not supported with Internet Explorer and lower versions of WordPress & PHP
Doesn't display detailed analytics data
Site Kit by Google is a powerful WordPress plugin that lets you easily set up, connect and access Google Analytics, Google Search Console, Adsense, and Page Speed Insights data on your WordPress website.
It is a free – official WordPress plugin by Google and replaces the need for paid plugins like MonsterInsight to access site analytics with over a million websites are using it already.
Site Kit plugin pulls insights from multiple Google tools right into the WordPress dashboard to analyze website data and visitors' behavior on your website. The best part, using this plugin is super easy as you do not have to edit any source codes. Also, it guides you through the entire process.
Check out our in-depth article on how to connect Search Console and Analytics to WordPress using Site Kit by Google.
Features
Website data from Google Analytics, Google Search Console, and Google Adsense
Analyzes website performance and speed by connecting to PageSpeed Insights
Connect to Adsense for keeping track of ads earning
Track conversions and remarketing with Google Tag Manager
Connect to Optimize for A/B testing
All Stats in one dashboard
Stats for individual posts and pages
Track website goals
Walk-though of the entire setup
Graphs and charts for data visualization
Detailed documentation for more support
Pricing
Site Kit by Google is a completely free plugin. There's no type of cost associated with it.
Discount & Coupon Code
The Google's Site Kit plugin is 100 % free for all.
Alternatives
1. Analytify
Analytify is a freemium WordPress plugin to add Google Analytics tracking code to your WordPress website. Like Site Kit, it lets you view the Analytics data right in your WordPress dashboard. Other features of Analytify include social tracking, front-end reporting, real-time stats, and more. However, it doesn't let you connect to other Google services like Site Kit.
2. MonsterInsights
MonsterInsights is one of the most popular Google Analytics WordPress plugins and a close competitor of Site Kit. It offers some out-of-the-box features like publisher's reports tracking, keyword search reports, scroll tracking, banner ads tracking, and some more advanced features. But, it lacks other integrations as you get in Site Kit by Google.
3. GA Google Analytics
GA Google Analytics is another freemium plugin solely used for connecting Google Analytics to WordPress websites. It supports connecting and tracking GA data with Universal Analytics, GA4, Site Tag, and Legacy. It offers the users features like visitor opt-out, custom tracking, tracking different WP pages, disable tracking, and much more.
Conclusion
Site Kit by Google is one of the best plugins to connect your WordPress website to various Google products within a single dashboard. Since it is created by the tech giant company Google itself, there's no plugin conflict or issues syncing data. It does not get any better than free.