Abyssale Review
Best Automated Image Generation Tool
Most of the image creation tools today are static. Tools like Canva, Vista Create, etc do not allow creating dynamic images in bulk with 1 click.
Enter Abyssale – one of the most user-friendly tools to generate dynamic images in bulk – automatically.
Whether you are a blogger, online store manager, YouTuber, or advertiser, you need a production of a large number of images. Be it post images, cover photos, thumbnails, banners, or product photos, the graphics need to speak for your brand and carry out your aesthetics.
And that's where Abyssale comes in. Abyssale offers to create personalized images for your various campaigns with dedicated templates, styles, brand logos, colors, and a lot more. Not only that, it automates and scales the image creation process as dynamic online marketing these days need.
In this post, we will learn all about Abyssale in detail with its features, capabilities, pros, cons, and pricing.
Abyssale Overview
Abyssale is a beginner-friendly image production SaaS (Software as a Service) tool that offers the generation of images in bulk to save time. Whether you want graphics for social media, advertising, eCommerce, emails, or blog posts, Absysale comes in handy for you.
The tool brings the power of editor, templates, automation, design elements, and bulk production all in one place. Thus, you can speed up your marketing without losing focus on the looks and feels of your brand.
As it has a user-friendly interface, editing images doesn't require you to be a pro designer. It requires you to add your banner entities like logos, texts, and color to generate unlimited templates for you. In addition, it has tons of stock images that you can use on your banners.
One of the great features of Abyssale is the ability to create your own templates and create multiple images out of them. Once you get a default template ready, you can just add the variables for each image on a sheet and automatically create images based on it.
Abyssale Features
Let's see the features of Abyssale to get an idea of what this tool helps you achieve.
Template Builder
You can also create your own banner templates from scratch from Abyssale's template builder. On the editor interface, you start with choosing the image format (dimensions). It has multiple in-built image resolutions for different platforms like Facebook, Instagram, Google Ads, and Pinterest. Or you can set your custom format (dimensions).
You can add different content types like background colors, shapes, logos, images, text, CTAs, etc. You can move around and place the content you see fit. Plus, you can also edit the image with colors, sizes, radius, rotations, patterns, etc., provided for each content type.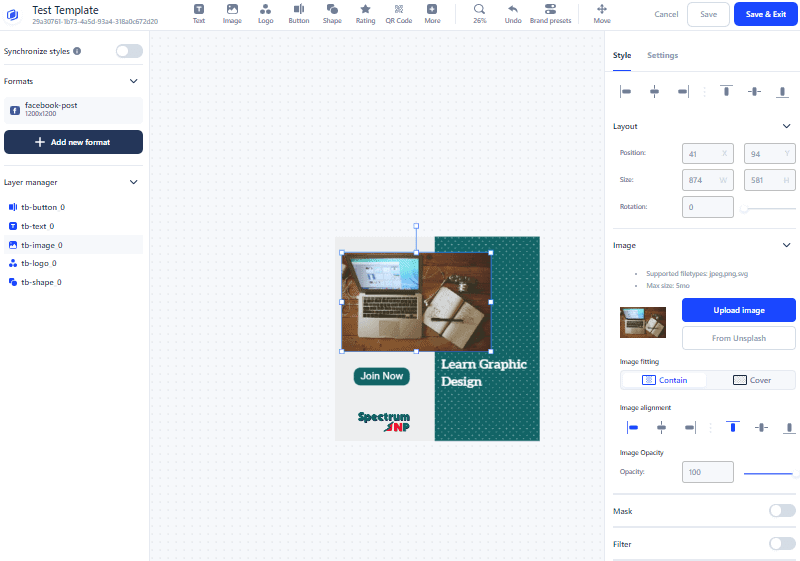 Let's say you want the same banner to post on other platforms. But the dimensions could be a problem. And creating an entirely new template could be a hassle.
Instead, what you need to do is create a new format with different dimensions based on the same template. This will import all the data from your previous format into the new one. Then all you need to do is edit it as you need.
Bulk Creation
Abyssale is designed to scale your image generation with the automated bulk creation feature. The template you save can be useful to produce thousands of new images.
Suppose you want to conduct A/B testing for your products with different banner designs. Then you can quickly change certain parameters on the template's API and generate multiple image variants without actually using the editor.
Or you can also create a generation funnel based on the template. What this will do is create a spreadsheet where you can enter the data for creating new images based on the template.
The element names on your template will be the columns on the spreadsheet. And the rows will represent each image. Now, you need to fill the column value for each new image for generating different images. If you want a certain element on the new banner unchanged, just leave the corresponding column values untouched.
You can save the spreadsheet with the entered parameters and start generating the banners.
Public Template Form
Abyssale's presents a totally different and revolutionary way to generate images – forms. You can create shareable public template forms for each template. Users can create images by filling the fields.
The banner layers on your template appear as the fields on the form. And you can decide the image layer you want to allow modifying.
This feature is useful for letting your team members generate images for different purposes like welcoming new clients, offering custom discounts, and so on.
Stock Images
Stock images are useful for adding beauty and meaning to your banners, and also help create different types of graphics.
Abyssale has integration with Unsplash, a popular stock image gallery. With that, you can import images from the gallery of 3.48 million royalty-free photos to your template designs or auto-generated banners.
You can search and find Unsplash stock images right from the template editor interface. Just find the images you like and use them on your banners.
Collaboration
Abyssale lets you create a workspace and invite team members for collaboration. With this feature, you can assign the team members different responsibilities to improve the quality and flow of image production.
The maximum number of team members you can have in your workspace depends on the plan you are running on. For example, the essential plan can only have 1 user; whereas the premium user can add up to 10 members.
Furthermore, you can assign different roles to your team members – viewer, member, admin, and account owner. Each role is associated with different abilities within Abyssale.
Brand Presets
Brand presets are the main elements of your brand's identity that you can integrate into your designs. This will also ensure the design and brand elements of all images are consistent.
You can add your brand identities like brand names, logos, colors, fonts, and other banner design settings on your presets. After setting your presets once, you can use them on your templates directly from the creator canvas without having to set them manually every time.
Integrations
Abyssale offers integration for 100+ different third-party tools to add features to your banner creator.
Some of the important integrations for Abyssale are –
Zapier
Airtable
Make
Google Drive
Shopify
WordPress
Pabbly
Notion
Buffer, and more.
Abyssale Pricing
Abyssale is entirely a premium product with affordable pricing. It has 4 different plans starting at $39 per month, paid annually.
| Plan | Monthly Prices |
| --- | --- |
| Essential | $39 |
| Advanced | $63 |
| Premium | $239 |
| Custom | Custom |
Repurpose.io Monthly Pricing
Here is what the Abyssale plans and pricing look like in brief.
Essential: $39 per month | 1,000 monthly images | 10 GB bandwidth | 3 pubic forms | 1 team member | no brand preset | 3 dynamic images
Advanced: $63 per month | 10,000 monthly images | 25 GB bandwidth | 10 pubic forms | 5 team members | 3 brand presets | 10 dynamic images
Premium: $239 per month | 100,000 monthly images | 50 GB bandwidth | unlimited pubic forms | 10 team members | 5 brand presets | unlimited dynamic images
Custom: custom pricing | custom monthly images | custom bandwidth | unlimited pubic forms | custom team member | custom brand presets | unlimited dynamic images
Abyssale Pros and Cons
Now, let's list the pros and cons of Abyssale.
Pros
Easy to use – no design skills required
Unlimited banner designs and templates
Team collaboration
One of the best user interface
Create custom templates for infinite reuse
Generate bulk images with spreadsheets and APIs
7 days free trial
Let you create sharable forms to generate images
Dynamic image generation
Cons
It doesn't have a free plan.
It's relatively a new tool.
Abyssale Alternatives
Now, let's look at the alternatives to Abyssale.
Bannerbear
Bannerbear is another automated media creation tool that helps you generate thousands of template-based banners with API calls. It even scales and quickens your videos and pdfs creation dynamically with APIs.
In contrast to Abyssale, it has in-depth features like AI face detection, QR code generator, social media scheduling, etc. However, it's more difficult to use.
Similar to Abyssale, Bannerbear doesn't have a free plan. Meanwhile, the premium version starts at the cost of $49 per month.
Switchboard Canvas
Switchboard Canvas is an image and video creation that uses the application of automation and API for bulk media production. With it, you spend lesser time yielding hundreds of images.
It lets you create templates and generate multiple banners based on it. You can replace the different image and video layers through Switchboard Canvas API or with Zapier integration.
The tool is available at the starting price of $19. It's suitable for small-scale image production needs.
Conclusion
Summarizing this Abyssale review, it's a powerful design and bulk image production tool for speeding up your marketing and business growth. If you own a blog, online course, eCommerce store, or ad agency, then Abyssale is a must-have tool.
It removes the repetitive process of going through the design interface each time you need a new banner. You can create a template once and reuse it, again and again, to create unlimited images over time.
In addition, the features like sharable forms, automatic banner generation, integrations, team collaboration, etc. ensure that your marketing goes in order.
Abyssale FAQs